Macau SAR authorities have revealed the details of the partial lockdown easing period that will start on July 23, with some commercial establishments, public departments and some businesses considered essential to the city's operations being allowed a return to normal operations.
According to the dispatch published today (Wednesday) starting from midnight of July 23 until midnight of July 30 the following establishments will be allowed to reopen:
-Companies or entities that provide essential public services, namely those assuring water supply, electricity, natural gas and fuels, telecommunications, public transport and garbage collection, and those that provide services necessary for the indispensable functioning of society, namely those for hotel accommodation, cleaning and hygiene, building administration, wholesale trade and transport of basic goods for daily life
-Establishments necessary to maintain the daily life of citizens, namely markets, supermarkets, restaurants, beverage establishments, food establishments, pharmacies and health care establishments
-Companies, entities or establishments that have been exceptionally authorized by relevant public services
Casinos, which have been shuttered since July 11, were not mentioned in the new regulations, and it is still unclear if they could be allowed to reopen if authorised according to the aforementioned article.
Secretary for Social Affairs and Culture Elsie Ao Ieong U later explained that authorities considered that the ventilation capacity in casinos allowed for their re-opening when compared to other leisure businesses.
"Non-essential" companies, entities and establishments will be allowed to operate in a limited way, provided they follow certain pandemic prevention guidelines, except kindergartens, stores within shopping centers that do not have direct access to public roads and building reparation works.
Private supplementary teaching assistance centres and private education institutions can only provide classes online.
Leisure and entertainment establishments previously shuttered, such as gyms, cinemas, etc will have to remain closed, with the exception of hair salons. The provisions also do not revoke a previous executive order ordering for food and beverage establishments to only provide take-away services.
Banks with branches not located inside shopping malls will also be allowed to open during the consolidation period.
All entities covered by the executive order will have to limit the number of people being served, ensure social distance and require the scanning of the establishment's QR Code.
Despite the relaxation of these requirements residents are also still requested to remain at home, except for work, shopping or other urgent or "necessary reasons", with residents not allowed to gather and required a wear a mask when they go out, with adults having to wear KN95 masks or masks of a higher standard.
A clarification dispatch issued afterwards also added that entities that provide essential businesses or services to the running of the city that can provide online services should do so, while employees should comply with various pandemic prevention requirements such as carrying out rapid antigen testing and nucleic acid testing before going to work, and various measures to reduce gatherings.
Other requirements include that work staff should wear masks of KN95 or above standard at all times during work and when they are outside the home after work, commute to and from get off work should take place at different times and employees are encouraged to commute by either motorcycle, private cars or taxis, avoiding public buses.
Meanwhile, non-essential businesses will not be allowed to have more than 50 per cent of their staff working during the consolidation period.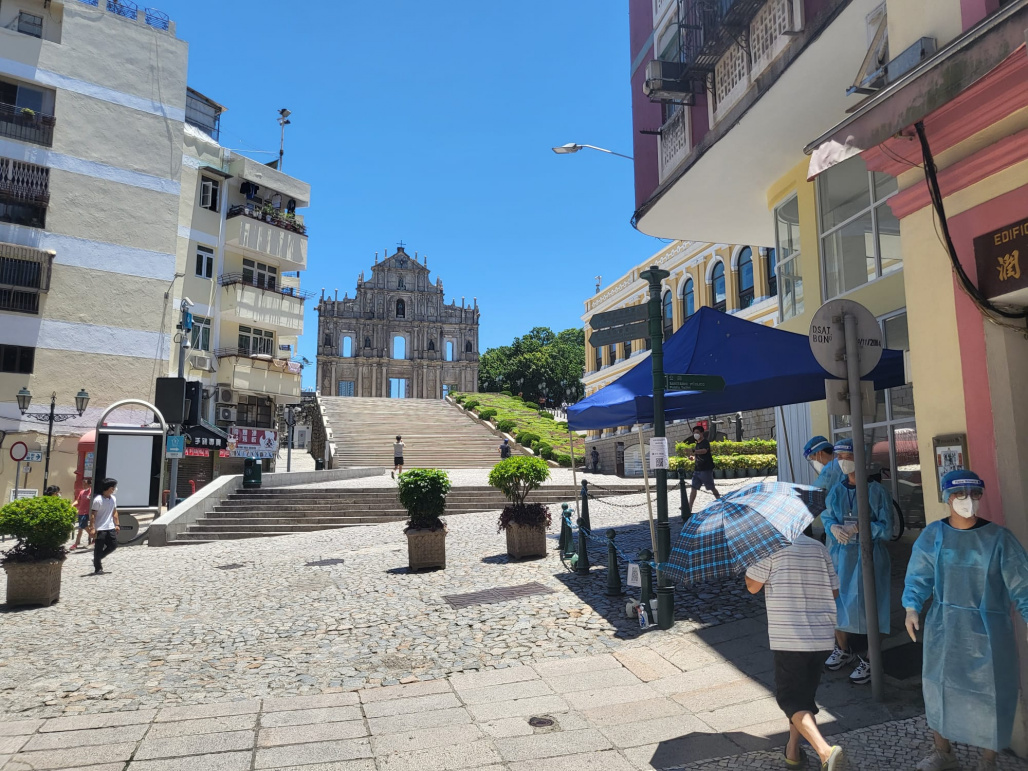 Those workers who have suspected symptoms of the new coronavirus, who hold a red health code, or who have not undergone nucleic acid testing and antigen testing as required by the authorities are not allowed to go to work or enter the premises.
Except for short-term activities such as drinking water, workers are not allowed to take the mask, and can only eat by themselves in "safe individual areas'.
"If you work outdoors, such as construction sites, you can arrange to eat at a distance of more than two meters," the guidelines state.
If anyone in the work team or workspace has tested positive for Covid and in the two days before the positive test has been at the work site, the relevant site should suspend operations.
"The personnel concerned should remain in place, go to work or go out until instructed by the authorities," the dispatch adds.
"If the facility cannot suspend operations, such as essential services, strict measures should be taken to reduce the risk of transmission, including requiring staff to undergo daily antigen and nucleic acid tests"
The daily total number of cases has increased slightly to 18 yesterday (Tuesday), with five uncovered among the community.
The closure of all non-essential commercial and industrial services has been extended for five days until midnight on July 23.
Three mass testing rounds were also carried out between July 18 and 22, each lasting for about two days but with extended opening schedules.
A new mass citywide testing round will also take place between July 30 to 31, while nucleic acid testing of key groups of people and working groups will be carried out from July 24 to 29.
These key groups of people include cleaning, security, property management, catering, takeaway delivery, public transport drivers and domestic helpers residing with their employers.
All residents will still be required to carry out rapid antigen tests every day and submit the result to the government's online platform.
[To be updated]