Macau Business Editorial | April 2022 | By José Carlos Matias – Director


Lately sometimes it feels like we're stuck in Groundhog Day, the 1993 US film that sees a weatherman (Bill Murray) relive the same day over and over, waking up to find he's right back where he started the previous morning.

More than two years have passed since the unprecedented global COVID-19 pandemic emerged, sending shockwaves across the globe and putting the resilience of governments and societies through a tremendous stress test.
The national-level "dynamic zero-Covid" strategy has produced remarkable results in terms of swiftly and successfully bringing outbreaks under control and thus avoiding a death toll like those registered elsewhere in the world. However, as the highly contagious yet milder Omicron variant continues its rapid spread and vaccination rollout expands, the case for adjusting that strategy grows stronger. Macau has fortunately not faced a wave of infections like those in Hong Kong or Shanghai, but that's no reason to lower our guard: it's likely more a matter of when (and on what scale) than if. Local health authorities have been ramping up their efforts to prepare for such a scenario. The coming months will be critical in this respect, not only in terms of people's health and the city's health infrastructure, but also in terms of people's livelihoods and the city's economy. A stroll through the city centre is enough for the naked eye to perceive the hardship faced by small businesses, who bear the brunt of this prolonged crisis due to associated tourism blues.
Recent gaming revenue figures (MOP 3.6 billion in March, the lowest since September 2020) offer a cautionary tale, showing what the city must steel itself for in the short-term: a climate demanding swift, sound measures to prevent the onset of an even deeper crisis resulting from more business closures and higher unemployment. What is desirable is a multi-track, coordinated approach comprising short- and mid-term measures coupled with both inward and outward dynamics.
The case for immediate relief is unassailable. Secretary for Economy and Finance Lei Wai Nong has revealed a new round of consumer e-voucher cards in the pipeline: a welcome move that one hopes will be followed up with a bold, integrated package, in line with the ones rolled out by the Government over the past couple of years, but more substantial this time.
Chief Executive Ho Iat Seng's scheduled attendance at a Legislative Assembly Q&A this month should provide the right opportunity for announcing measures and expressing a vision for the coming months. Amendments to the 2022 budget are likely needed, with government revenue thus far falling well short of the forecast. Take the first three months of the year for example: gaming revenue stood at MOP17.7 billion, yielding a monthly average (MOP 5.9 billion) that is just 54 per cent of the monthly average (10.8 billion) for the Government's MOP130 billion full-year estimate. Another dip into the city's MOP600+ billion rainy-day fund appears inevitable.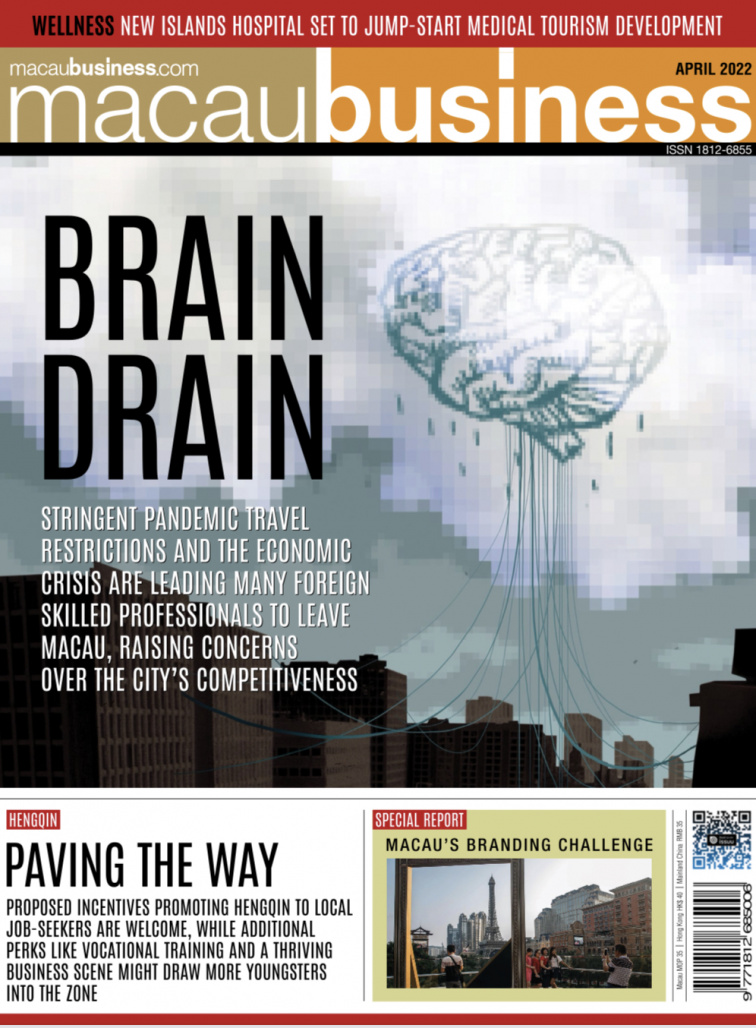 Even if the SAR is blessed with abundant financial reserves, businesses and society need to glimpse a light at the end of the tunnel. It would be fair to expect a gradual and partial re-opening of the city in a few months, provided the situation ahead allows for a safe and steady relaxing of the "dynamic zero-Covid" approach. Nevertheless, one simply cannot overestimate the broader impact of restriction fatigue.
Along those lines, in addition to looking after the local population's well-being (the priority), authorities should also address the pandemic-fuelled brain drain featured in this issue of Macau Business, lest there be an insurmountable deficit of the skilled foreign workers who play such an important role in Macau's social and economic development and who under current travel and labour importation restrictions cannot be replaced.
The loss of such human capital risks damage to the city's competitiveness in the mid-to-long term, such that it would behove the Government to consider further alleviating quarantine requirements whenever possible (without jeopardising public health, of course) and look at implementing a fast-track talent importation scheme for sectors with particularly pressing skill voids, such as Education and those key industries the SAR hopes will drive future economic development and diversification. New "business-visa" channels could also be opened to maintain foreign investor interest in the SAR. There are more judicious and innovative solutions that could be found in coordination with the mainland authorities and taking into account the views and needs of businesses and people from all walks of life.
The time to act is now – so tomorrow won't be another Groundhog Day.