Macau Business Editorial | March 2022 | By José Carlos Matias – Director


Early March marks the fifth anniversary of Premier Li Keqiang's landmark report, delivered at the opening of the National People's Congress plenary session in Beijing, in which the Guangdong-Hong Kong-Macau Greater Bay Area (GBA) featured prominently. It was heralded as a regional development project that would allow the nation to "give full play to the distinctive strengths of Hong Kong and Macau and elevate their positions in China's economic development and opening up".
The outline development plan, released in February 2019, detailed ambitious immediate (by 2022) and long-term (before 2035) goals: as of this year, "a city cluster with a reasonable division of labour, complementary functions and coordinated development should basically be established", while 2035 should see a "highly connected area, with very effective and efficient flow of various resources and factors of production". The ultimate end: that "an international first-class bay area for living, working and travelling should be fully developed". One should note that the GBA's economy is already similar to the Gross Domestic Product (GDP) of countries such as South Korea and Canada.
Five years on, with the special report published in this month's issue of Macau Business we take stock of the achievements, the possibilities and the challenges inherent in this crucial regional and national endeavour.
Macau's function, to be One Centre (for global tourism and leisure), One Platform (for trade cooperation between China and the Portuguese-speaking countries), One Base (for cultural exchange), heralds a promising role for the SAR, one to be cherished. While a number of steps have been taken in that direction, looking beyond the project's wise top-down design reveals obstacles on the ground that have hindered the development pace spelled out in the blueprint. The COVID-19 pandemic has not helped with moving closer to some objectives, while other challenges stemming from institutional discrepancies between the Bay Area's constituencies and mobility impediments will need to be sagely addressed in order to give full play to each side's strengths while maintaining and highlighting their distinctive features.
Of the GBA's eleven cities, Macau is one of the four core cities– alongside Guangzhou, Shenzhen and Hong Kong – and the one with the highest GDP per capita (pre-pandemic). However it is also the smallest and the most reliant on a single type of industry (gaming/tourism). This is both a strength (gambling monopoly and tourism appeal) and a vulnerability (exposure to adverse conditions affecting its core industry, such as those imposed by the pandemic). The Guangdong-Macau In-depth Cooperation Zone in Henqgin, launched in September 2021, is therefore a key asset in the SAR's ability to fulfil its function.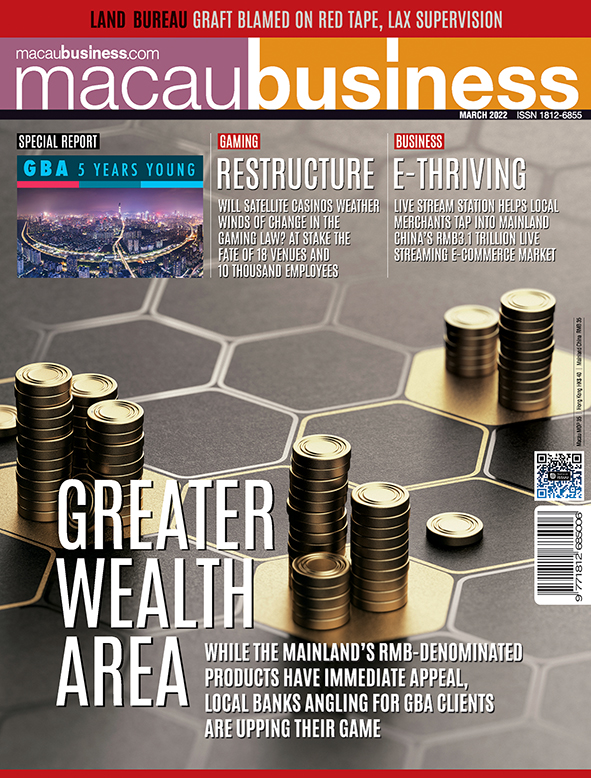 Against the current economic backdrop – even with all the potential a project like the GBA holds for the city – the local population can't really be faulted for having a narrow, day-to-day preoccupation with the city's uncertain economic outlook as opposed to a proactive, forward-looking approach to opportunities that are waiting to be seized just next-door. The fact of the matter, however, is that we mustn't lose sight of the goals set by the Central Government with respect to the GBA and Hengqin, and more needs to be done by authorities and economic actors to ready Macau for the greater GBA game in the mid to long-term.
For instance, an ambitious and feasible strategy to attract (both mainland and foreign) investment and professionals – in key areas that support Macau's One Centre, One Platform, One Base function, as well as key areas for the city's economic diversification – is pivotal. In the meantime, the pandemic-fuelled brain drain of highly skilled expats should be addressed. There are practical obstacles that can be removed by considering suggestions put forth by professionals, firms and chambers of commerce.
Connecting wealth
Also noteworthy is the fact that over the past five years, a number of initiatives and incentives that have been rolled out are yielding results. There are new mechanisms and programmes for cooperation designed to assist local entrepreneurs with venturing out into neighbouring Guangdong cities.
A concrete example in the realm of financial services is the recently launched cross-border Wealth Management Connect (WMC) pilot scheme. As reported in this issue, it's an arrangement that is attracting an increasing number of participants – customers and banks – in Guangdong, Macau and Hong Kong. The scheme's first phase has exhibited a stronger uptake in Northbound business, with RMB-denominated financial products holding great appeal for those in the SARs. Unsurprisingly, Hong Kong's products are leading in the Southbound market.
For local banks this poses both an opportunity – to tap into an extensive network and customer base – and a challenge – to differentiate themselves within a crowded field. It is high time for Macau's banking and financial sector to up its game.