After more than two years of living in a place with one of the world's strictest pandemic travel restrictions, a substantial number of foreign professionals have decided to pack their bags and leave the city they considered as home.
They departed mostly either due to employment issues or quarantine requirements leaving them virtually unable to visit their relatives in their home country and return to the SAR.
After working for five and half years as the Senior Fountain Maintenance Technician for Wynn Resorts, Ilya Semenov, decided 2022 was the time to finally leave the Lotus Flower city.
"Since the outbreak of the pandemic, Macau has banned all travel for workers and has refused to resume these trips, even non-tourist ones, throughout the entire time. At the same time, the methods to fight the virus reached the point of absurdity," the Russian national told Macau News Agency.
"Macau was enough of an ok place when it was possible to get out and come back on the weekends. With pandemic it has become a mad place".
The comments showcase a common message of distress shared by the foreign nationals who after making the SAR their home for a considerable time have been forced to leave, either due to the SAR's pandemic restrictions themselves or due to their impact in an labour market closely linked to the tourism and gaming industries.
March of this year has marked almost exactly two years since Macau authorities enforced a total ban on the entry of non-residents in the city and a 14-day quarantine for overseas arrivals.
What seemed to most at the time as temporary measure to stem the progression of the raging novel coronavirus pandemic has not just stood firm for more than two years but became even stricter, with overseas arrivals required to complete a 21 days quarantine upon entry – a measure in force until March 27 -, with only a special isolation hotel facility to choose from.
Authorities eventually announced on March 24 that starting from midnight of March 28 the quarantine period required for Macau residents coming from Hong Kong, Taiwan or any overseas region would be reduced to 14 days in a medical observation location plus seven days of health self-management.
The wear and tear of living in a city almost solely opened to Mainland China has posed a complex conundrum to foreign national employees, left unable to visit friends and family or even leave the confines of the small 36 square kilometers city without completing a lengthy isolation period.
"During 2020 we were immensely grateful to be living in Macau, we were safe and we could still go out and do things whilst everyone else was in lockdown but when the rest of the world started to open up, Macau did not," a British teacher who chose to remain anonymous told MNA.
Having spent about 18 months waiting and hoping for things to change, the teacher and her husband, also a British national, received three Covid-19 jabs for the "greater good" of the local community but grew frustrated at seeing "no benefit from doing so" and restrictions remained in place or were even tightened further as the rest of the world seemed to move on.
"We have not seen family or left Macau for 2 and a half years. For these reasons most of our friends have already left Macau so the support network we once had is no longer there. The emotional strain is too high price to pay, we feel sad, anxious, trapped and frustrated as we need to see our family and friends," she told MNA.
"For these reasons most of our friends have already left Macau so the support network we once had is no longer there. The emotional strain is too high price to pay, we feel sad, anxious, trapped and frustrated"
As blue card holders was left no possible lanes for re-entry after leaving the city, apart from a possible entry via mainland China and Hong Kong announced late last year
"But in reality it is impossible. You must first spend three weeks in Hong Kong, which itself is only allowing residents entry at the moment so there is no way in"
I what they described as a long and hard decision the couple has now returned to UK, attracted by the freedom and job opportunities they once cherished in the SAR.
"With the rest of the World opening up, so did new job opportunities & with unpaid leave for the last two years, the salary in Macau was no longer as competitive as it once was. We will remember Macau with fondness, grateful for the memories and the friends but as well as spending much needed time with our family & friends, we are excited for the freedom and contentment leaving Macau will give us."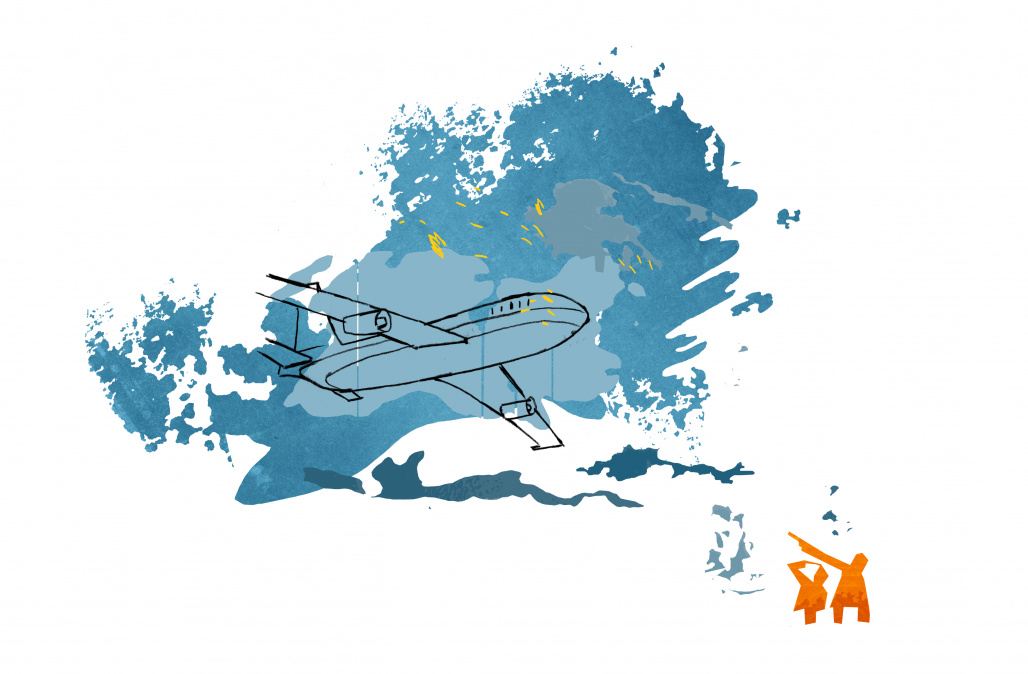 A disturbance in the labour force
Data published by the Macau Labour Affairs Bureau paints a picture of the changes in the non-resident labour force.
If comparing January 2020 – the last month before the pandemic first struck the city – to January 2022 the number of registered non-resident workers dropped by 13.5 per cent to 167,440.
If removing mainland workers, who for the most part have been able to enter and leave the city by only presenting a negative nuclei acid test, that reduction becomes more pronounced, showing a 26 per cent drop to 55,272 workers.
Using the same metric the number of non resident workers – excluding mainland workers – in the hotel industry has dropped by almost half in the same period to 8,128, by 27 per cent in the construction industry (1,072) and by 40 per cent in the gaming industry (6,146), the city's sectors with the largest non-local work force.
The employment woes faced by non-resident workers as the city's economy slowed down at the same level that visitor numbers plunged was then compounded by a new labour regulations enforced in October 2020.
The amendment effectively forces non-resident workers who have their employment contract terminated to restart the process of obtaining entry permits for work purposes, a requirement turned into an almost insuperable barrier due to pandemic restrictions.
Chief Executive Ho Iat Seng even stated in his 2022 policy address speech that the number of non-resident workers in the city was "adjusted" as the SAR aimed to guarantee employment to local residents in the economic recession created by the Covid-19 pandemic.
If only considering specialised workers, DSAL data shows that between January of 2020 and January, 2022 the number if highly skilled workers had dropped 17 per cent to 5,310, with the number of approved employment applications cut by 36 per cent to only 53.
The highest number of specialised outside workers in the SAR were either employed in education (1,493), real estate and business activities (896), or gaming (645).
Data on specialised non-resident workers did not specify nationality.
Official data also does not showcase the number of permanent or non-permanent residents holding a foreign nationality, who were also greatly impacted by the restrictions imposed by the pandemic.
For example, according to official data divulged by the Portuguese Consulate in the SAR, more than 1,600 people with Portuguese passports have left the SAR in the last two years.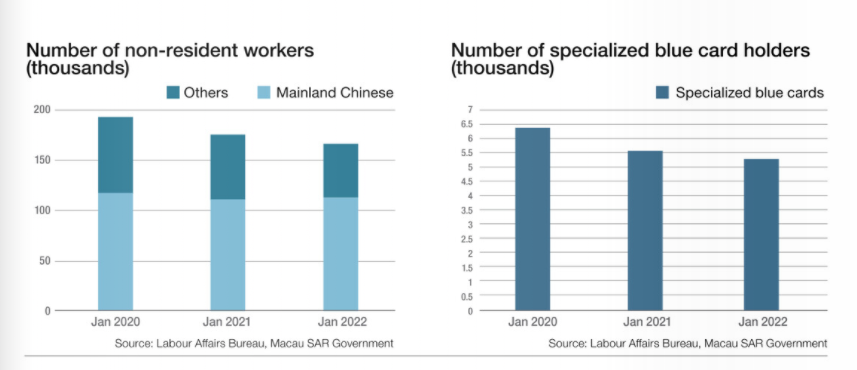 Gauging the damage
In commentary provided to Macau Business, Jiji Tu, Executive Director of MSS Recruitment and hello-jobs.com stated that while the zero-covid policy in the past two years has kept the city "safe from within" to non resident professionals, it meant a "firewall from their friends, families and all outside of Macau".
The recruitment agency proposed that maybe more attractive compensation packages and benefits could be a solution for attracting more professional talent, since non resident professionals still having to consider if they are willing embrace such a stringent entry policy.
"For new talents wanting to work in Macau, it goes back to the reviewing criteria if they are willing to embrace the anti covid policy where there is a high possibility of a firewall from the outside world, or risk to lose their job should covid strike in comparison the new job offer and benefits," Tu added.
The company also proposed a progressive review of sectors and countries to extend their return to Macau SAR based on priority ranking to the of this skillset / knowledge within Macau or if they represent essential positions that locals are less willing to do to keep industries operating, in order to possibly allow, as an example, the entry of IT specialists, banking specialist (Fintech) in one hand or of domestic helpers, F&B servers, housekeeping on the other.
According to the Chairman of the British Chamber of Commerce in Macao (BritCham) the largest decreases in labour numbers of non-residents was most noticeable in the construction, aviation and hotel industries.
"These people could be [foreign expats], Filipinos or Hong Kongers working in Macau. People from those three groups have been reduced in the last six months at least," Buckley told MNA.
"It depends, you have to look at it from various perspectives. For instance where II have been working for the last three years, The Londoner has finished so people have been leaving as a result of the work coming to an end."
The head of BritCham then pointed to the foreign worker community employed in hotel industry as one of the "biggest hits", together with the aviation sector.
"Either helicopter pilots or Air Macau pilots. For instance I know helicopter pilots who have not flown a scheduled flight for two years, only the helicopter tour flights last year. But no scheduled flights to Hong Kong or Shenzhen.
"I know Air Macau still has a scheme where they ask pilots to go and carry out flights in Mainland China. They left because their family would be here and once they would be in Mainland China they wouldn't be able to go back."
Meanwhile the chairman of the France Macau Chamber of Commerce, Rutger Verschuren, stated to MNA that the group has witness some of our members leaving the city mostly SME owners and employees, but also many corporate company employees.
"I think there are several categories. You have those who have lived in Macau for a long time. Either their business did not work out at the end, they cannot bear the costs anymore and they don't have families in Macau, like those Macanese who fall back home. So when those professionals or owners sort of hit the bottom, there's no falling back other than going to their home country and go to their families and relatives over there," Verschuren noted.
"Then there is a number of people who worked here in Macau, professionals mostly 'blue cards'. By the downturn of the business, they were told the blue cards will not be renewed. Therefore you need to find a new job somewhere else at home, probably, or anywhere else"
Another category includes those who have no employment problems but who were forced to leave due to family issues back in their own home country.
Others simply leave in a search for "more living space and more freedom" searching to start "a new chapter of their lives in another place".
"Then of course the majority is just simply staying here and being with the local community. For sure we are hopefully far over half of this pandemic. So how much worse can it get? We don't know, but there is an end to this. So most of our members keep very positive, and as a circle of friendship and business connections"
For Keith Buckley the interest in Macau for British companies and qualified professionals is "still there", awaiting an opening from the current pandemic shell to enter.
"In terms of British companies, most of them looking to do business in Macau would come by via Hong Kong or possibly Shenzhen and obviously with the place being locked up there's no visitors from British companies come. I think the last time we had someone coming up was in December, 2019," he added.
"There's interest in Macau, specially now with the Hengqin development zone but maybe we normally you would have people from the international trade office in Hong Kong come visit us but they have not set foot in Macau for two years now"
A former Air Macau pilot expressed regrets to MNA regarding how Macau has changed due to COVID, but hopes that one day the city could return to its former self.
"During the start of the pandemic, I was pleased to have my health and my job secured, despite being isolated from my friends and family outside of Macau. Weeks turned to months, which turned to years. The only problem was that the safe haven I was so fortunate to have slowly started to turn into a mental prison," stated the pilot, who chose not to reveal his name.
While inquiring of foreign professionals who had left Macau or were planning to leave, MNA was faced with many who chose to not reveal their identities, either because they did not want their departure reasons to be known, they had a fear of professional reprisals or due to "the sensitive" nature of discussing pandemic policies in the SAR.
The same pilot expressed that one of the factors witnessed in the last two years that most caused him to become dispirited was the difference in treatment provided to permanent residents and residents with a work permit authorisation, known as a 'blue card', who were left unable to return if they decided to leave the city.
"[I was] being cooped up whilst watching how the rest of the world has actively been changing strategies to battle Covid in a way that echoed with my logic and beliefs. It really started to effect [sic] my mental well-being […], especially when there [are] very different rules with regards to travel restrictions imposed on foreign non-resident workers. It's hard to invest your time, energy and money into a system that doesn't make you feel like you belong," he lamented.
Meanwhile, Maria José Freitas, a Portuguese architect based in Macau for over 30 years, told MB 2022 was the year she decided to temporarily relocate to her home country.
"I will keep house here but will close the architecture atelier since there is no work and the rent is high. I will continue to work for Macau but by distance from Portugal. We got used to the pandemic to work online and not have such a physical presence. My professional work is deeply connected to Macau heritage and architecture," she told MB.
With her husband in the SAR but her children in Portugal, the architect noted how, before the pandemic, she was able to easily go back and forth, which would help to better "balance her heart" in a situation in which quarantines and travel requirements made seeing loved ones a complex endeavour.
"Still, I think it will be temporary. […] We have to wait and let this period pass. Macau has deep roots, and they provide a sustainability for the future that will maintain this multicultural aspect. It's one of the things that gives Macau its prominence. Maybe it will be able to reinvent its multicultural element like a phoenix."[
---
Hong Kong woes
When compared to Macau there's a case to be made that the Hong Kong expat community had it even worse since the pandemic was initiated.
Although Macau has mostly maintained the doors to Mainland China opened without quarantine, Hong Kong has spent most of the last two years and a half almost entirely shut out from the world.
As if not enough, the neighbouring SAR has been on thralls of its worst pandemic wave, reporting five-figure daily Covid-19 cases since the beginning of this year.
Thomas Gnocchi, head of the EU office to Hong Kong and Macau, wrote to Hong Kong Chief Executive Carrie Lam Cheng Yuet-ngor in February to report that 10 per cent of Europeans had left the city over the last year amid uncertainties over anti-epidemic measures.
However, the considerable number of people leaving town in droves, particularly expatriates from the financial sector, seemingly convinced Ms Lam to rethink the city's stringent pandemic control measures.
As the pandemic wave hit a plateau, the city's CE announced flight bans on nine countries to be lifted on April 1, with hotel quarantine for fully vaccinated residents returning from overseas to be cut from 14 to seven days.
Lam pointed out at the time that given Hong Kong's socio-economic needs, the flight ban was no longer up-to-date while noting that the city's business environment could be undermined if quarantine requirements for inbound travellers were stricter than those for local residents.
---
Exclusive Macau Business / Macau News Agency