The first torch of the Beijing 2022 Olympic Winter Games (Beijing 2022) is exhibited in the lobby of integrated resort Wynn Macau from today (Wednesday) until February 20, in a bid to "promote the shared spirit of sportsmanship and bring a taste of the Winter Olympics to the Macau community", Wynn Macau announced today.
The showcase of the torch — which is named "Flying" — at Wynn Macau is "the first such official exhibition nationwide", the local gaming operator said in a statement.
Beijing 2022 is the first Winter Olympic Games taking place in China, held between 4 Feb and 20 Feb in Beijing and the surrounding regions of the Yanqing District and Chongli District. Beijing is also the first city to host both the Summer and Winter Olympic Games, following the 2008 Summer Olympics.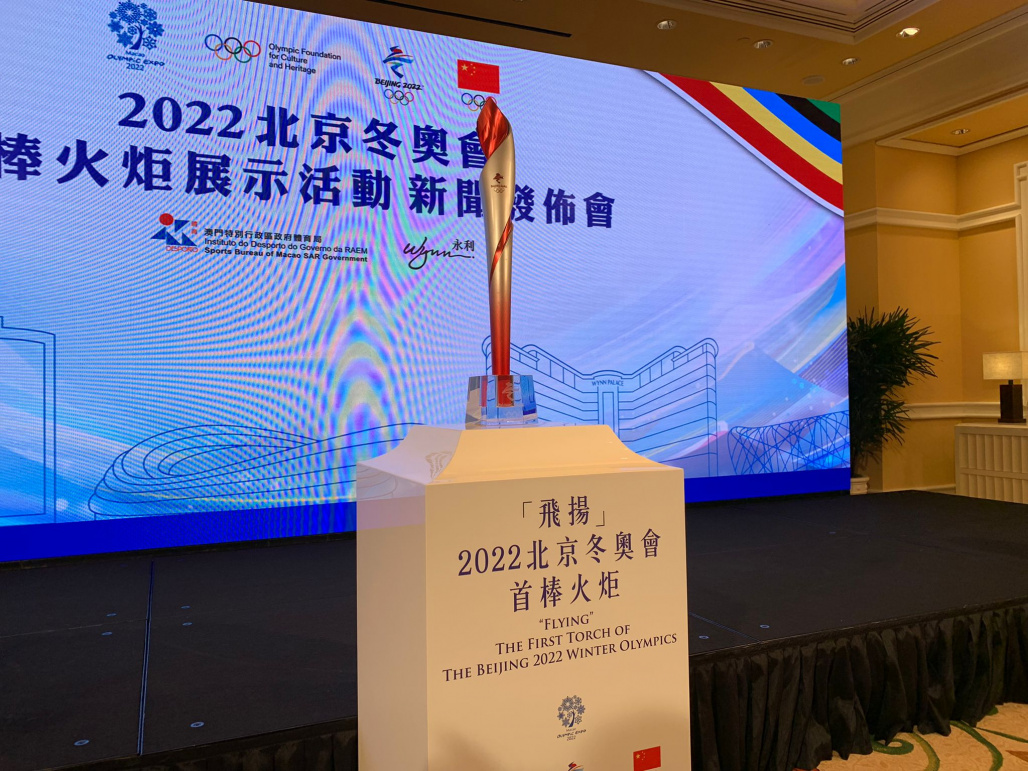 Speaking in a press conference today about the torch exhibition, Linda Chen, vice-chairman and chief operating officer of Wynn Macau Ltd, said she hopes the people of Macau could "experience the charisma and glory of the Olympics".
A letter from Yu Zaiqing, the vice-president of the International Olympic Committee (IOC) and the vice-president of the organising committee of Beijing 2022, was also read in the press conference today, attended by Pun Weng Kun, President of the Macau Sports Bureau, among other honourable guests.
The "Flying" torch is an important symbol of Beijing 2022 that embodies the integration of the Chinese culture and modern Olympic spirits, Mr. Yu said, adding the torch exhibition "will significantly enhance" the interests of the Macau public in Beijing 2022.
The first Chinese torchbearer for Beijing 2022, Li Jiajun, who was the first Chinese male athlete to win a medal at the Winter Olympics, also made an appearance today in the press conference via video, wishing a successful showcase of the "Flying" torch in Macau.
The torch exhibition is the inaugural event of a series of activities to take place in the city this year for the "Olympic Expo", which promotes and disseminates the Olympic culture in diverse forms.