Analysts from Morgan Stanley believe more and more gaming concessionaires will terminate agreements with junket operators, effectively ending the sector in the city even without an official order from authorities banning them.
It was revealed today that junket operator Tak Chun has issued an internal notice stating some 'individual casinos' will temporarily suspend their cooperation relationship with them.
The indication by what is largely considered the second-largest junket operator in Macau follows the suspension of all VIP rooms operated by the largest operator, Suncity, on December 1, following the arrest of founder Alvin Chau and several associates connected to the group by police authorities.
In 2019 Suncity held over 45 per cent of the junket market, with Tak Chun holding about 19 per cent, with that year reporting about US$14 billion in VIP revenues.
Media reports this week also hinted that Wynn Macau has issued termination notices for all its junket operated VIP rooms to be closed by December 20, with speculation other gaming operators will carry out similar moves, as scrutiny of the sector by authorities increases.
A note published by Sanford C. Bernstein yesterday also stated that the Gaming Inspection and Co-ordination Bureau (DICJ) has issued an instruction to junket operators to stop offering credit to their customers and requesting that chip purchases can only be done for upfront cash.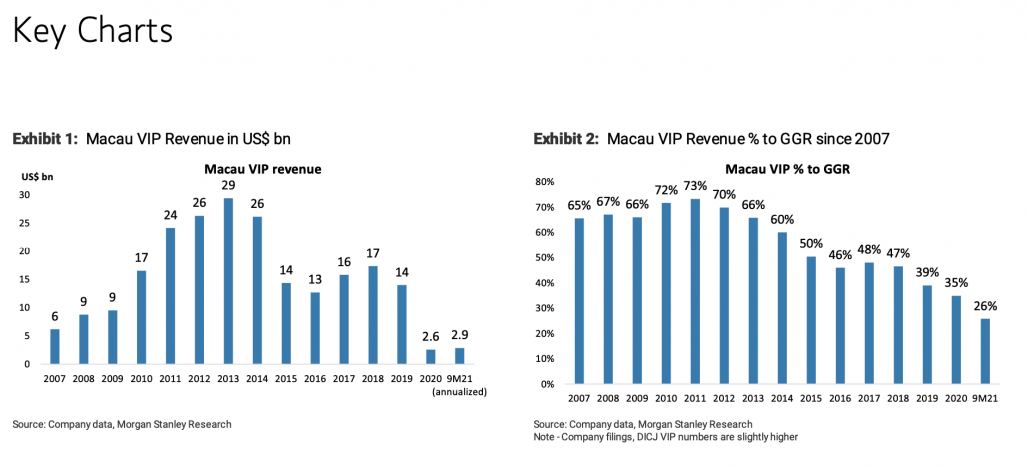 In another dispatch, Credit Suisse indicated that other gaming operators are reviewing their positions, although no decisions have been taken yet.
Macau News Agency inquired DICJ concerning the credit notice and VIP room closures, with the gaming watchdog only answering that it has so far not received any notification from gaming concessionaires that they would close VIP rooms run by junket operators.
The brokerage note that local authorities had already provided several signs they would move in the sector previously, including a Legislative Assembly committee report in August that suggested that the current junket VIP business may not be able to sustain under Article 303 of the Criminal Law Amendment implemented in March this year.
On March 1 of this year, a new amendment to China's criminal law was also enforced, changing the crime of gambling to three different types under Article 303, namely, gambling, opening a casino, and organizing the participation of mainland residents for gambling out of borders.
Under the new article whoever operates or manages casinos and organizes or solicits Chinese residents to participate in overseas gambling, where the amount involved is large with a serious nature would face harsher penalties.
'The [AL] report also emphasized to the Macau government the importance of national security issues when planning for the future development of the gaming sector,' the note added.
The number of licenses issued by the DICJ each year has already been on the decrease, from a high of 235 in 2013 to just 85 in 2021.
All junket licenses in the city will also expire on December 31, with new ones issued later. However, according to Morgan Stanley, if gaming operators cut ties with junkets themselves, the sector could be removed without the need for an official government order.
Still, Morgan Stanley underlined that the VIP sector has been more important for local tax revenue than for the concessionaire's EBITDA, with the sector having generated a cumulative US$228 billion of revenue and US$89 billion of tax for the Macau government in the last 15 years, plus US$20 billion in EBITDA for operators.

Local authorities predicted the year would end with a total of MOP130 billion in gross gaming revenue, however, after outbreaks in the SAR and the mainland continued to impact visitor numbers, combined with the continuing shrinking of the VIP market pool, total results reached MOP78.9 billion by November, some 60 per cent of what was expected.
The Macau SAR government has repeated the MOP130 billion estimate in gross gaming revenues and MOP45.5 billion in gaming taxes collected for 2022.
The reduction in gaming tax revenue has led authorities to resort to MOP90.8 billion from the extraordinary financial reserve since the start of the pandemic in early 2020 to balance the local budget after advancing with several economic stimulus and support policies.
'VIP contributed roughly 70 per cent of Industry GGR and 32 per cent of EBITDA at its revenue peak in 2013. However, contribution dropped to 39 per cent of GGR and 9 per cent of EBITDA in 2019,' the brokerage added in a note.
'In 2022/23, we expect VIP to contribute less than 10-20 per cent of total revenue, and less than 5 per cent of EBITDA.
Meanwhile, pre-COVID gross gaming results of US$37 billion in 2019 will likely be 'difficult to achieve even in 2024'.