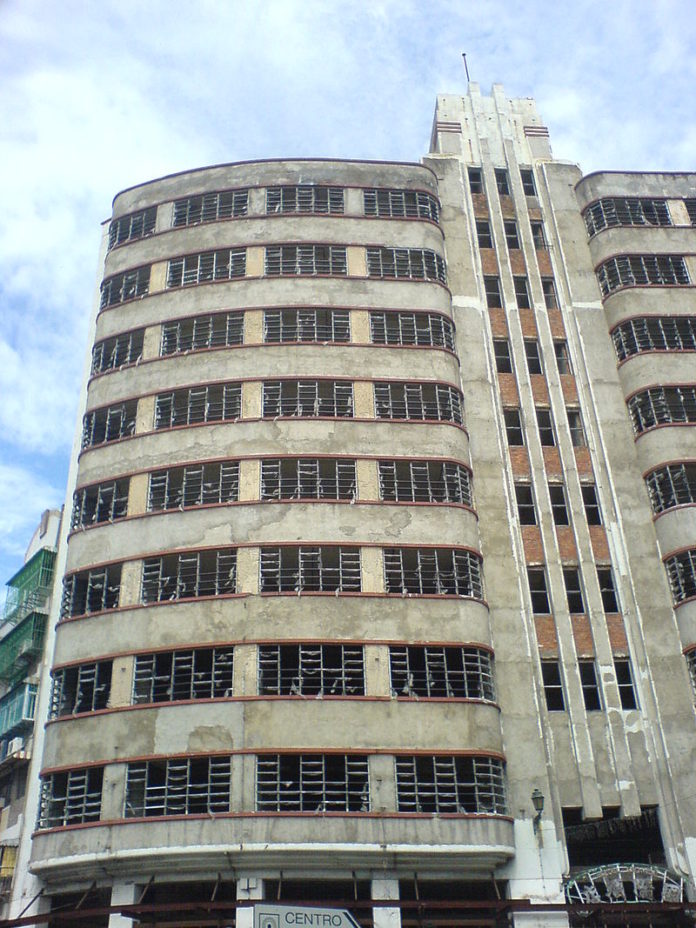 The Grand Hotel could gain new life soon, Business Daily has learned.
The Bureau of Land, Public Works, and Transport (DSSOPT) has confirmed to this newspaper that the new owner of the property has filed an application to conduct consolidation works on this historic building, located at the western end of Avenida Almeida Ribeiro facing Ponte 16.
'In August of the current year, [the Bureau] received a letter from the owner requesting only the execution of consolidation work on the building, a request that is currently in a phase of evaluation by and consulting of opinions from the Macau Cultural Affairs Bureau,' DSSOPT announced in an e-mail.
Contacted by Business Daily, the Cultural Affairs Bureau (IC) also confirmed that it had received such a request from DSSOPT in November "for consultation and opinions on the consolidation project" of the building.
Currently, the owner's intention to renovate the Grand Hotel building has not yet been made public.
In reply to Business Daily's enquiry about when the Cultural Affairs Bureau would deliver its opinions about the building to DSSOPT, spokesperson Angel Ma said: "IC has still to analyse the information, with no final result yet".
The place – also known by its Chinese name of 'Gwok Zai' or International Hotel – opened its doors in 1941 but was shut down during the 1990s, leaving behind a colourful past patched with stories of gangsters, movie actors, and Chinese tycoons.
New owner
In 2014, the property changed hands, leaving the Fok family, its long-life owner, for the first time since 1937. The new owner, International Weng Fu Investment Company Ltd., acquired the building in two transactions, in January 2014 and July 2015, respectively.
According to the Property Register document obtained by Business Daily, the consideration for the acquisition totalled MOP266 million (US$33.2 million), of which the first tranche amounted to MOP257.5 million, and the second to nearly MOP9 million.
Business Daily sought to contact the company for more details on the renovation plans for the hotel property but it was unreachable by the time this story went to press – since the company is not listed in the telephone directory nor exists at the headquarters' address registered in its commercial filing.
Consolidation works
According to Carla Figueiredo, an architect with the Heritage Department of the Cultural Affairs Bureau (IC), consolidation works means improving the resilience of a building; in particular, by reinforcing the existing structure, its pillars and foundations, as well as proceeding to architectural restoration.
"It first entails structural consolidation, which is the work of strengthening and stabilisation of an edifice, conducted by an engineer, followed by a phase of architectural restoration, of windows and arcades, the base of columns, and balustrades, for instance, conducted by architects and restorers," he told Business Daily.
In fact, the instruction from DSSOPT to seek advice from IC stems from the fact that adjudication or approval of new construction or any works or interventions – except for those dealing with the interior of buildings – in 'protection areas' or 'temporary protection areas' need to be run by IC before intervention can follow.
Since the law on Cultural Heritage Preservation came into force on March 1 2014, IC's recommendations are compulsory and binding in those cases, as defined by Article 31 of the same text ('Conditioning in protection zones').
Meanwhile, the Grand Hotel is situated in an area under protection according to Article 115 and Section 2 of Article 117 of the aforementioned Law, the Cultural Affairs Bureau explained, stating the property "is assessed as one of the architectural complexes and sites in that area."