[Updated with information provided later by health authorities]
The Hotel Fortuna has been included in the list of Red Code lockdown areas, health authorities revealed.
The property, together with its casino and nearby had been sealed this morning after one of the hotel's workers reportedly tested positive for Covid.
Security and health officials have been seen carrying out supplies to the hotel in Rua de Cantão 49-63 since it was sealed.
Health officials later revealed that the property had been sealed with about 300 residents and more than 80 staff inside, while the Pak Tou Car Park was re-opened to the public.
Three colleagues of the worker that initially tested positive were also diagnosed with Covid-19 later, while Zhuhai authorities also reported that a confirmed case detected in the Chinese city was a Hotel Fortuna employee, bringing the total to five.
The Macau Pandemic Response Coordination Center added that if the hotel has enough rooms, it will arrange for the guests and staff to be isolated in the original hotel, without a need to transfer them to any other location.
According to pandemic prevention policies, people inside the hotel have to follow the requirements for Red Code areas, namely, on-site nucleic acid tests will be temporarily arranged to be conducted on the 1st, 3rd and 7thdays; with rapid antigen tests arranged to be conducted on the 2nd, 4th, 5th, and 6thdays.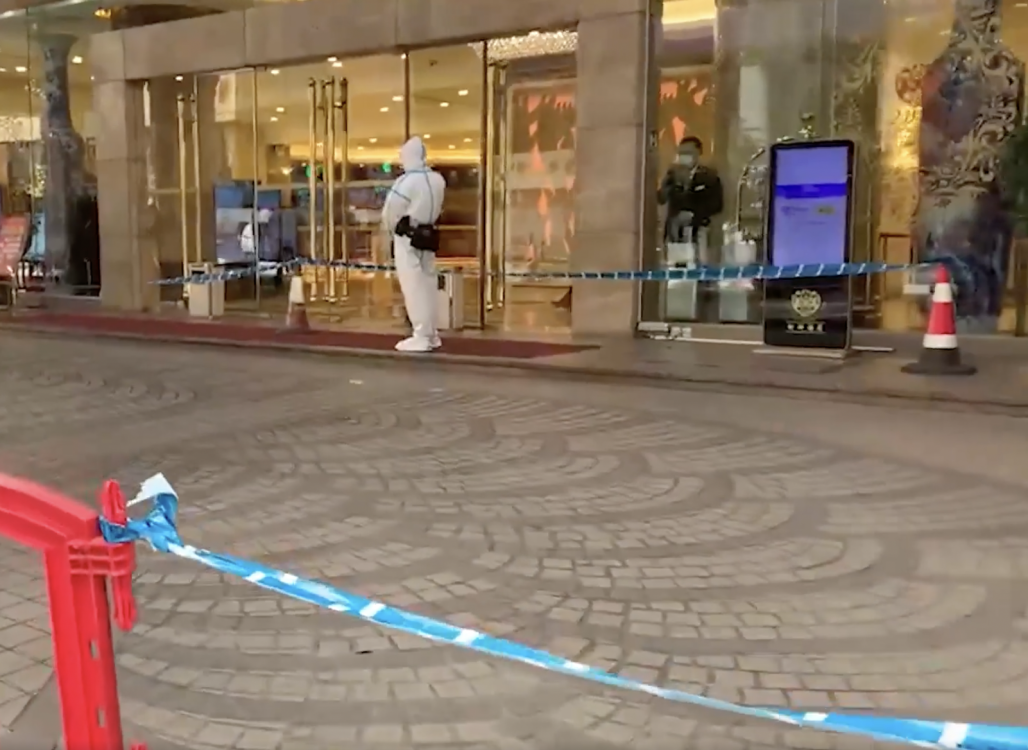 Aside from working staff, no one is allowed to leave the zone but is permitted to enter. Individuals in this zone should minimize their activities and collect daily supplies at the designated spot.
While comprehensive restrictions and closed-off management are in place, affected individuals may be quarantined for medical observation on-site or be transferred to a suitable location for centralized management and medical observation according to the actual circumstances.
Some 47 confirmed Covid-19 cases have been reported so far, with almost 1,500 people linked to these cases directly or indirectly placed under medical observation.
The most updated Red Code Lockdown Zones include the following buildings:
EDF. YIM LAI: Rua de Manuel de Arriaga 66-66C;
PADRE Modern Cuisine: Avenida de Praia Grande 251;
EDF. TAT CHEONG: Rua de Afonso de Albuquerque 33-35G;
EDF. PARKWAY MANSION (BLOCK 2): Rua do Almirante Costa Cabral 146;
CENTRO CHIU FOK: Rua de Pedro Coutinho 23;
FLOWER CITY :LEI POU KOK: Avenida Olimpica 177-259, Rua de Évora 10-72;
LAKE VIEW GARDEN: Praça de Lobo de Ávila 16-18;
Cornes Assadas Lam Kei: Rua da Emenda 40;
CENTRO INTERNACIONAL DE MACAU (TORRE VI): Rua de Malaca 124, Rua do Terminal Marítimo 93-103 Travessa da Amizade 82;
EDF. JARDIM IAT LAI (BLOCO 6): Rua Central de T'oi Sán 302;
EDF. MAN LEI (BLOCOS S,T): Rua Dois do Bairro daAreia Preta 6;
HOTEL FORTUNA(Rua de Cantão 49-63, Rua de Foshan 48A-78,PPraça de D. Afonso Henriques 76-90 )
Meanwhile, the Precaution Zone or Yellow Code Zones are currently the following:
EDF. SON LEI: Rua de Manuel de Arriaga 64-64B;
EDF. CHUN FONG: Rua de Afonso de Albuquerque 38-40A;
EDF. TAK FONG: Avenida de Praia Grande 241-253;
EDF. TAK WENG: Rua de Afonso de Albuquerque 37-45;
EDF. MAN HENG: Rua de Afonso de Albuquerque 31C-31G.
Yellow areas must impose on-site nucleic acid tests immediately, with the first test to be concluded within 24 hours after an area is defined.
Nucleic acid tests are temporarily arranged on the 1st, 2nd, 3rd, 5th and 7th days and no one is allowed to leave the zone, with border exit restrictions, close health monitoring and self-health management for at least 14 days also requested.