A hybrid workplace model, in which some employees work in offices and some work remotely, might gain traction among Macau companies in view of the possibility of more COVID-related lockdowns in the future, a risk management advisor said.
Vincent Mossfield, Regional Director (Asia) of Liability Risk Practice at multinational risk management and insurance brokerage Willis Towers Watson (WTW), made the remarks today (Thursday) in a webinar, which was organised by the France Macau Chamber of Commerce (FMCC).
The practice of work from home, or work remotely, has been more and more common for enterprises and employees around the world since the onset of the COVID-19 pandemic more than two years ago over the coronavirus-related restrictions.
Nonetheless, in the webinar titled "How Can Businesses Adapt to the New Normal?", Mr Mossfield pointed outnot all industries and companies can adopt this workplace model, forinstance, it is not suitable for Macau sectors and enterprises that concern hospitality and face-to-face customer service.

"We've gone through the first round of lockdownbut my view is that it is going to potentially occur again and again. Most likely companies that can't work from home are going to enter into a hybrid work environment, where we're working from home and also working in the office," he told the webinar.
He refers to the restrictive measures that had been imposed in Macau for more than a month, including a 12-day partial lockdown when all non-essential businesses were suspended, following a local community COVID-19 outbreak on June 18. Macau has entered the six-day stabilisation period starting from this Tuesday—when most COVID-related restrictions have been lifted—as the city has reported no cases in the community since July 23.
In the webinar, the WTW consultant also talks about the risks and benefits associated with workfrom home, like cybersecurity risks.
For firms adopting the work from home or hybrid work models, headvised companies shouldimplement a work from home policy and procedure document, which clearly defines the responsibilities and obligations of employerand employees; lists technology and data protection requirements; designates work hours at home; and others.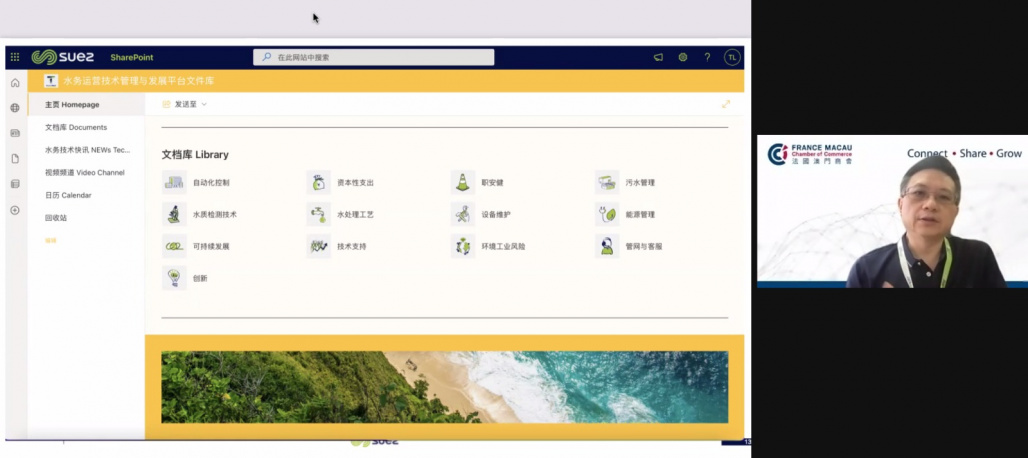 Another speaker of the webinar, Thurston Lou, Chief Technical Officer (Water China) of France-based utility firm SUEZ Asia Pacific, shared today his remote working experience with his team that scattersacross different places. SUEZ is the parent company of local utility Macao Water Supply CoLtd.
Mr Lou also acknowledged the challenges for employees to maintain a work-life balance when they work from home, advising employees shouldcompile a daily to-do list to help resolve the issue.
The webinar today was moderated by Ada Lo, a FMCC board member, and Rutger Verschuren, chairman of FMCC, also joined the session.