Resulting from the acquisition in mid-2018 of former Portuguese bank Banif – Banco de Investimento, S.A., by Hong Kong capital, Bison Bank has since then attempted to establish itself as an international-minded Portuguese bank, with Asia, and especially China, deeply engrained in its DNA.
In an interview with Macau Business at the bank's headquarters in downtown Lisbon, recently sworn-in CEO, António Henriques, highlighted the bank's effort in providing an encompassing service in Mandarin and its pioneer role in the world of crypto assets banking.
---
When you were recently sworn in, you indicated that as the new Bison Bank CEO you would focus on consolidating the current direction of its banking business and on the custody and transaction of virtual assets. How have these plans progressed?
António Henriques – The bank has always had three main lines of business, depository banking, investment banking, and custodian/private banking. What we can do is consolidate these lines of business and we are now adding a fourth line of business through this subsidiary that obtained a license last April for crypto assets.
In the future, we will want to add this fourth line of business to the entire banking portfolio. Our idea is basically, in addition to the consolidation of the other three lines, to also be an option for the traditional customer with greater diversification. Classic banking until today doesn't offer much or tends not to offer many virtual assets and what we also somehow want to pass on is to offer beyond what are the classic lines of banking. It is also important to mention here that this line of business will be offered through a specific subsidiary that we created for this purpose, called Bison Digital Assets.
Therefore there is a clear commitment for Bison Bank to be a pioneer in the area of ​​digital asset banking?
A.H. – It would not be a crypto bank, because in this case, the crypto license is this subsidiary, not the bank. I agree with being pioneers, Bison Bank is an investment bank, our DNA has always been one of innovation, wanting to do things differently, and thinking outside the box. We have a lot of experiences in the past, we were the first depositary bank for an art fund, the first depository bank for a cinema fund, and the first depository bank for a carbon fund, so there are so many things in which we were the first to also be the first in digital assets is part of our way of being and thinking. We also believe that being the first; we strongly believe that this market has a very direct connection with the classic world of banking.
Going back to the time when the bank was created, there was a clear intention to distinguish itself through its privileged connection to the Asian market, and positioning itself as a financial bridge from Asia to Europe or Portuguese-speaking countries. Could you describe just a little bit the development of this market by Bison Bank so far?
A.H. – The connection to Asia is always present and we have it through our shareholder, who honours us a lot, and it has been made in several quarters, namely having people within the bank, working here in Lisbon, who are native mandarin speakers, it is a way of ensuring that we are building that bridge correctly. Our home banking, for example, is the only one in Portugal that is translated into Mandarin.
Most of the documentation we use for business sharing with Chinese and Asian investors is all pre-translated into Mandarin, we try to make that effort.
Therefore, it is in our daily lives today to believe that this bridge is true and must be built. But more important than this bridge is that we look at Bison Bank as a bank with a completely international mindset. One of the great benefits of having an international shareholder is making us look at the bank as an international bank. At the moment we have clients in about 93 countries, already a much bigger dimension than just a bridge with Asia.
This bridge is the foundation that allowed us to dream of becoming a more international bank. We want to grow more in Asia but we have the ambition to be a truly international bank.
How important is the Greater Bay Area market for the bank? Will Macau play a role in the bank's future plans?
A.H. – There is obviously a strong connection with Portugal. We have no direct presence in either Macau or Hong Kong, but we have this indirect presence through our shareholders. We are always present in the forums to which we are invited to discuss ways to add value to this relationship. We know that there are other players competing and already developing efforts in a more direct way, but our availability is total for anyone who understands that Bison Bank can add value to their business model.
Bison Bank and Lynx Asset Managers SGOIC recently hosted a webinar on the Chinese bond market. Is this a market that particularly interests the bank?
A.H. – We have a huge desire to satisfy the Asian customer. Before this seminar, we created this fully thematic fund based on Asian-based assets and it is a great pleasure to have it. It demonstrates our willingness to be in this market. Whenever it is believed that Bison Bank can add value in this area, we will always be available to be there, as we are very fond of our shareholders and very much want to be known as a bank with this Hong Kong DNA. It would greatly honour me as CEO for this trust to be successfully established at any time.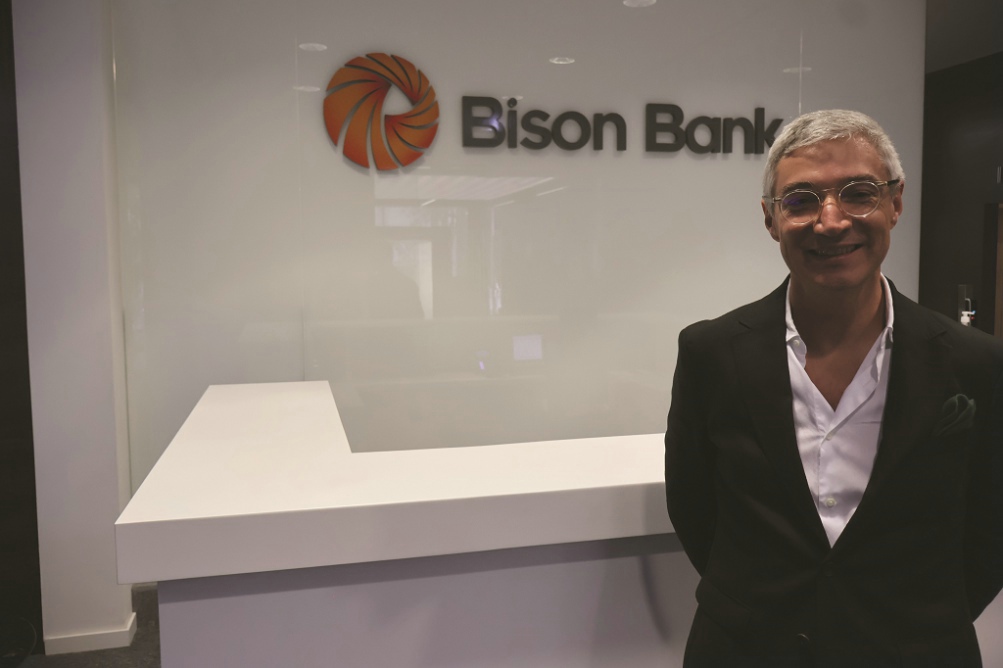 How would you describe what the Asian customer wants in terms of service from a bank in Portugal?
A.H. – I think all customers want something when looking for a bank far from home. China is a very distant country from Portugal, as are several other countries, and when a Chinese customer is in China choosing a bank, the customer has not even been to Portugal. You need to feel a very high degree of confidence is a point that we try to strengthen, having people who speak the same language. This guarantees confidence on the other side, as it guarantees that there is an interlocutor they can talk to at any time. Our own website in Mandarin and all the stability around a bank, it is important to describe the risks of Portugal, or the benefits of being here, more than having a Bison Bank account. If there's one thing we've learned, it's that if there's any common denominator, it's the same for any other country. What any foreign customer wants to feel is security from afar and that when they transfer their money or buy an asset they are in good hands.
I think that there is no difference in this type of customer, they all look for that comfort and security in a country very different from their own. With China and other Asian countries, we have the advantage of being able to speak to them in their native language.
Bison Bank previously revealed that it carried out an internal diagnosis of the need to make the bank more economically and financially efficient and that it was going to organize its governance model. How has this restructuring proceeded?
A.H. – We are all now coming out of a pandemic, including China which remains within a strict pandemic context and which it will eventually come out of. When we talk about restructuring or changing direction, we are always talking about organizing the bank and preparing it to better face the near future. There were two years of a pandemic in which we did a lot of analytical work to know how we can maximize a small bank that has this ambition to be an international bank and what we are doing is towards this objective of making the bank grow and become more sustainable. I believe that much of what we have done to date has been in a positive direction, and will bring sustainability to the bank more quickly.
Several analysts predict that 2023 will be a very challenging year, whether for China or the European economic area. How does the bank plan to face what is expected to be a negative economic environment in the coming year?
A.H. – We cannot avoid it, we have developed a business that is very much based in the world and not only in Portugal, but we believe a lot in Portugal. We believe that, from a more macro, strategic, geopolitical, or geographical point of view, Portugal has an absolutely bright future ahead of it. As a bank that develops all its operations from Portugal, we also want to benefit from this positioning. We believe that we are on the right path.
I would just say that for us it is very important to be seen as an innovative bank, Portuguese but working on an international scale, with the ability to present its customers with the greatest possibilities to diversify their wealth. Crypto assets see in this sense, as another asset that can mitigate their risks. We want to be a safe bank that believes in us, and we are happy with the path we are taking.