[Updated with information on other legislator interventions that touched on the same matter]
Seven legislators today (Thursday) chose to use their interventions before the main plenary session at the Legislative Assembly to ask for authorities to make special procedures to protect the labour rights of resident workers left unemployed by the closure of junket operator Suncity and VIP room closures in the city.
During today's session, one legislator went as far as requesting that authorities "take the initiative" and cut about the about 20,000 quotas for non-resident workers held by the six concessionaires to "free sufficient and adequate jobs for local workers"
Locally licensed junket operator Sun City Gaming Promotion Company Limited (SCGPCL) – the largest operating in the city – announced it has officially been wound up since Friday, following the high-profile arrest of founder Alvin Chau Cheok Wa and subsequent closure of all its VIP rooms in the city on December 1.
Suncity employees were reportedly notified late Friday with no follow-up arrangement announced, with employees yet to receive November salaries since company systems and accounts are frozen under the investigation.
The Labour Affairs Bureau (DSAL) has opened a special counter exclusively to provide assistance to employees impacted by the closure of the junket operator, with some 300 employees said to have made requests for assistance so far.
"There is uncertainty regarding the progress of these cases involving prosecutors of game, therefore, many workers in the sector are concerned and uneasy about the possibility of becoming unemployed," legislator, Ngan Iek Hang, said at the AL today.
"At the same time, many problems arose that make citizens worried, for example, will the other businesses in the Suncity group be affected? Will the other VIP gaming promoters be "cut", activities in VIP rooms will be suspended and a wave of unemployment will arise that can destroy social stability?"
The legislator linked to the Macau General Union of Neighbourhood Associations warned that VIP gaming promoters directly or indirectly recruited a large number of people, with the livelihood of many families "at stake, in an already unfavourable economic and employment environment under the pandemic.
"It is not known whether this group of people can be fully absorbed that soon. The worst thing is that game promoters mostly hire people from the public relations, security and treasury areas, some of them are young, with academic qualifications. Their technical skills and educational qualifications may make it harder to find new employment," Ngan added.
Last week gaming promoter Tak Chun – considered the second largest to operate in Macau – also announced in an internal statement some 'individual casinos' will temporarily suspend their cooperation relationship with them, with workers to be dismissed.
Media reports this week also hinted that Wynn Macau has issued termination notices for all its junket operated VIP rooms to be closed by December 20, with speculation other gaming operators will carry out similar moves, as scrutiny of the sector by authorities increases.
So far Wynn Macau, Sands China and Melco Resorts are believed to be planning to gradually close VIP rooms run by junkets from December 20, while SJM Resorts and Galaxy Entertainment Group (GEG) are said to have decided to maintain their current cooperation agreements with junket operators.
When inquired about this matter this week Secretary for Economy and Finance Lei Wai Nong said the closures would undoubtedly impact the local unemployment rate – which stood at 3.8 per cent as of October but was adamant that the local gaming sector is still moving towards a "healthy and sustainable development".
"I hope that the Government will continue to closely monitor the development of this case and its impact on the local labour market and that it will actively intervene, as it needs to increase inspection and encourage gambling entities and promoters to comply with current legal diplomas, with a view to protecting the rights and interests of workers and helping them alleviate concerns," Ngan added.
"At the same time, it is necessary to collect data on these workers and their difficulties, including previously occupied jobs, educational qualifications, age, etc."
Yesterday Choi Kam Fu, general secretary of the Association of Employees of Gaming Companies under the Federation of Workers' Associations of Macau (FAOM), revealed that the group had received requests for support from 700 workers impacted by the closure of VIP rooms in the city.
Today FAOM linked legislator Ella Lei Cheng I warned that some dismissed Suncity employees had already asked DSAL for help, but as they did not receive notification from the company about their dismissal, their employment relationship had not yet to be confirmed, even though their employment had already been suspended for more than ten days.
"Furthermore, they are unable to claim unemployment benefit from the Social Security Fund are not even able to enrol in the courses in the training plan subsidized employability-oriented," Ella Lei added.
She added that these workers feared changing jobs because their labour compensation will be affected if they were considered to have left on their own accord and e even if they try to find work they would probably face difficulties since they are not able to present the new employer with the proof of termination of service.
"Other VIP rooms successively claimed to have received notification from the casinos about the suspension of collaboration, therefore, they had to close some venues and have already notified the workers of the dismissal. Authorities must carefully monitor this situation of numerous workers becoming unemployed at the same time, otherwise, the employment situation, in general, will get worse and worse."
Lei noted that authorities had claimed that workers in VIP rooms closed would retain their jobs since they were directly hired by the gaming concessionaires, however, she countered that in reality, most VIP areas public relations workers, cashiers and drivers were hired directly by gaming promoters, with many already unemployed.
She then requested for the Government to assist former Suncity employees to be able to obtain compensation, claim unemployment benefit and take advantage of
new job opportunities.
"As for workers from other VIP rooms who have to stop working, you have to take the initiative to pay attention to your situation and employ all possible efforts to protect your rights and interests".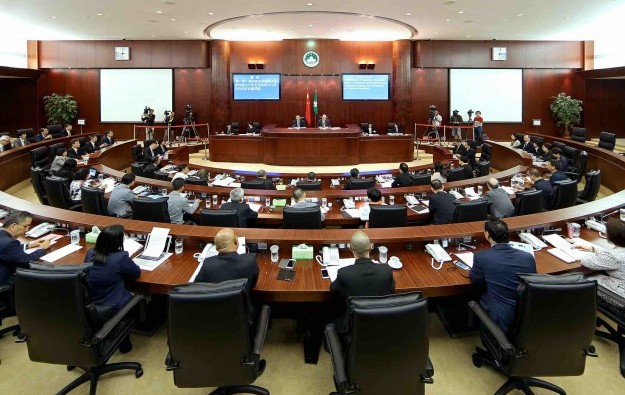 Meanwhile, legislator and President Macau Civil Servants Association (ATFPM), Jose Pereira Coutinho also indicated that the association's citizen support office had also received several requests for help from dismissed VIP room employees, and underlined it was up to the gaming concessionaires and authorities to intervene with "concrete and effective" measures to help them.
"Suncity workers claim that DSAL has not acted proactively, putting up a front instead of immediately sending their inspectors to find out what is going on with the company after receiving such complaints," Coutinho stated.
"To make matters worse, this DSAL also forced them to present proof of dismissal in order to have access to employment training. How are workers going to get these proofs when almost all the heads of Suncity disappeared from the map and no one has the authority to sign the unfair dismissal declarations?"
Apart from Chau, 10 other people were arrested for being linked to an alleged criminal group said to be involved in illegal gambling and money laundering, many of them said to be linked to the management of Suncity.
Meanwhile, legislator Ron Lam went as far as to recommend authorities to "take the initiative" and cut about 20,000 quotas for non-resident workers held by the six concessionaires to "free sufficient and adequate jobs for local workers".
The legislator cited employment numbers published by DSAL which indicated that the number number of local workers at the six gaming concessionaires dropped from 76,954 in March of last year to 74 601, in June this year, a reduction of 2353 workers.

In the same period, the number of non-resident workers of the six concessionaires has decreased by about 7,000, with the number of non-resident workers at 19,926.
"Taking into account that the six gaming operators have lost, in the last two years,
more than 2,000 jobs for local workers and that, due to the wave of VIP room closures, thousands of local jobs ceased to exist. The Government cannot continue idly, it must first take the initiative [ to cut the 20,000 non-resident quotas".