Witness a show like no other this December, as the skies in Macau get exceptionally bright.
This year, the Macao Government Tourism Office brings a new showstopping attraction to light up our winter nights. The Light up Macao Drone Gala will be a never before seen display made up entirely of drones.
The shows will take place on December 4, 11, 18, 20 and 25, in Nam Van Lake in Macau. Each evening will bring a different theme, but the same show takes place twice every day, firstly at 19:00 and again at 21:45, so that the audience can enjoy the show at their preferred time slot. You can expect 10 to 15 minutes of a show like no other: about three hundred drones will light up the sky in a visual extravaganza upon the canopy of the night sky. Music and narration, played from lakeside loudspeakers along Avenida Panorâmica do Lago Nam Van, will be choreographed with the drone shows. The drone shows resemble a constellation of stars that adorn the city's night skyline, merging technology, integrated 2D and 3D design, light, sound effects, humanities, and arts. Make sure to go ahead of time to find a good vantage point – in the Name Van Lake area or Anim'Arte Nam Van.
**This is a sponsored feature
The participation of different teams from Mainland China is also an opportunity to celebrate the friendship and cultural exchange between Macao and cities in Mainland China. Moreover, the invited teams have extensive experience in drone show creation under their belt, having staged epic performances on different occasions, and even setting world records for longest drone flight time and most drones flying simultaneously.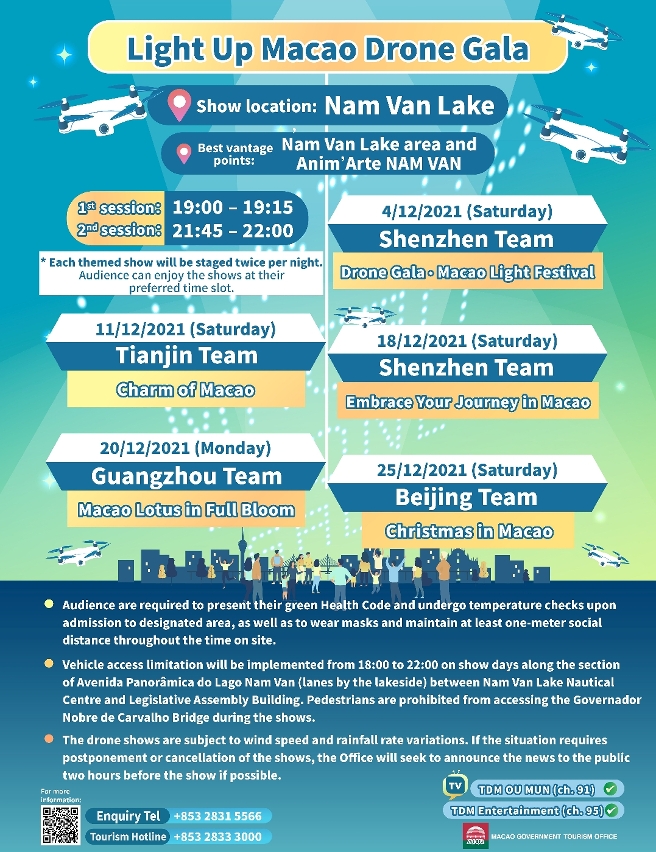 On December 4th, the Shenzhen Team kicks off the Drone Gala and Macao Light Festival. The following Saturday, December 11th, the Tianjin Team brings the show under the theme "Charm of Macao". On December 18th, the Shenzhen Team comes back for another display under the theme "Embrace your Journey in Macao". To commemorate the anniversary of the Establishment of the Macao Special Administrative Region on December 20th, the Guangzhou Team unveils a show titled "Macao Lotus in Full Bloom". On December 25th, the Beijing Team brings the final show, "Christmas in Macao".
For better access to the area, traffic will be limited along the section of Avenida Panorâmica do Lago Nam Van, between Nam Van Lake Nautical Centre and Legislative Assembly Building, from 18:00 to 22:00 on show days. Pedestrians will also not be allowed on the Governador Nobre de Carvalho Bridge during the shows.
Those unable to attend can also enjoy the shows' live broadcast on TDM – Macao TV Channel at 21:45 and TDM Entertainment TV Channel at 19:00 and 21:45 every show night. The synchronized music will also be streaming from TDM – Radio Macao's Chinese Channel (FM100.7) every evening that there's a show.
As drones performances are somewhat subject to variations in wind speed and rainfall, the MGTO will be closely following the weather forecast of the Macao Meteorological and Geophysical Bureau. In compliance with pandemic preventive measures, two shows per day will prevent overcrowding. Spectators must present their green Health Code upon admission, undergo temperature checks, and maintain at least one-meter social distance, besides always wearing a mask.
Enjoy the show!