Macau Business | December 2021 | Special Report | Macau's ageing society


The Areia Preta model project is seen as a key undertaking, with some 1800 studio units being built
In 2024 the government plans to inaugurate what will be Macau's first housing complex built especially for the elderly.
This is Lot P, where the failed Pearl Horizon project was located (on the new land fills of Areia Preta, MOP2.1 billion invested). The property was returned to the public domain, and the decision was made to transform it into 1815 units.
Each of the apartments is designed for two people and will occupy 38 square meters, featuring a studio layout similar to that of a hotel room.
The Government's solution, spurred by the absence of available land, has invited much criticism:
"I find it difficult to see elderly people having quality of life in a small studio, which sometimes doesn't even have a kitchen," Lawmaker Chan Iek Lap argued, asking the the Secretary for Transport and Public Works, "Do you think a mere studio is suitable for an elderly person, and for couples? Often, due to worsening physical conditions, the elderly, if they have economic conditions, need to hire at least one maid."
Secretary Raimundo Rosário replied: "Maybe [the current project] is not perfect. But let's move forward, working. Let's move forward with this plan first. With the accumulated experience, in the following phases – second or third – we will improve."
Admitting there is "a dilemma", Social Welfare Bureau (IAS) Director Hon Wai said, "I would like to see more apartments, but we only have a small plot on which to build. Of course, we want to have large and spacious units, but that way we can only build a few."
The project is characterised by some distinguishing features.
For example, each elderly person or elderly couple will have to pay rent, but the Government expects the cost can be matched to the rent they were paying in prior accommodation. The rent on the new units will be slightly lower than market price, to make it easier for the elderly to support the expense, but it is assumed the cost will not be affordable on a low income: the IAS Director recently revealed the housing concept in question would be positioned between sandwich-class housing and the private market.
This concerns Director Jacky Ho of the Macau Observatory for Social Development, University of Saint Joseph.
He told Macau Businessthat many seniors need to move house because of problems related to mobility and the inability of current homes to these needs. But if rents are high, "similar to market prices, that won't be attractive."
Professor Ho believes more and better attention must be paid to the mobility problem among the elderly, as many "can't leave their homes." He cites the lack of elevators in very old buildings as an example. Also speaking with Macau Business, Donghang Zhang, Assistant Professor at the City University of Macau's Faculty of Humanities and Social Sciences, adds, "The supply of apartments for the elderly is insufficient. There are about 5,000 to 6,000 elderly people living alone or with their spouses."
It is assumed that, according to usual IAS practice, the two apartment buildings will be handed over to an association for operational purposes. In addition to food and beverage services provided by social service institutions, there will be medical services for the elderly, such as haemodialysis, gerontology and the provision of electric wheelchairs – the "one-stop" model typical of high-quality nursing homes.
The Government has already indicated it will prioritize seniors with the capacity to take care of themselves who live in old buildings or have mobility problems.
As social policy researcher Leung Kai Yin, Macau Polytechnic Institute, tells Macau Business, "The Social Welfare Bureau has commissioned three studies on old-age society in the last two decades. Their main ideas are 'active aging' and 'strengthened community care', but because of a lack of coordination, most policies have not been executed. Consider the housing policy: there is no policy encouraging people to look after their old-age parents through cohabitation."
In Singapore, Mr Leung explains, "when someone agrees to live with parents, they become eligible to apply for a bigger flat (3–4 bedrooms) in a public estate. This is very good policy to encourage cohabitational care of old-age parents. They can stay in their community and enjoy community-support services such as day care and health care centres."
However, Professor Leung adds, "I cannot see the SAR government doing something like that. In the coming two decades, we will be faced with a very large segment of the population over the age of 65. I think the SAR government should have a macro policy to deal with that. I would like to encourage the SAR government to promote 'family strength' and 'age-friendly' policies."
Mr Leung goes further, saying that to combat the idea of the elderly as perhaps a social burden, "we need to change our way of thinking." As an example of a policy that would encourage the public to accept the elderly, the government could shift from an elderly apartment concept to one of a mixed-mode hostel set up to house not just the elderly but young students, as well. "Young students could volunteer to take care of the elderly, while on the other hand, the elderly would serve as mentors, sharing their knowledge with the young students. I suggest a two-layered structure to take care of the elderly. The civil society would shoulder more responsibility."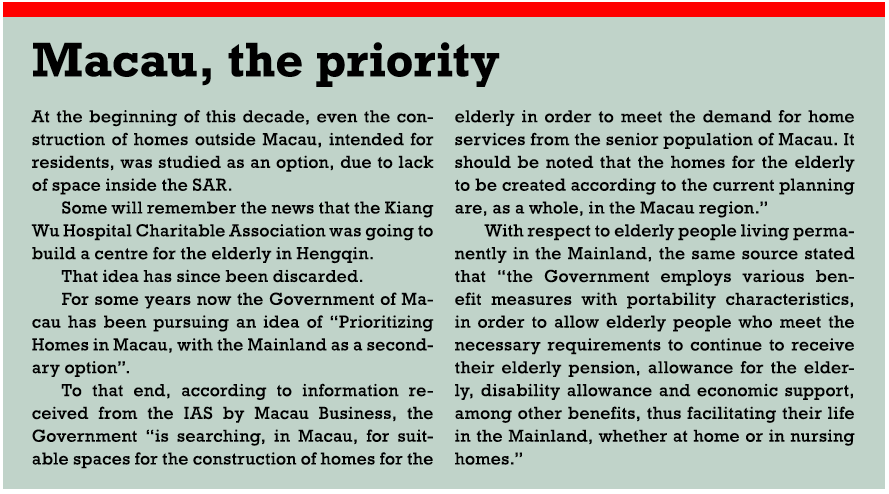 Special Report | Macau's ageing society – Previous –Pensions: 123,000 beneficiaries