The Macau SAR could have a role to play in the development of the infrastructure required to develop a metaverse, by acting as a 'middleman' for divulging mainland products, a tech expert stated today (Wednesday).
The comments were made by Peter Chang – co-founder of Golding Technology and lecturer for the City University of Macau – in a talk held by the France Macau Chamber of Commerce today.
The talk, titled 'Metaverse – An Attraction of New Identity?' centered on the definition of metaverse – an online virtual world that incorporates augmented reality, virtual reality, 3D holographic avatars, video, and other means of communication – and which companies are best positioned to develop them.
The term was coined in the 1992 science fiction novel "Snow Crash" to combine the prefix "meta" (meaning showing or suggesting an explicit awareness of itself) and the word "universe" to describe a virtual universe that is accessed by VR tech.
According to Chang currently, companies contributing to the development of the infrastructure that could support a metaverse are divided into five categories, namely 'cloud, scalability, and hosting'; artificial intelligence, 'decentralized infra'; 'connectivity'; 'adtech & marketing'; and 'visualization & digital twin'.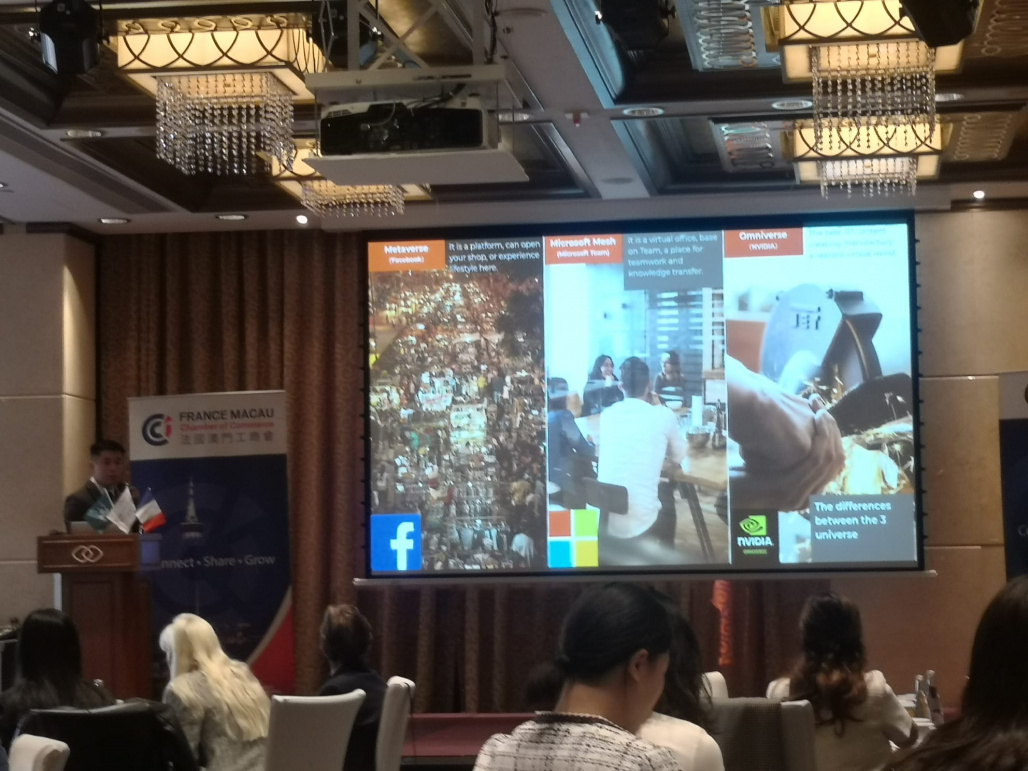 For Chan, local professionals could help in divulging innovation and technology developed on the other side of the border or in marketing Chinese products in these metaverses.
"They could help carry out marketing in the metaverse, similar to what is done today, by conducting targetted marketing in Youtube or Facebook for mainland companies, since they can't access these platforms but want to trade in the rest of the world," Chang added.
Several tech companies have advanced projects to create different metaverse concepts, including Facebook, Google, Tencent, Microsoft and Nvidia, however, according to the tech professional the group headed by Mark Zuckerberg is ahead of the pack considering it was already making moves in this direction since 2014.
"In 2014 they acquired VR glass company Oculus. In 2016 they bring out VR360 video, the same year they acquired a Danish eye-tracking company, in 2019 they released Oculus Quest […] and this year they announced they would hire 10,000 employees in Europe to work in the metaverse. As if not enough, they have just changed their name to Meta," Chan added.
The tech giant – which just changed its name to Meta last month – plans to invest US$10 billion this year to develop products that support augmented and virtual reality — a robotic hand, high-tech VR glasses, and sophisticated software applications.