Macau-funded enterprises have accounted for 72 per cent of the 971 non-Mainland-funded companies newly established in Hengqin after the master plan of the Guangdong-Macao In-Depth Cooperation Zone in Hengqin was issued in September 2021, the Zone's authorities indicated.
The statistics were released by Hengqin's Administrative Affairs Bureau, summing up the Zone's achievements since its establishment a year ago.
The General Plan for Construction of the Guangdong-Macau In-Depth Cooperation Zone in Hengqin defines the strategic position of the zone as a new platform to boost Macau's appropriate economic diversification; a new space that provides convenience to Macau residents' lives and employment, a new model to enrich the practice of "one country, two systems," as well as a new high ground for building the Guangdong-Hong Kong-Macau Greater Bay Area.
The plan proposes four major industries: high-tech research and development and high-end manufacturing, traditional Chinese medicine and other Macau's signature businesses, culture, tourism, conventions and exhibitions, and modern finance.
The statistics show that according to the actual tax reduction, the overall tax of Macau residents in Hengqin has decreased by up to 70 per cent, while the amount of corporate income tax incentives enjoyed by companies in Hengqin reaching RMB 946 million (MOP1.1 billion/US$136 million), a year-on-year increase of nearly two times.
In order to attract more market entities, Hengqin has adopted a reduced corporate income tax rate of 15 per cent, while the portion of individual income tax exceeding 15% for domestic and overseas talents in Hengqin is exempt.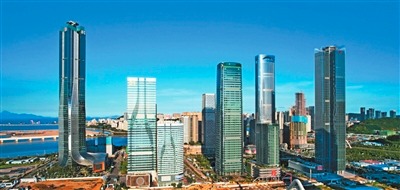 Macau residents working in the zone are exempted from the portion of their individual income tax burden exceeding Macau standards, while their tax burden in Macau shall be calculated with reference to relevant provisions of Macau's tax laws on occupational and supplementary income taxes.
In terms of accumulated investment over the years, some 7,800 non-mainland-funded enterprises have registered in the neighboring island, almost two thirds of which (64. per cent) were Macau-funded companies.
Financial industry gaining steam
Meanwhile, the value added of the financial industry in the Guangdong-Macau In-Depth Cooperation Zone in Hengqin in the first half of the year reached RMB 8.2 billion, showing an increase of 11 per cent year-on-year, while the Cross-border Wealth Management Connect Scheme recorded over RMB 30 million in transactions, with over 90 per cent of the total business related to Macau.
The cross-border wealth management connect scheme allows Hong Kong and Macau residents to invest in onshore Chinese investment products through banks in the Greater Bay Area, while residents of nine cities in Guangdong province can invest in Hong Kong and Macau wealth products through local lenders.
A total of 194 Macau students are registered in the cooperation zone as of September 1, an increase of 66 per cent compared with the same period of previous years.
Macau students whose guardians work or live in Hengqin enjoy the same priority in school admission as students with Hengqin household registration, and are entitled to enjoy the Macau education allowance.
Five innovation and entrepreneurship bases for young people from Macau and Hong Kong have been created, helping a total of 536 Macau projects to be established as of July.
In addition, over 1,000 Macau professionals in the fields of construction, tourism, and medical care have obtained cross-border practice qualifications.
From the establishment of the cooperation zone in 2021 to August 31 this year, the volume of tourists and vehicles travelling through the Hengqin Port has reached 7 million and 1 million, respectively, official figures indicate.
Starting from August 22, the restriction that capped the number of Macau-registered light vehicles allowed to enter Hengqin at 10,000 is cancelled, and no limitation is imposed on the total number of non-commercial use Macau vehicles (with nine seats or below) entering the Guangdong-Macau In-depth Cooperation Zone in Hengqin.