Sands China has announced that the first (Macau) High-quality Consumption Exhibition (CHCE) & Hengqin Global Bay Areas Forum, which is being jointly coordinated by the gaming operator and Nam Kwong Group, has been rescheduled from September 7-11 to late November and early December.
The initiative is postponed "in view of the prevention and control of COVID-19 in mainland China and Macau".
The Hengqin Global Bay Areas Forum is set to be held in the Guangdong-Macau In-depth Cooperation Zone in Hengqin from November 30 to December 1, while the China (Macau) High-Quality Consumption Exhibition (CHCE) will be held at the Venetian Macau Cotai Expo and Shoppes at Four Seasons from December 2 to 4.
The forum will focus on major GBA topics, including the "high-quality lifestyle in the GBA", cross-border e-commerce, and "political benefits of the zone".
Several topics regarding economic development in the post-pandemic era and industry development will also be discussed, including scientific and technological innovation, finance, accommodation, "big health", sports and leisure, cultural tourism and the MICE industry.
Meanwhile, the consumption exhibition, is "different from other large-scale expos" in terms of business models, as it will integrate both "B2C (business-to-customer)" and "B2B (business-to-business)" marketing models, allowing consumers to conduct transactions directly on-site, Sands China's CEO Wilfred Wong Ying Wai indicated in a press conference announcing the event on June 9.
The "one exhibition in two places" event is organized by Nam Kwong Group with the Trade Development Bureau of the Ministry of Commerce and the Department of Commerce of Guangdong Province, with the coordination of Sands China Ltd. and Nam Kwong International Convention and Exhibition Co., Ltd.
Sands China honours staff pandemic support
Sands China has meanwhile paid tribute to its team members on Wednesday in a rally held at The Londoner Macao aimed at recognizing their"acts of dedication in supporting the company's pandemic relief work."
The integrated resorts operator notes that their staff spent 7.5 million hours on community service in support of these efforts since 2020.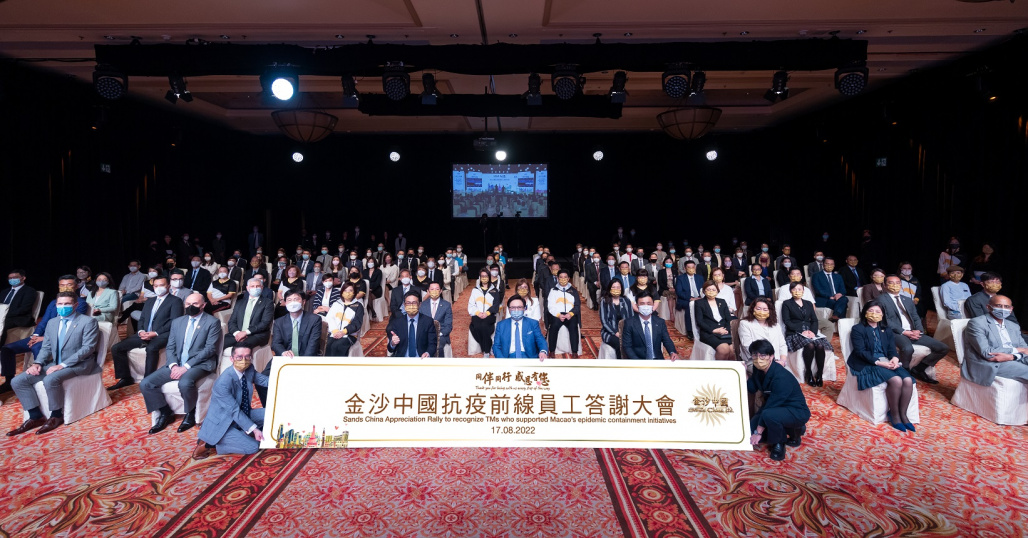 The Venetian Macao was home a nucleic acid test station and two hotels under Sands China – Sheraton Grand Macao and The Parisian Macao – were utilised as a medical observation hotels.
"Our company firmly believes it to be our duty to unhesitatingly contribute to COVID-19 prevention in Macau, as part of our corporate social responsibility and in our role as a company rooted in Macao for nearly two decades now", Wilfred Wong Ying Wai said as quoted in a press release by Sands China.