Despite the pandemic downturn gaming operators have maintained their long-term investment in the SAR while imposing cost reduction measures that could maintain their local human resources, representatives from the six concessionaires stated in a session held by the Macao Gaming Summit 2021.
The panel discussion on the industry's recovery from COVID-19 included Sam Chong Nin, Sands China Vice President of Corporate Communications & Community Affairs, MGM China Chief Strategic and Financial Officer, Kenneth Feng; Melco Resorts SVP and General Manager of Altira Macau and Mocha Clubs, Raymond Lo; Galaxy Entertainment Group SVP of Public Relations Buddy Lam; Assistant Vice President of Research, Planning and Strategy for Wynn Macau and Wynn Palace, Dr Jason Ni; and Chief Operating Officer – Finance & Development for SJM Resorts S.A., Benjamin Toh.
The talk was moderated by Professor Davis Fong, director of the Institute for the Study of Commercial Gaming, professor in the Faculty of Business Administration at the University of Macau, as well as a Legislative Assembly member from 2017 to 2021.
The show, formerly known as the Macau Gaming Show, has been held every year since 2013, apart from 2020 due to the pandemic, with organizers opting for a one-day online conference this year on November 17.
According to SJM Resorts COO, Benjamin Toh, the gaming operator has lost HK$2.7 billion in revenue in the first nine months of this year making it hard to assure full employment for its local workers.
This, despite a 45 per cent year-on-year improvement in total revenues by the end of September to HK$7.63 billion.
"Some 90 per cent of the people we employ are locals and we are one of the concessionaires that employes the most local people. We have […] tried to encourage them to take days off and spend more time with the family. In terms of management, we encourage them to have no paid leave, etc," Toh added.
Macau's unemployment rate fell by 0.1 percentage points to 2.8 per cent in the three-month period from June to August 2021.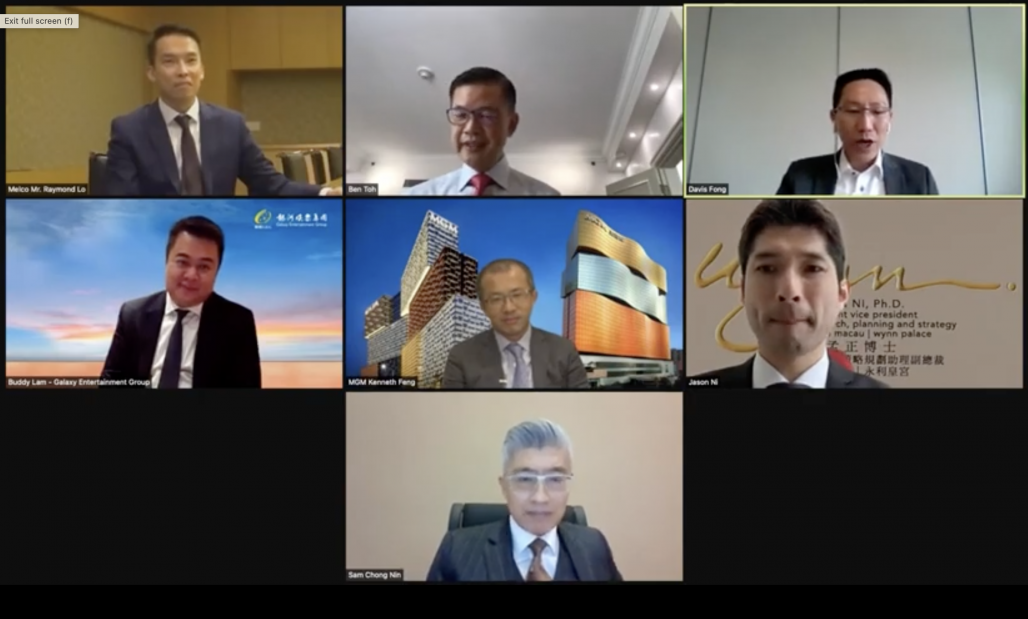 A total of 10,600 unemployed people were reported in the city, however, most of those either unemployed or without a job completely are those linked with gaming and junket activities. The gaming sector employed almost 80,000 people in the SAR.
The SJM representative noted that the group's first Cotai property, the Grand Lisboa Palace – which opened partially in June – employs 1,500 people, 600 of which are new hires.
"We hope step by step we can solve this HR problem. You can see in the past year that the measures we took were well supported by our employees. Controlling the costs is important," he added.
Meanwhile, MGM China Chief Strategic and Financial Officer, Kenneth Feng, indicated the group attempted to keep its employment teams "intact" and encouraging employees to voluntarily take days off.
Melco Resorts SVP and General Manager of Altira Macau and Mocha Clubs, Raymond Lo, underlined that the group has kept its projected long-term investments in the SAR despite the past challenging two years
In terms of long-term investment, our views on Macau and the industry are positive, we will continue to increase our investment. We continue to be involved in more international level projects, two days ago our chairman announced Studio City Phase 2 will cover US$1.3 billion," Lo added.
The gaming operator held the topping-out ceremony for its US$1.3 billion Cotai property expansion project this week, with Melco's CEO, Lawrence Ho, projecting an opening for December, 2022.
Melco Resorts reported US$182.2 million in operating losses for the third quarter of 2021, as operating revenues dropped 21 per cent quarter-to-quarter to US$446.4 million.
"We already have plans to go into the GBA too and hope we can have mutual usage of skills. We hope to have resources brought into the GBA and we will also open a theme park in the region," he added.
Melco International Development Ltd, the parent company of Melco Resorts & Entertainment, has also recently won a joint bid with Hong Kong-listed Agile Group to develop a multi-billion dollar mixed-use residential, entertainment hospitality complex in Zhongshan, Guangdong Province.
"Of course ou core development location will still be Macau"