Vinzenz Rosa de Pauli has been appointed as general manager of Sofitel Macau at Ponte 16. With over a decade of experience in the Greater China hotel industry, the Austrian hotelier holds a positive view of what lies ahead for the city's tourism and hospitality industry despite the ongoing pandemic-related hurdles.
When Vinzenz Rosa de Pauli arrived in Macau in November 2019 to be hotel manager at Sofitel Macau, he already had some twelve years of experience in the mainland Chinese hospitality industry. For nearly a decade, Austrian-born de Pauli had successive stints in hotels owned by French multinational hospitality group Accor that took him to Qingdao (Shandong), Guiyang (Guizhou), Chongqing, Shenzhen, Sanya (Hainan), and Shanghai. Just three months after being handed the management of Sofitel Macau, the group's flagship property in Greater China, he had to cope with the unprecedented challenges brought by the COVID-19 pandemic.
"We all barely had any experience of an outbreak and a business environment like this," de Pauli says. The last two years and 10 months have been a bumpy ride for businesses and people from all walks of life, and more so for an industry like hospitality. As a fast learner, he realised that flexibility and adaptability were the key words. "What I have learned for myself is that the more flexible and more adjustable we are to the situations, the more successfully we go through that".
And there have been peaks and valleys over the last couple of years, with lockdowns and reopenings in the mix. Vinzenz Rosa de Pauli has gathered that "with every period of shutting down and reopening, we learn something."
The partial lockdown in place in June and July emerged as the toughest period yet for the city's economy as it dealt a huge blow to many businesses.
It also prompted the hotel industry to quickly optimise services and products in order to be able to ride the wave of returning visitors.
Located a stone's throw from Zhuhai's Wanzai ferry terminal, Sofitel Macau has benefited from the resumption of ferry services just next door. Location is indeed key for this property as it sits in the Inner Harbour, a 5–10 minute distance from the city's historic centre heritage sites such as Senado Square or Ruins of Saint Paul's. "This is a top location for leisure tourists that come for a cultural or food experience", de Pauli notes. Another advantage lies in the group's (Accor) network of hotels across China, with 21 Sofitel-branded properties. This facilitates the marketing strategy, as 60 per cent of their patrons come from neighbouring Guangdong province.
The dynamic zero-COVID clearing policy in place in the mainland and Macau brings a level of uncertainty that unsettles the tourism and hospitality industry. However, de Pauli notes that the way authorities handled outbreaks in 2021 was stricter than what has been happening over these past few months.
"The confidence of mainland Chinese tourists is now swiftly reinstalled after an outbreak. We can see that the rebound is faster now and that gives a lot of confidence that we are on the right track."
That could be seen after quarantine-free travel between the mainland and Macau resumed following the June/July outbreak.
Demand has indeed been increasing since mid-August and the occupancy rate in the National Day holidays "was amazing," he asserts.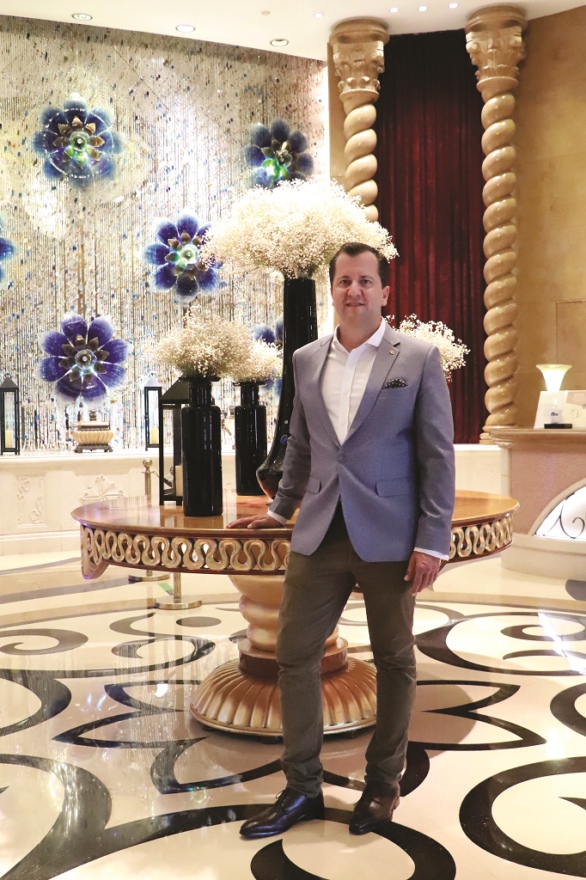 Amid the many travel hurdles over the past nearly three years, the hotel industry had to resort to the domestic market. Staycation became a buzzword and hotels developed tailor-made packages, also benefiting from the incentives rolled out by the Macau Government Tourism Office (MGTO). "We realised we were a sort of hidden gem for many local residents, and we invested a lot to make our hotel a little bit more recognized among the local community."
Reopening quaratine-free with Hong Kong is seen as a potential game changer for industry players. That would undoubtedly be beneficial for Sofitel Macau, as the neighbouring SAR accounted for 30 per cent of pre-pandemic business. However, at this stage, the industry has to deal with just 1.5 markets (mainland China and Macau) and competition is fierce, as reflected in attractive room rates. "Everyone is fighting for the biggest piece of the cake,", stressed de Pauli, who was promoted to general manager of Sofitel Macau in October.
Describing himself as "naturally a very optimistic and positive person," Vinzenz Rosa de Pauli currently sees the glass half full and believes that what's crucial is to optimise services and continue to drive business. "We need to make the best out of the situation. That's all that counts. "
---
Footprint expansion
French multinational hotel company Accor is doubling down on the Greater China market notwithstanding the challenges brought by the pandemic. With a global footprint of 5,353 hotels located in 117 countries, in mainland China alone, Accor operates 528 hotels, 21 of which are Sofitel branded. Their latest mainland property, a Pullman-branded hotel, was inaugurated in Shenzhen last month.
Macau is set to see a new Accor-owned hotel open its doors soon. Raffles at Galaxy Phase 3 is scheduled to be up and running next year. It will be a property with a different profile (catering to the high-end market) from Sofitel. Vinzenz de Pauli is looking forward to the opening of Raffles at Galaxy as "the more hotels our group has in the area, the easier it is to market them."
Hengqin is the next logical step in the group's expansion. As the neighbouring In-depth Cooperation Zone "is part of the future of Macau", there will be something in the pipeline, de Pauli indicates.