MBtv: Mozambican student in China shares anti-COVID-19 experiences
The phone's home screen shows 90 degrees Fahrenheit (32C) in Silver Spring, a suburb of...
China's resilient economy has been injecting more positive energy into the global economic recovery in...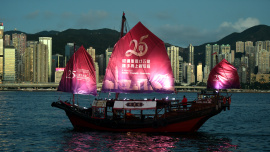 Reporting restrictions blanketing Hong Kong's largest national security prosecution were lifted on Thursday following an...
Overlooked by high-rises on the outskirts of Hong Kong, a group of students practise body-slam...