A newly launched book co-edited by local scholars focuses on the contribution of Special Economic Zones (SEZs) for regional and international development.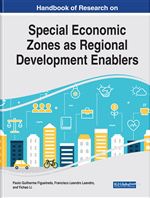 The "Handbook of Research on Special Economic Zones as Regional Development Enablers", edited by Francisco Leandro, Associate Dean at the Institute for Research on Portuguese-speaking Countries at City University of Macau, and researchers Yichao Li and Paulo Guilherme Figueiredo, brings together about 40 authors. The volume includes book chapters on SEZs in China, Southeast Asia, Nepal, Brazil and Africa, as well as on the Belt and Road Initiative.
The volume " discusses the diverse and international track records in the implementation of SEZs", with an eye on the interplay between the SEZ models and the respective local institutional infrastructure and stakeholders.
In book's foreword, Julien Chaisse, from the School of Law at City University of Hong Kong, underlines that "The years to come will likely see a greater role given to unilateral economic law and within this ew layer of global economic governance SEZs will have a key function".