Health authorities have announced that NAT testing will be required for two key areas established in the Areia Preta district and near the Gongbei Border on August 9.
People covered by the new testing will include those who reside, work or have stayed for more than half an hour on and after August 6 in the areas surrounding the Polytec Garden Block 1 building and covering Rua Central da Areia Preta, Avenida do Nordeste, Rua Nova da Areia Preta and Rua 1. de Maio.
Meanwhile, people covered by a previously defined key area near the Gongbei Border will be requested to complete NAT testing again on August 9.
The are comprises Praça das Portas do Cerco, Rua da Paz, Rua Dois do Bairro Iao Hon, Rua Quatro do Bairro Iao Hon, Istmo de Ferreira do Amaral, Travessa de Artur Tamagnini Barbosa, Rua de Lei Pou Ch'ôn, Travessa Um da Cidade Nova de T'oi Sán, Rua Dois da Cidade Nova de T'oi Sán, Rua do Canal das Hortas and Rua dos Currais.
Those who stayed in the above areas for more than half an hour on and after August 5 will also be required to complete testing.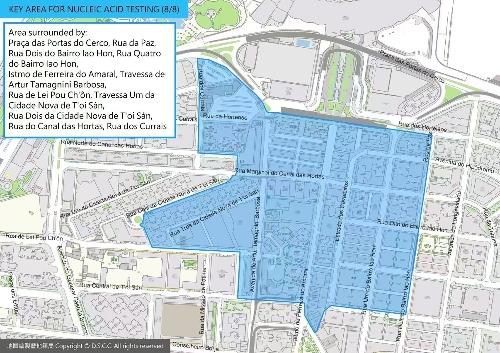 Health authorities underlined that the new testing round was needed to control the risks associated with the confirmed case linked to Macau which was recently found in Zhuhai on August 7.
The confirmed case involved a non-resident worker who lived in Block 1 of the Polytec Garden Building and worked in a bakery inside Grand Mart in Taipa, areas that were later cordoned off.

Infants and young children born after July 1, 2019, and elderly or disabled persons are not exempted from this testing requirement.