Only two months running, and the pandemic changed everything. The Taipa Line became the punch line
MB November 2021 Special Report | LRT, the unloved
---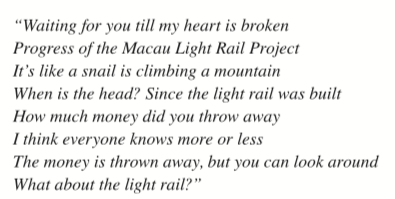 The joke, originally in Chinese, is described on the local website that published it as "a song whose lyrics are suitable to describe the Macau LRT."
Inaugurated on 10 December 2019, the Taipa line operated for two full months with normal circulation until the incursion of COVID-19 left many carriages running empty.
It didn't take long for the LRT's only working line to become a punching bag for society in general and for many lawmakers in particular.
Take Ho Ion Sang for example, a legislator associated with the reigning power structure in Macau and one not inclined to challenge the establishment: "The number of passengers is low because there is only the Taipa Line, which has no connection with other areas of Macau and several border posts and does not benefit from correspondence between the LRT and buses, preventing its effective integration into the public transport system.
"Further," the UPP (Union for Promoting Progress) deputy added, "as there is a lack of commercial and tourist elements, it is difficult to attract residents, so the LRT is far from achieving its transport policy objective."
Even more radically, former deputy Agnes Lam suggested suspending operation, drawing support for her idea from Raimundo do Rosário's own statement ("zero benefit") and the need to "stop the bleeding."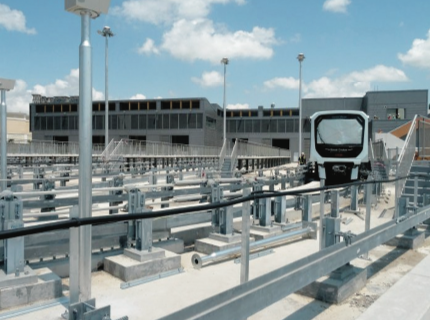 Ziwei Huang, a researcher from the City University of Macau's School of Innovation and Design, tells Macau Business, "Although the government intended to control the operating cost of the LRT, the operating cost of the Taipa Line in 2020 reached 900 million, resulting in a huge loss. To give another example, results of analysis to calculate the cost of the Macau LRT project show that the investment required for the Barra Station alone is 4.5 billion MOP, with the total investment capital needed estimated at about 50 billion yuan. That is a huge investment for a linear traffic project."
Dr Huang has no doubt: "From the perspective of Macau residents, the LRT is not the first choice in travel. At the same time, with the public transport network of Macau having become a large-scale system, the LRT is superfluous for the residents of Macau. At present, it's just a talking point or 'dark joke' to residents.
"From the perspective of the Macau government," the researcher continues, "the long-term huge loss of the Taipa Line has attracted the government's attention, and the construction of the light rail system is a hot potato for the Macau government. Huge construction investment and maintenance costs caused by long-term shelving will become the government's key considerations for whether to continue building the LRT".
Going back two years, Raimundo do Rosário appears to have predicted it all. On the day of the inauguration, while "happy" it had opened within the mandate of the previous government, he also expressed his "apprehension" over the project: "I recognize that the usefulness of this line is still limited, because it still only circulates in Taipa, so I don't know the degree of receptivity."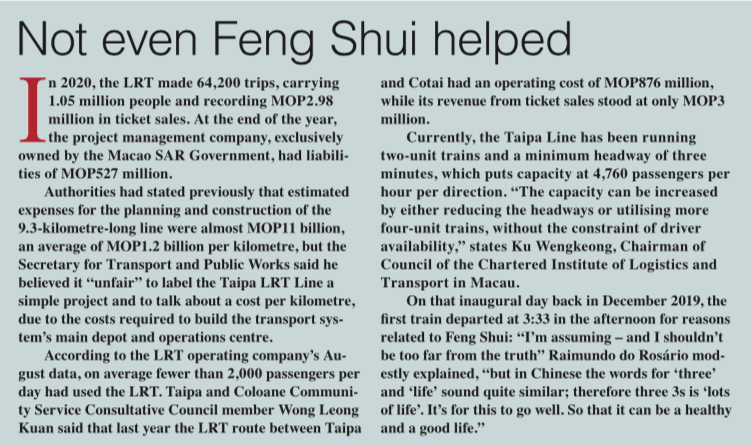 Special Report | LRT, the unloved – Previous: Next Station: COVID-19