*By Therese Tu
The upcoming Treasure Island Resort World Hotel and Shopping Centre in Nam Vam Lake near Praca Ferreira Amaral will not include a casino, following Chinese national policy hopes that Macau could diversify local tourism offerings away from gambling, Oliver Tong, general manager at JLL Macau told MNA after a signing ceremony held today (Monday).
JLL has been appointed as the leasing and marketing consultant of the shopping centre, joining hands with Forward Fashion (International) Holdings Company Limited to open the Treasure Island Resort World Hotel and Shopping Centre Macau.
Covering an area of 8,100 square meters with a total construction cost of about MOP4.7 billion (US$583.8 million) the Treasure Island Resort World Hotel will have a total of 600 rooms and a building height of over 70 metres.
Leisure and hospitality company Genting Hong Kong Limited, which used to hold its interests in Treasure Island Entertainment Complex Limited, sold the interests in January 2021 to a company owned by local real estate businesswoman, Ao Mio Leong, for HK$750 million.
With business interests in real estate, leisure, and hospitality investments, Ao is also connected to real estate development company Yoho Group, which has been involved in the development of the Macau Roosevelt Hotel – where the signing ceremony was held – at the Macau Jockey Club land plot; the Yoho Twins and the Co-Tai Marina Bay project.
In its last annual report before it was divested from the project Genting Hong Kong had expressed that it planned to develop a hotel and casino on the site
However, the JLL manager told MNA today that no gaming area will be open in the new project, adding that this is a new direction that many brands agree with.
"The national policies are not very supportive towards large-amount gambling," Oliver said, "small-amount gambling is fine, however, the central government still hopes that Macau can develop a more diversified local tourism, promoting different aspects of Macau."
The hotel trial operation phase of the project will begin in October of this year with the final opening set to be in December, with the project suffering several construction suspensions due to the pandemic and funding issues.
According to the property's developer, the hotel will have two different styles of guest rooms: one is fashioned in the US Treasure Island style, while the other is in the Singapore Resorts World style, while all rooms will enjoy either a scenic Macau and Taipa sea views or Nam Van Lake views.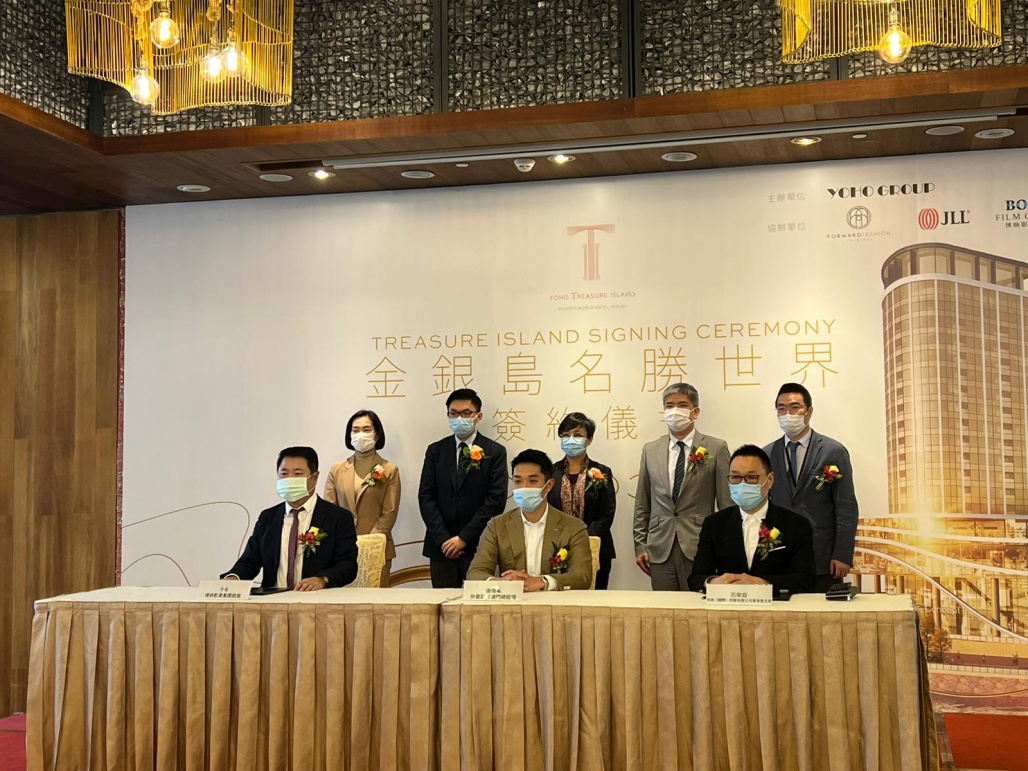 The shopping centre will cater to local customers, with the brands and product price positioning at local residents, even though the project locates in a tourism spot near Praca Ferreira Amaral, the JLL manager indicated.
"When we tried to position ourselves, 60 per cent to 70 per cent of our plan aimed at local residents, " Oliver said, "the brands in the project are also confident in the Macau market, they believe that Macau still has room for development.
The fourth store in Greater China by Parisian department store Galeries Lafayette will also be included in the shopping mall, together with a 2,787 square meters Bona Film Group cinema.
One of China's largest share-holding film distribution companies, Bona Film Group is a Chinese production company and distributor of films from mainland China and Hong Kong.
The shopping centre will also include an international UFC gym fitness center, toy retailer POP MART, global sports brand Under Armour, game center Beebeeland, and burger brand Five Guys.
The property will also include Macau's first large-scale open-air Japanese-style hot springs on the third floor, equipped with outdoor temperature controls, heated swimming pools and children's pools.
According to Founder and Chairman of Forward Fashion, Patrick Fan, the Treasure Island Hotel Macau will serve as a "benchmark for a new era in Macau" and will foster the development of Macau's tourism and retail industries.