Immediately after the 20th Communist Party Congress, China's diplomacy has been conducted in a full swing by firstly reaching a joint declaration with Vietnam, secondly promoting the development of China-Pakistan Economic Corridor, thirdly elevating the comprehensive strategic partnership with Tanzania, and finally maintaining good relations with Germany.
On October 30, President Xi Jinping met Nguyen Phu Trong, the general secretary of the Communist Party of Vietnam, conferring upon the guest a friendship medal and celebrating the long-term Sino-Vietnamese relationships. Xi and Nguyen talked about the need for the two socialist regimes to achieve their socialist developmental objectives – an ideological bond that has made the Sino-Vietnamese tensions in the late 1970s and early 1980s a thing of the past. Both sides discussed logistical supply development and mutual cooperation in public health, sustainability, digital economy, climate change, and high-ended Chinese investment in Vietnam. Both sides used the term "comrade and brotherhood" to refer to each other, while the Chinese side affirmed the importance of ASEAN as a platform of China to promote its Belt and Road Initiative and expand its multilateralism strategy – a strategy that was emphasized in Xi Jinping's report to the 20th Party Congress.
In response to the warmness from the Chinese side, Nguyen remarked that the Sino-Vietnamese friendship belongs to a priority of Vietnam's foreign relations. Interestingly, he expressed not only Vietnam's staunch support of the one-China policy in opposition to any "separatist" tendency in Taiwan, but also its determination of "not engaging any formal relation" with Taiwan. Vietnam also disallows any country to set up its military base on its soil while shunning any military alliance and avoiding the use of force to deal with other country. He also remarked that both sides would engage in theoretical exchange between the two ruling parties, deepening public opinion support, enhancing human interactions, maintaining peace along the border on land, and retaining maritime peace and stability.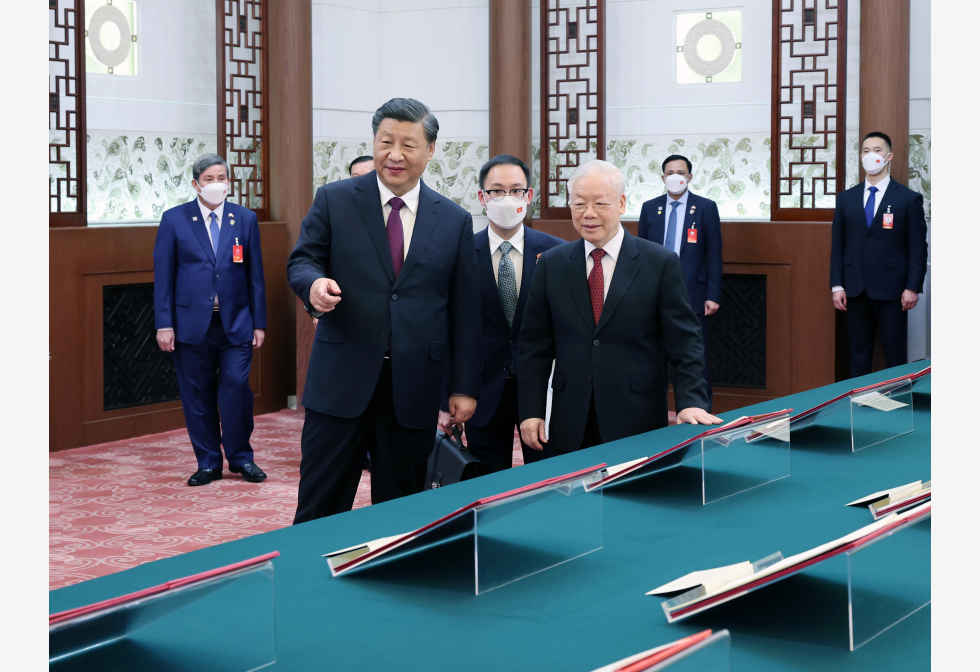 On November 1, Nguyen met Premier Li Keqiang, who said that China was ready to import more marketable agricultural products from Vietnam and facilitate trade with Vietnam at the border ports. Nguyen said that Vietnam would enhance its "comrade and brotherly" relations with China and bring concrete benefits to the two countries and two peoples – an affirmation of the close ideological bond between the two countries.
On November 3, President Xi Jinping met Pakistan's Prime Minister Shehbaz Sharif in Beijing. Xi said that China would continue its open-door policy and attach importance to the further development of the China-Pakistan Economic Corridor, which will have a demonstration effect on high-quality development in the Belt and Road Initiative. China also welcomes Pakistan to import more high-quality agricultural products to the mainland, while both sides enhancing collaboration in the areas of digital economy, e-commerce, energy supplies, agricultural and technological development.
In response to Xi's remarks, Sharif said the deepening of Sino-Pakistan strategic relationship is the common consensus of the society in Pakistan. He added his appreciation to China's assistance of Pakistan in resisting and combating Covid-19 and its variants. As with Vietnamese general secretary Nguyen, Sharif added that Pakistan supports the one-China policy and backs up China's positions on Taiwan, Xinjiang and Hong Kong.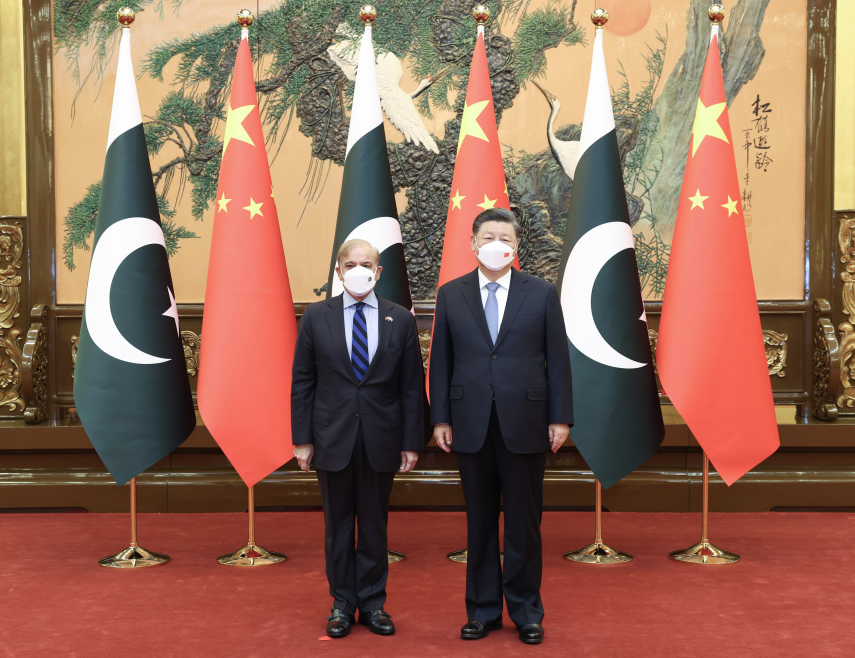 In fact, the first stage of China-Pakistan Economic Corridor has been implemented smoothly with the adoption and improvement of energy and electricity supply in Pakistan. High-speed railway and public transport network have been built, together with other necessary infrastructure projects such as free trade zone and the Chinese-built technical schools, roads, bridges, hospitals and schools. The Corridor now enters the second developmental stage of high-ended sectors in information technology, agricultural modernization, job creation, and the entry of Chinese enterprises to invest in Pakistan.
Countering the accusations made by some Westerners that the Belt and Road Initiative created a s-called "debt trap" for Pakistan, the Pakistani Foreign Minister Bilawal Bhutto Zardari said that Pakistan is reaping the fruits of the Economic Corridor. His willingness to counter and refute some Western bias against China's Belt and Road Initiative was an important move cementing the Sino-Pakistani relations.
On November 3, President Xi Jinping also met Tanzanian President Samia Suluhu Hassan in Beijing. Both agreed to elevate the Sino-Tanzanian bilateral relations to a comprehensive strategic cooperative partnership. Since Hassan was the fist African head of state arriving at China for a visit shortly after the 20th Party Congress, the two countries' close diplomatic relation was politically significant. Both sides also agreed to maintain high-level communications and cooperation in trade, infrastructure projects construction, green development and digital economy.
President Xi added that the Tazara Railway built in the 1970s marked a watershed in Sino-Tanzanian relations because it was constructed at a time when China was still very poor and yet it helped "African brothers." Now, President Xi said, as China is developing quickly, the Chinese remain sincere and genuine in assisting and realizing "the mutual development of African brothers for the sake of creating a common destiny for the Sino-African entity." As such, the principles of mutual trust, mutual benefit, mutual learning, and mutual assistance will not change, according to Xi. China is willing to complete nine infrastructure projects for Tanzania, apart from assistance in the areas of trade, investment, capital accumulation, climate change, dialogue between members and leaders of the ruling parties, and educational and cultural exchanges.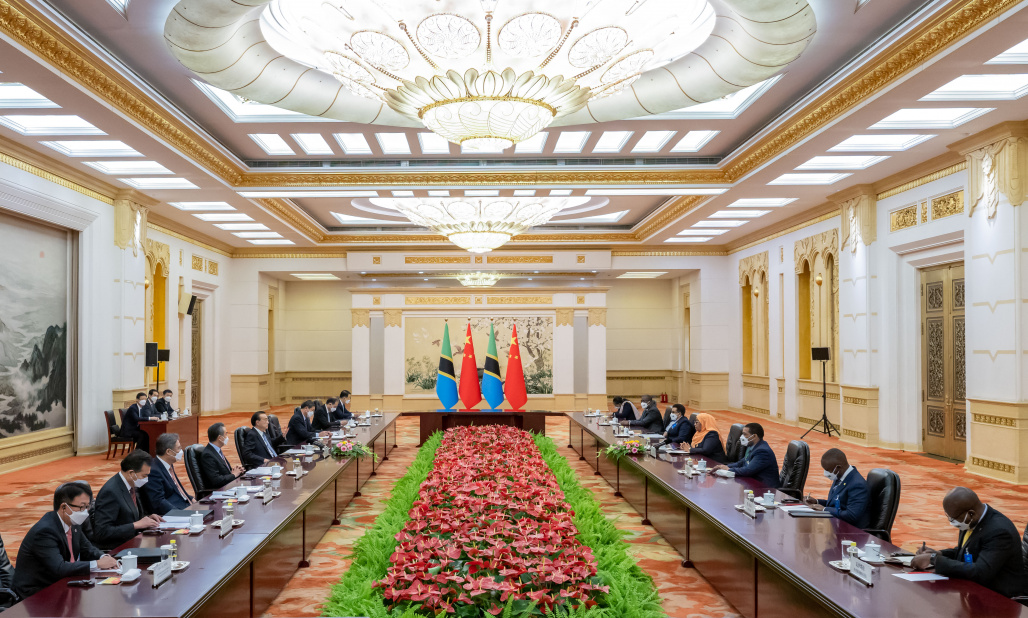 Hassan also added an important point that Tanzania supports China's position on Taiwan, Xinjiang and Hong Kong. She expressed her appreciation of China's support of Tanzania and the usage of the Sino-African Cooperation Forum to increase the international influence and development of African countries. Most importantly, she agrees to work with China on the promotion of the common destiny for the mankind.
On November 4, President Xi met German Chancellor Olaf Scholz. Scholz opposed any economic isolation of China, and he understands the importance of engaging with China. At the same time, Scholz does not shy away from the German stance on civil liberties and human rights issue, unlike Hassan, Sharif and Nguyen.
Scholz said that if China changes, then the Sino-German relations would also be affected. He also expressed his worries about the relations between mainland China and Taiwan, hoping that both sides would settle their differences through agreement in a peaceful way. Germany also opposes alliance confrontation and the demand for isolating China.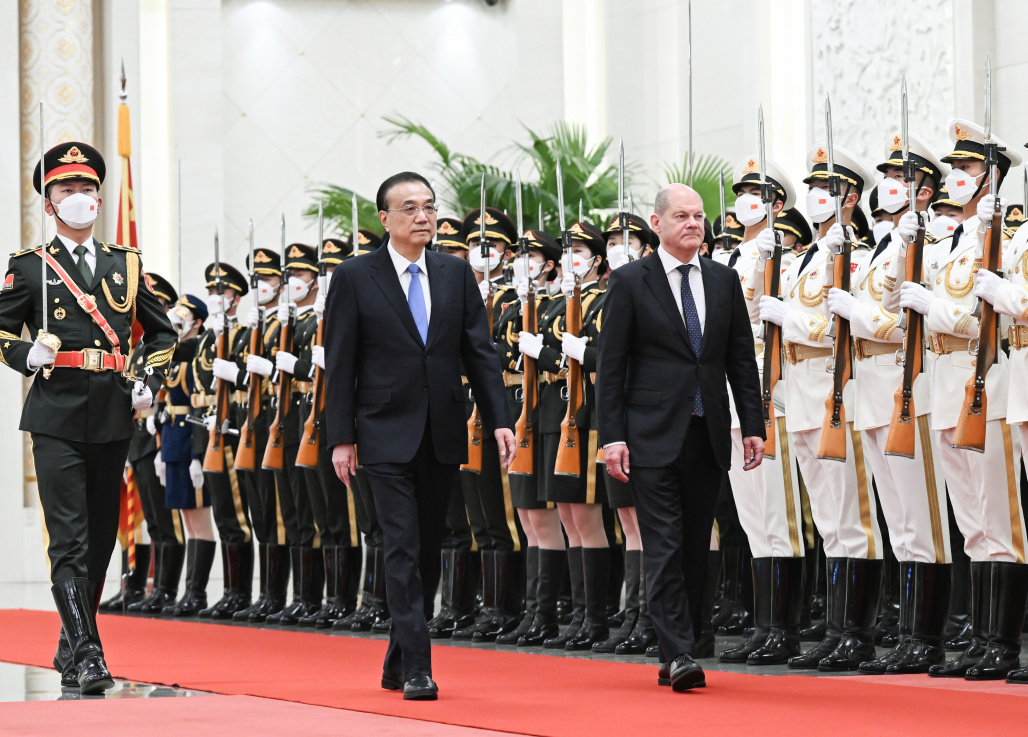 Obviously, Germany under Scholz wants to establish a closer relationship with China, hoping that China may be able to intervene as a mediator in the Russian-Ukrainian conflicts. While Scholz condemned the threats to use atomic bombs in Ukraine, he warned Russia of risking the possibility of "crossing a line" in the international world by toying with any idea of using nuclear force.
In response to Scholz's position, President Xi said that China and Germany "jointly oppose the use or threat of use of nuclear weapons" over Ukraine, although China refrains from criticizing Russia and calls for Moscow to withdraw its troops. China's neutrality remains important as it is seen by Germany as a player to mediate in the Russo-Ukrainian war.
Overall, China's diplomacy has remained active and assertive after its 20th Party Congress that has emphasized the continuities of multilateralism, anti-hegemonism, non-interventionism and peaceful development in Beijing's foreign policy. Ideologically, China's relations with Vietnam have been enhanced, while its connections with Pakistan and Tanzania remain strong. The visit by Scholz was a politically significant move at a time when China is still seen as a mediator in the complex Russo-Ukrainian conflicts. At the same time, China's close friends, such as Vietnam, Pakistan and Tanzania, all support its position on Taiwan, Xinjiang and Hong Kong. The message is clear: China's assertive diplomacy is to spread the message of promoting peace in the world while strengthening its allies in the one-China policy. The next target of Beijing is clearly Taiwan, whose relationship with the mainland is a concern of Germany. The German Chancellor Scholz's visit to Beijing was politically significant as Germany does not want to isolate China while trying to woo Beijing to act as a middleman to solve the disputes and war between Russia and Ukraine in the years to come.