The last week of March has witnessed a flurry of diplomatic activities by Chinese leaders and foreign ministry officials to reach out to Afghanistan and its neighbors as well as the European Union (EU) on a whole range of issues, including state-building and humanitarian aid for Afghanistan and the appeal to EU to help resolve the Russian-Ukrainian conflicts. Diplomatic assertiveness are the characteristics of the foreign policy of the People's Republic of China (PRC) on its neighboring states and Europe at a time when a new Cold War is looming over the Russian-Ukrainian war.
On March 30, the Chinese Foreign Minister and State Councilor Wang Yi met Russian Foreign Minister Sergei Lavrov in Tunxi, the eastern part of China's Anhui province, to discuss bilateral ties and the Ukrainian issue. According to the Xinhua report, Wang remarked to Lavrov that Sino-Russian relations have stood the test of changing international time with "strong resilience." Moreover, Wang said that "both sides have a firmer will to develop bilateral relations and stronger confidence to advance cooperation in various areas." Lavrov was reported as saying that the strategic communication between the two countries would promote a "multi-polar" world, and that both countries would "oppose hegemony and power politics" while upholding the purposes and principles of the UN Charter. Lavrov added that Russia is committed to easing the Russo-Ukrainian tensions with ongoing peace talks. In response, Wang supported the Russo-Ukrainian dialogue and the "de-escalation of tensions as soon as possible" to avoid "a large-scale humanitarian crisis."
From the Wang-Lavrov discussion, China has emphasized the importance of peace and mutual dialogue between the Russian and Ukrainian side, while simultaneously affirming the close economic ties between China and Russia as stipulated in the February 2022 Sino-Russian Joint Statement. On the other hand, Lavrov promised the Russian commitment to ease tensions with Ukraine while trying to affirm the "resilient bilateral relations between Russia and China.
While China has moved to a slightly more neutral position lobbying the Russian side for peace and further dialogue over the Ukrainian conflict, the Russian side has ensured that China could not be easily wooed by the US and its allies to a less pro-Russian stance.
On March 31, Wang Yi chaired the "Afghanistan's neighbors plus Afghanistan" foreign ministers' dialogue in Tunxi – an important platform that could help the process of state-building in Afghanistan. Apart from the attendance of Amir Khan Muttaqi, the Acting Foreign Minister of the Afghan Interim Government, other foreign ministers of Afghanistan's neighbors were present. Guests were invited to attend the dialogue, including Qatari Deputy Prime Minister and Foreign Minister Sheikh Mohammed bin Abdulrahman Al Thani and Indonesian Foreign Minister Retno Marsudi.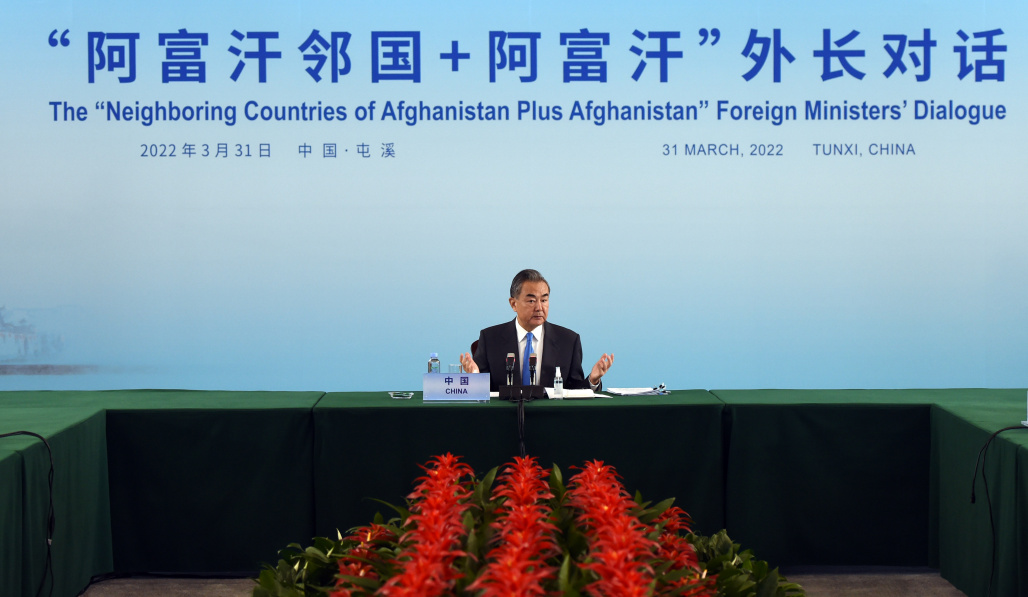 Wang Yi stressed that the neighboring countries of Afghanistan witness the sufferings of the Afghan people due to the long years of war and chaos. As such, the hope for peace, stability, development and prosperity is more wanting in Afghanistan. China and Afghanistan's neighbors wanted to contribute to Afghanistan's development, Wang said, while affirming the need for countries in the region to cooperate rather than to confront with each other, and to treat each other as equals rather than resorting to bullying tactics. Wang Yi added that the international community should increase its investment in Afghanistan, while working together to fight terrorism, improve the people's livelihood and develop the Afghan economy.
In response to Wang Yi's goodwill, Muttaqi expressed his gratitude to China for inviting Afghanistan to the dialogue and emphasized that Afghanistan "will ever again allow external forces to occupy its territory, nor will it allow any forces to use Afghanistan's territory against other countries." Peaceful coexistence is the principle adopted by the Afghanistan government. Muttaqi added that the hurried way in which the United States withdrew from Afghanistan caused considerable destruction of facilities, and that the Afghanistan interim government has been reopening schools, allowing girls to receive education, and improving health care to rebuild the society.
Clearly, China has been adopting an assertive diplomacy to fill in the political and social void left out by the American withdrawal from Afghanistan. China projects itself as a non-aligned leader in Central Asia, trying to rebuild Afghanistan with goodwill and mobilizing other neighboring states to join the international efforts at Afghanistan's state-building process.
On March 31, Wang Yi met the Uzbek Deputy Prime Minister and Minister of Investment and Foreign Trade Sardor Umurzakov, cherishing the establishment of diplomatic relations between China and Uzbekistan 30 years ago. Wang affirmed that cooperation has been deepening and that China can help Uzbekistan in poverty alleviation, agricultural cooperation, health care management, Covid-19 responses and connectivity collaboration. Both sides agreed to strengthen communication and coordination in the Shanghai Cooperation Organization (SCO). Both agreed to oppose external interference and to combat against terrorism, extremism and separatism.
On March 31, Wang Yi met Tajik Minister of Justice Muzaffar Ashouriyon to reach a consensus on the protection of Tajikistan's national independence, sovereignty, security and prosperity. China, according to Wang Yi, would be pleased to build up the Belt and Road initiative with Tajikistan's participation. China would contribute to Tajikistan's industrialization, agricultural modernization and the promotion of youth exchange. The fight against Covid-19 will be a joint cooperative task, apart from other areas of cooperation such as investment, energy supply and production capacity. Ashouriyon expressed the Tajikistan's interest in the traditional Chinese medicine in the joint combat against Covid-19. Finally, both countries agreed to fight terrorism, extremism, separatism and cross-border crime.
On April 1, Wang met Myanmar's Foreign Minister U Wunna Maung Lwin. Both sides agreed to deepen cooperation in the construction of the China-Myanmar Economic Corridor, trade, the fight against Covid-19, and the protection of territorial sovereignty, independence and integrity.
On the same day, Wang Yi reached out to meet Iranian Foreign Minister Hossein Amir-Abdollahian. He affirmed China's support of Iran in defending its national sovereignty, dignity and in protecting its legitimate rights and interests. Abdollahian said that Iran is committed to developing closer relations with China, including the expansion of cooperation in oil and gas supply, joint efforts at counterterrorism, and the high alert against the East Turkestan Islamic Movement that might use Afghanistan to "stir up troubles." Both sides agreed to resist unilateral sanctions, implying that they disagree with the US way of imposing economic sanctions on Russia. Wang Yi shifted to comment that the US has become the "champion" of imposing unilateral sanction – a move that "violates the basic norm of governing international relations." Finally, both China and Iran agreed to comply with the Joint Comprehensive Plan of Action on the Iranian nuclear issue.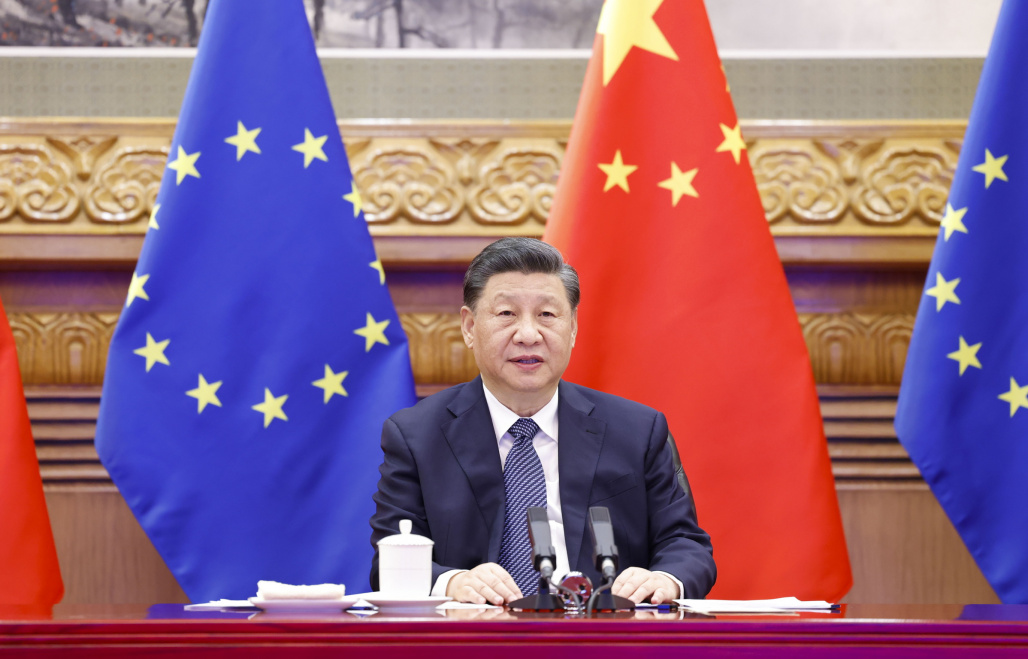 On April 1, the Chinese President Xi Jinping met with President Charles Michel of the European Council and President Ursula von der Leyen of the European Commission in Beijing on the night of April 1 through a vide link. Xi remarked that China and the EU share common interests and a strong foundation for cooperation. He called on the EU to form its own perception of China, adopt an independent policy toward China, and work with China to promote the sustained growth of China-EU relations. He added that China and EU should take the leadership in defending the international system and the US purposes and principles, and that they should "jointly reject the resurrection of rival-bloc mentality and oppose attempts at a new Cold War with a view to maintaining world peace and stability." President Xi appealed to the EU side to provide a fair and transparent environment for Chinese business development and investment in Europe.
The EU side confirmed its commitment to the one-China principle and expressed its readiness to strengthen cooperation with China in the areas of economy, trade, investment, energy, green development, climate change, the protection of biodiversity, and the combat against Covid-19. On the Ukrainian issue, President Xi appealed to the EU side to promote peace talks, to enhance humanitarian aid to Ukraine, and to minimize regional tensions in Europe. He said that the regional security framework should not be built with "a Cold War mentality." As such, both China and Europe should keep the current Ukrainian situation "under control," "preventing spillover of the crisis" and "keeping the system rules and foundation of the world economy stable."
On the same day, Chinese Premier Li Keqiang called on China and the EU to enhance dialogue and coordination through his video discussion with Charles Michel and Ursula von der Leyen. Premier Li said that the two sides should build up mutual trust, properly address differences and disagreements, and make contributions to world peace. He called on the two sides to strengthen responses to Covid-19, build up their digital economy, safeguard energy and food supply, preserve the stability of supply chains, achieve sustainable development, promote fair competition and investment.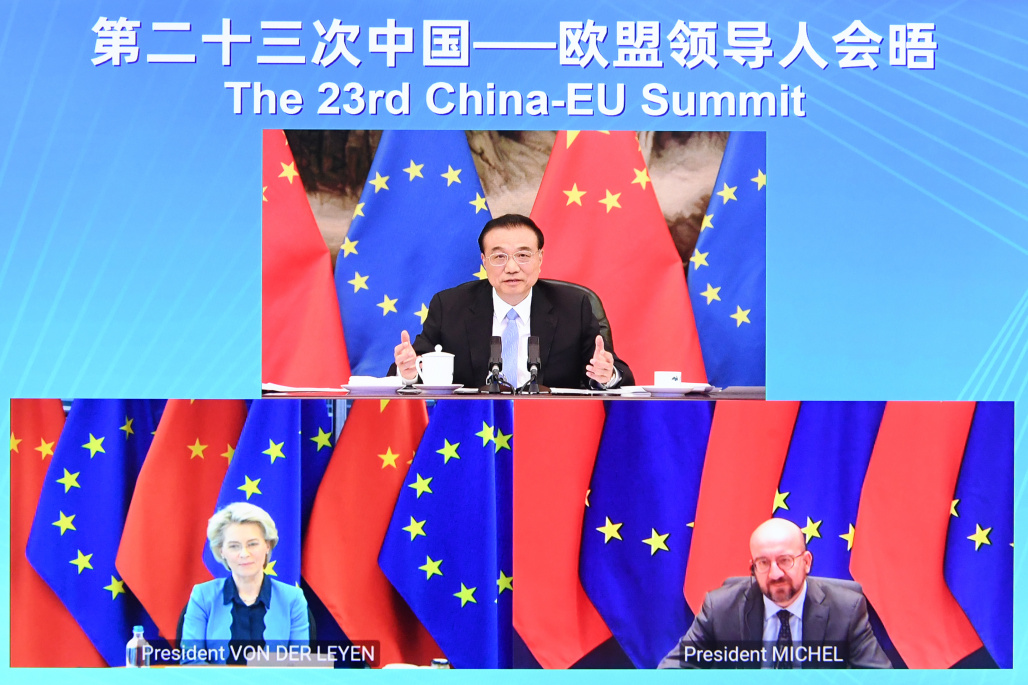 Judging from the flurry of diplomatic activities from President Xi, Premier Li and Foreign Minister Wang Yi, China's diplomatic outreach and foreign policy have several characteristics. First, as a non-aligned and anti-hegemonic power, China is keen to maintain good economic relations with Russia and to emphasize Russia's need to promote peaceful dialogue with Ukraine. As such, China has already slightly moved toward a more neutral position from an explicitly pro-Russian stance which could be seen in the February 2022 Sino-Russian Joint Statement.
Second, China is keen to develop Afghanistan's regime capacity by galvanizing the support from Afghanistan's neighbors, while playing the role of a regional power contributing to Afghanistan's social and economic development. As such, the China model of development could be seen in its efforts at filling in the socio-economic and political vacuum left by the United States in Afghanistan's developmental drive.
Third, China is diplomatically assertive toward other neighbors, like Uzbekistan, Tajikistan and Myanmar, so that the Belt and Road initiative can be deepened and counterterrorism in Central Asia can be consolidated.
Fourth, China's assertive diplomacy can be seen in the remarks made by President Xi and Premier Li in their video meetings with the EU leaders, showing that China is determined to adopt a more neutral stance over the Russo-Ukrainian issue while lobbying the EU leaders to appreciate China's position and to look for peaceful solutions over the Ukrainian tragedy. Underlying the Chinese diplomatic thinking is the belief that a new Cold War mentality has loomed and that it has been shaping the Russo-Ukrainian conflicts. As such, Lavrov's remark that the world is moving toward a multi-polar scenario carried anti-hegemonic and anti-American overtone that has been shared by the Chinese leaders.
In conclusion, the recent flurry of diplomatic activities involving President Xi, Premier Li and Foreign Minister Wang Yi have demonstrated the hallmarks of Chinese foreign policy: the adoption of a more politically neutral stance over the Russo-Ukrainian conflicts, the call for EU to search for a peaceful dialogue and solution over Ukraine, the rejection of a new Cold War mentality in handling international relations, the emphasis on state-building in the new regime of Afghanistan, the expansion of the Belt and Road initiative into the economies of Central Asian and European states, and the stress on the combat against terrorism with domestic national security implication for China.