Macau Business | September 2021

---
China is aware of the power FDI has had in transforming its own economy. Africa today bears similarities to the China of four decades ago.
In 1978, when China began its policy of "Reform and Openness", it had a population of 956 million with an average age of 21.5 years; Africa today is home to 1,340 million people, with an average age of 19,7 years – a huge, young and low-cost workforce, eager to learn and desperate for a better life, as much as China then. Africa still contains countless mineral riches and abundant arable land, most of which is still uncultivated.
Although Africa represents 16.7% of the world's population, the Outward FDI stock on the continent is only 2.6% – €812 billion (bn) of the world total in 2019. China's FDI stock in Africa was the fifth largest in 2018 at €39 bn, behind the Netherlands, France, USA and UK. However, between 2014 and 2018, China's OFDI stock in Africa increased by 43.8% while France, UK and US stocks fell by 11.7%, 26.9% and 30.4%.
OFDI flows from China to Africa amounted to €81.5 bn from 2005 to 2019, representing only 7.8% of the Chinese OFDI stock in that period.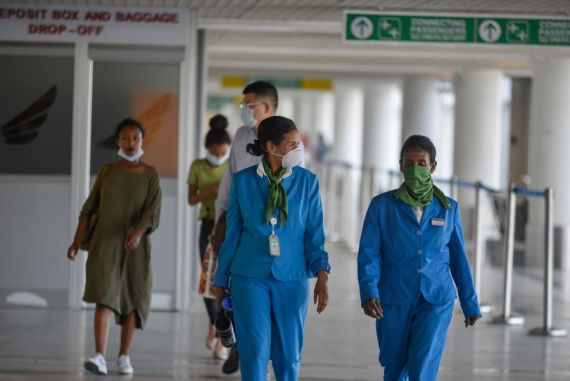 Between 2005 and 2019, only 6.5% of Chinese OFDI in Africa went to North Africa (compared to 31.6% of global OFDI in Africa), the bulk of Chinese OFDI in Africa went to Sub Saharan Africa (SSA). A third of Chinese OFDI on the continent went to West African countries. 53.6% of Chinese OFDI flows to SSD are concentrated in just six countries: South Africa, DR Congo, Zambia, Nigeria, Angola and Ethiopia (v. table 1).
Among these top six recipients of Chinese OFDI in SSA, the patterns of investments differ
considerably in terms of targeted industry sectors. In the more economically developed South Africa, Chinese OFDI has been more diversified across sectors (autos, construction, oil, copper and other metals), as well as in Nigeria (hydro, railways, oil & gas, real estate, autos), while its investments in Zambia and the DR Congo were concentrated on mining sectors (copper, cobalt and other metals; real estate is also relevant in Zambia); in Angola its investments were concentrated on construction (in a much smaller scale, also in manufacturing) whilst in Ethiopia they were concentrated mainly on manufacturing.
Significant Chinese OFDI in SSA's natural resources – oil, natural gas, minerals and metals, for construction materials – indicates China's continued interest in the region as an important import source of key raw materials for its development. But overall, the two largest sectors where Chinese OFDI in Africa is most relevant are construction and energy. The value of Chinese construction projects on the continent is very high and signals that Africa is a priority for Chinese infrastructure projects. From 2005 to 2019, Chinese companies signed 544 construction contracts in Africa with a global value of €228 bn (main destination countries: Nigeria (€ 21.7 bn), Algeria (€ 20.2 bn), Ethiopia (€ 19.7 bn), Egypt (€ 18.2 bn), Angola (€ 17.3 bn)), which is equivalent to around one third of the total value of construction projects by Chinese companies around the world. And 38% of Chinese FDI in Africa went to the energy sector – from hydropower plants to gas exploration. Since 2010 a third of Africa's electricity grid and energy infrastructure has been financed and built by Chinese companies.
These huge investments in construction and energy are driven by their strategic relevance and the potential for Africa's economic growth and long-term returns and are made mostly by large Chinese State-Owned Enterprises (SOEs).
Interestingly, despite the importance of investment by SOEs in these sectors, already by 2010 around 90% of Chinese companies investing in Africa were private, according to the Chinese Ministry of Commerce. And the share of Chinese private companies' OFDI in Africa vis-à-vis Chinese SOEs' OFDI in the continent has been steadily increasing – from 29%-71% in 2009 to 49.9%-50.1% in 2019 – in line with the same trend on the overall proportion of SOEs and Non-SOEs in China's OFDI stock.
In a next article, we will address the motivations of these private companies' investment in African countries, that are not similar to those of the SOEs.