Judging from a recent report saying that Paraguay's President Mario Abdo Benitez expected the Taiwan government to invest US$1 billion in his country to buttress a claim on the importance of their "strategic alliance," dollar diplomacy as an economic tool of foreign policy to win more friends in the world has reached its limit for Taiwan's quest for international space with the existing fourteen states that maintain diplomatic relation with Taipei.
After the news broke out, the Paraguay's foreign ministry clarified that its President only encouraged more investment from Taiwan and there was no "quid pro quo" as both places maintained "excellent diplomatic, political and friendly ties" over six decades.
On September 30, the Taiwan foreign ministry's spokeswoman Joanne Ou claimed that Paraguay's foreign minister Julio Cesar Arriola told the Taiwan envoy to Paraguay, Jose Han, that the ties between the two places were based on shared values and intimate bilateral cooperation.
Ou asserted that Jose Han told Mario Abdo Benitez that Paraguay would continue to be "a perfect location for Taiwan's investment." Taiwan is going to send two delegations to Paraguay to strengthen trade and investment relations.
Dollar diplomacy has been adopted by Taiwan on Paraguay. The Taiwan International Cooperation and Development Fund has recently donated US$5 million to create a supportive fund for women in Paraguay so that they can be empowered in the post-Covid-19 era.
However, seeing that mainland China has a much larger market with lucrative business opportunities, Paraguay naturally expects more money to be injected by Taiwan into its economy and society. After all, Paraguay is the only state in South America which recognizes Taipei diplomatically.
After Tsai Ing-wen won the presidential election in May 2016, Taiwan has already lost eight diplomatic allies: Sao Tome and Principe, Panama, Burkina Faso, the Dominican Republic, El Salvador, the Solomon Islands, Kiribati and Nicaragua.
In December 2016, Sao Tome and Principe cut its diplomatic ties with Taiwan, saying that it returned "back to the correct path of the one-China principle." Sao Tome and Principe suspended relations with China in 1997 after it had chosen to recognize Taiwan; nevertheless, it later demanded more financial help from Taiwan which however could not do so, according to the former Taiwan foreign minister David Lee.
In June 2017, Panama shifted its diplomatic recognition from Taiwan to mainland China and its President Juan Carlos Varela asserted that the move represented a "correct path." The Taiwan authorities criticized Panama for requesting financial aid from mainland China. At that time, the People's Republic of China (PRC) was the second largest client of the Panama Canal and a leading provider of merchandise to a free trade zone in the Panamanian city of Colon. Practical economic benefits led to Panama's switch of diplomatic relations.
In May 2018, Burkina Faso cut its diplomatic ties with Taiwan and signed a joint communique with mainland China to establish diplomatic relations. Taiwan at that time criticized Burkina Faso for "succumbing to the enticement of dollar diplomacy" from Beijing.
In the same month, Taiwan lost another ally to mainland China, namely Dominican Republic, which accepted investment and aid from Beijing, and which switched diplomatic recognition. Dominican Republic has "recognized Taiwan as an inalienable part of the Chinese territory" and it has believed in the positive aspects of establishing diplomatic relations with Beijing.
In August 2018, El Salvador severed diplomatic ties with Taiwan, whose foreign minister Joseph Wu asserted that El Salvador asked Taiwan for a huge amount of financial aid for a port project that Taiwan officials believed would bring about debts to both parties. Wu also criticized the PRC for implementing dollar diplomacy to woo El Salvador away from its recognition with Taiwan. However, the El Salvadorian President Sanchez Ceren said that establishing relations with China was conforming to the principles of international law, international relations and inevitable development.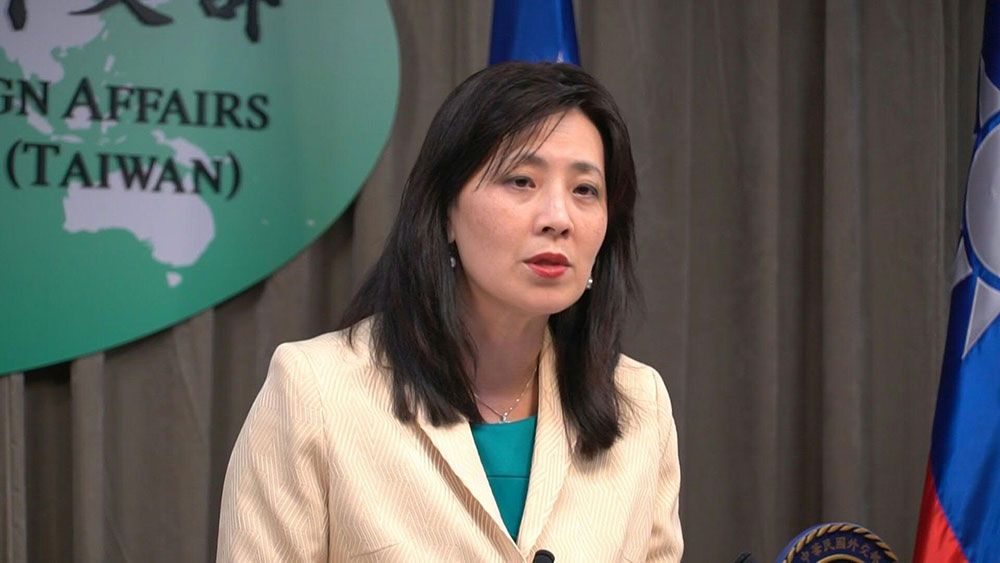 In September 2019, Solomon Islands cut its diplomatic relations with Taiwan after the former's cabinet voted in favor of establishing diplomatic ties with Beijing. Among the 27 cabinet members none of them opposed the diplomatic switch and only six of them abstained. Taiwan foreign minister Joseph Wu criticized the PRC for adopting "dollar diplomacy" to lure the Solomon Islands.
In the same month, Taiwan lost another ally, namely Kiribati, which switched diplomatic recognition to Beijing. The move came four days after the Solomon Islands cut its relations with Taiwan. Taiwan's foreign minister Joseph Wu again criticized the PRC for providing funds to Kiribati to buy airplanes and ferries. He revealed that Kiribati had requested Taiwan to donate money to purchase commercial airplanes.
In December 2021, Nicaragua broke off diplomatic relations with Taiwan and switched to recognize the PRC. While China's representative to the United Nations, Zhang Jun, welcomed the move and said that the one-China principle was a consensus widely accepted, Taiwan's foreign ministry criticized Nicaraguan President Daniel Ortega for "disregarding the friendship" of the Taiwanese.
The Ortega government had reportedly relied on Taiwan's financial support, including a US$3 million donation to the police force in 2018 and a US$100 million loan in 2019. However, given the huge size of mainland China and its large investment projects, Nicaragua naturally turned to recognize mainland China in 2021 – a matter of time for a pragmatic change in diplomacy.
Historically speaking, dollar diplomacy emerged in the US whose President William Howard Taft sought to expand the American commercial and financial interests in the Caribbean region from 1909 to 1913.
Interestingly, such dollar diplomacy with US origin began fiercer in the political and diplomatic competition between the PRC and Taiwan in the recent years, especially after the Democratic Progressive Party (DPP) under the presidential leadership of Tsai Ing-wen came into power in January 2016.
The recent visit by the US House Speaker Nancy Pelosi to Taiwan in early August was reportedly partly attributable to intensive lobbying efforts made by the Taiwan lobbyists in the US. In a broad sense, Taiwan has been adopting its "dollar diplomacy" to lobby the members of US Congress, to back up some US think tanks, and to seek their support for not only more military supplies to Taipei but also diplomatic recognition of the island.
Objectively speaking, small states that are sandwiched between the political competition between mainland China and Taiwan have become the beneficiaries of dollar diplomacy from both sides of the two Straits.
In December 2021, shortly after the Honduran elections, its president-elect Xiomara Castro toyed with the idea of fostering relations with China, but Washington was reportedly deeply concerned and sent a delegation to Honduras to affirm that the US was keen to see Honduras maintaining diplomatic relations with Taipei. It was reported that Honduras, after seeing Panama severing ties with Taipei and acquiring massive investment from Beijing, was tempted to change its diplomatic recognition.
In late August 2022, Guatemala's foreign minister Mario Bucaro met Tsai Ing-wen in Taipei, saying that Guatemala would "always support" Taiwan and that both places were "like-minded" ones united by "a democratic alliance." Guatemala remains one of the fourteen countries with diplomatic ties with Taipei and it is one of the three allies, apart from Honduras and Belize, in Central America.
Since Beijing is seeing the reunification with Taipei as one of the top policy agenda items in the coming years, dollar diplomacy from both sides of the Strait will intensify. As such, the small states that are recognizing Taiwan diplomatically will likely be under stress, but at the same time becoming increasingly opportunistic and beneficial amid the contest for formal diplomatic recognition.
The example of Paraguay intending to ask for more investment from Taiwan is perhaps typical of the situation under intense cross-strait competition for the politics of recognition.
From the perspective of realpolitik, cross-strait relations are going to be increasingly punctuated by dollar diplomacy. While those small states that are still recognizing Taiwan diplomatically will likely have more bargaining power in the coming years, the US will be increasingly drawn into the diplomatic tug of war and will likely rein in their temptation to switch diplomatic recognition. Yet, dollar diplomacy has its limitations; if small states recognizing Taiwan exert more pressure on Taipei to invest more in their infrastructure, dollar diplomacy is like a bottomless well. Yet, the dilemma for Taiwan is that it must invest more to consolidate diplomatic recognition and political influence from various small states. China, on the other hand, is naturally exerting more pressure on these small states, utilizing the mainland's lucrative market and potentially huge investment as attractive enticement. As such, dollar diplomacy will likely remain an increasingly prominent feature of cross-strait competition for diplomatic recognition in the years to come.