Operating profits of local banks declined by 4.3 per cent last year, but half improved their performance compared to 2020.
---
It is true that the operating profits of local banks declined by 4.3 per cent to MOP 16.2 billion in 2021 compared to the previous year, interrupting a 12-year cycle of growth and 10 consecutive years breaking records starting in 2011.
However half of the banks that presented public accounts improved their results, including five of the top six, according to data from the Monetary Authority of Macau (AMCM).
As we can see in the table we present, which also includes the 2020 and 2019 results, on the top only ICBC was unable to outperform the 2020 performance.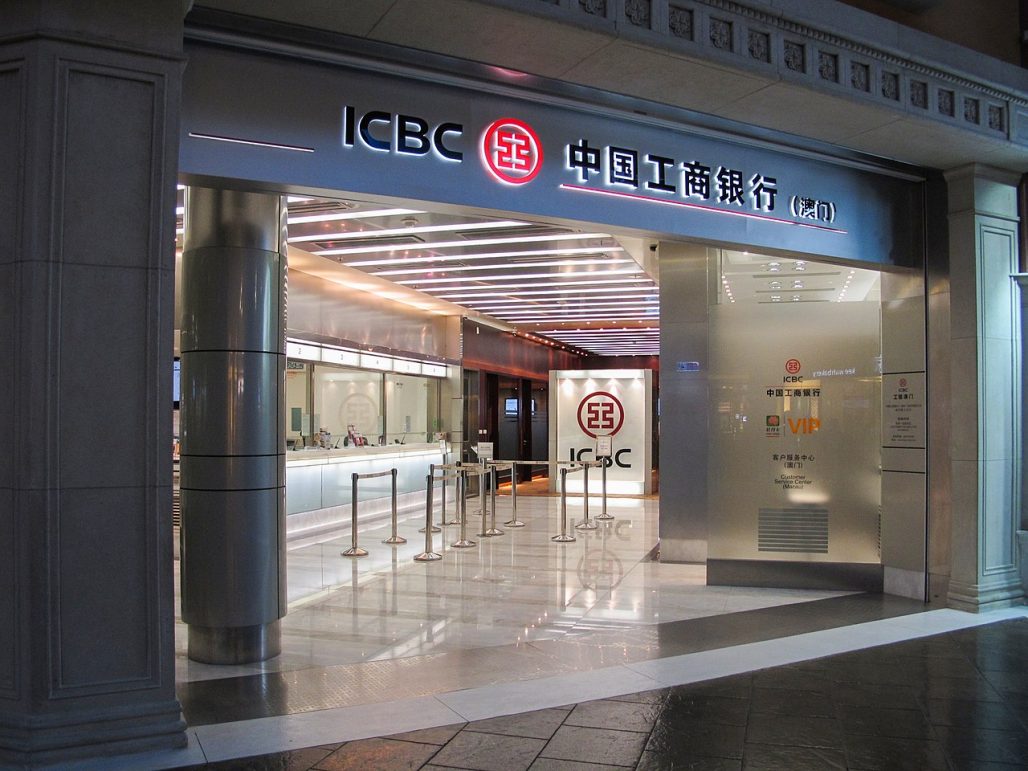 Relevant is the fact that very important banks in Macau, such as Bank of China and Tai Fung, have been improving results compared to 2019 – that is, even the two full years of the pandemic did not prevent Macau's two largest banks from growing.
This lot also includes Luso International and Bank of Communications, which also present better performances (measured in net income) than in 2019.
31 (incorporated in or outside Macau) banks presented results in an official bulletin and 15 increased profits compared to last year.
"Two thousand and twenty-one was a fruitful year," stated Benjamin San, chairman of the local Monetary Authority (AMCM).
However there are five banks that closed accounts with losses (against three last year).
Two remain in the red since 2019 (Ant Bank and Macao Development Bank) and three are new: DBS, Chong Hing and Sinopac.
In general, the banks concerned explain the results in the red with the reduction of interest income and services.
DBS, for example, reveals that it had interest income of MOP22 million, which means a reduction of 37 per cent, and other income for the year was MOP9 million, also representing a reduction of 22 per cent compared to the year previous.
But the main factor is really the epidemic, as those responsible for the Chong Hing Bank confess for example: "in view of the constant influence of the epidemic in the world, the economy of Macau suffered serious adversities, with the economic and commercial environments showing instability and the unemployment rate is on the rise, leading to a serious challenge for business operations."
Also noteworthy is the Hua Nan Bank, which had been adding losses in previous years and in 2021 managed to move to profits, presenting MOP30 million.
"The resilient financial industry continued to play an important role in supporting the real economy during the pandemic," wrote Benjamin San, in the AMCM's Annual Report.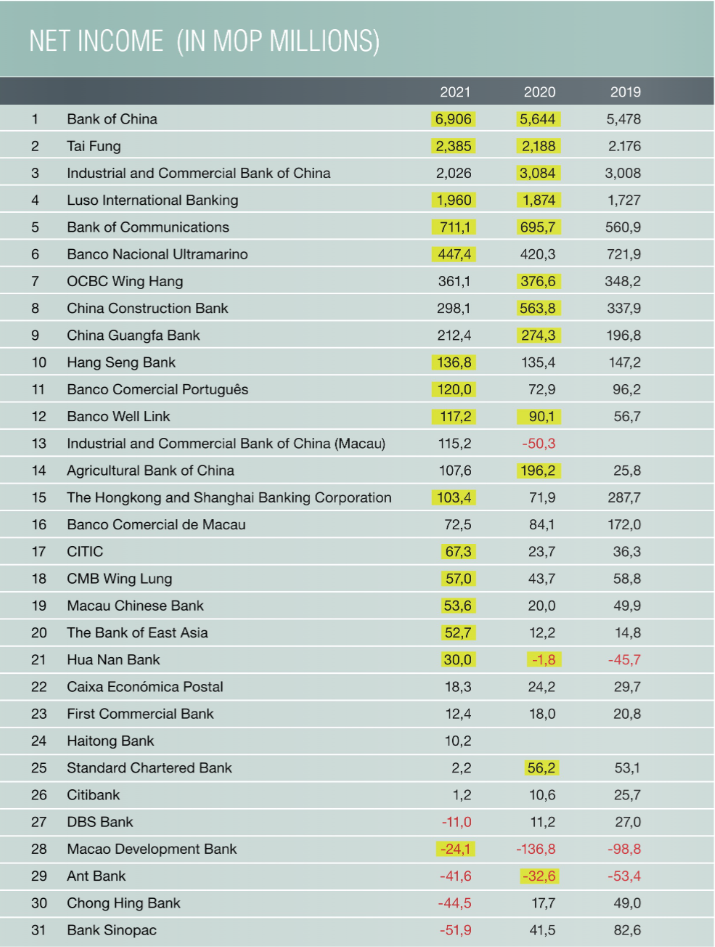 Haitong's debut
Similar to what happened in 2020, with the entry into operation of the Macau branch of ICBC (it started operating in January of that year), 2021 has a new player: Haitong Bank.
Despite only officially starting operations in October, 2021, Haitong Group Bank achieved a net profit, after tax, of MOP10.2 million.
Specialized mainly in the areas of debt capital markets and mergers and acquisitions, the Macau Branch "also hopes to make important contributions to the development of the local bond market."
"Despite the short period of activity in 2021, the Macau Branch had the opportunity to join some international syndicates of issuance of offshore debt of Chinese issuers, which allowed it to immediately attract visibility in the market, and also generate revenue," reveals its financial report.
At the end of 2021, net assets of Haitong Bank amounted to MOP60.2 million and total liabilities reached MOP 6.9 million.
During the year, Bank of China (Macau) Limited was also authorized to operate in Macau, carrying out retail banking business, but its annual accounts are not published in the Official Bulletin.
In May of this year, the Chief Executive extended the deadline for the start of the activity of the Bank of China (Macau) until 23 August 2023.
So it is likely that the next year will see the entry of at least one new player (see text on these pages).
Overview
Compared with end-2020, assets and liabilities registered annual reductions of 13.8 per cent and 16.6 per cent respectively, whereas capital reserves increased by 1.0 per cent.
At end-2021, deposits and current accounts amounted to MOP149.9 billion, representing an increase of 16.4 per cent over the balance at end-2020. It was mainly comprised of fixed deposits denominated in foreign currencies, particularly in HKD and USD with shares of 52.4 per cent and 47.6 per cent respectively.
Investment in debt securities, which was mainly denominated in USD and HKD, was measured at fair value through profit and loss, according AMCM. At end-2021, investment in debt securities reached MOP64.3 billion, registering an annual decrease of 10.7 per cent.
The year-end level of the general reserve remained at MOP5.3 billion, "reflecting the prudent policy followed constantly by the AMCM. Apart from responding to the volatile international financial markets, a reasonable level of reserves was set up to guard against any possible financial losses induced by unanticipated market turmoil," AMCM adds.
---
China Everbright Bank (Macao Branch)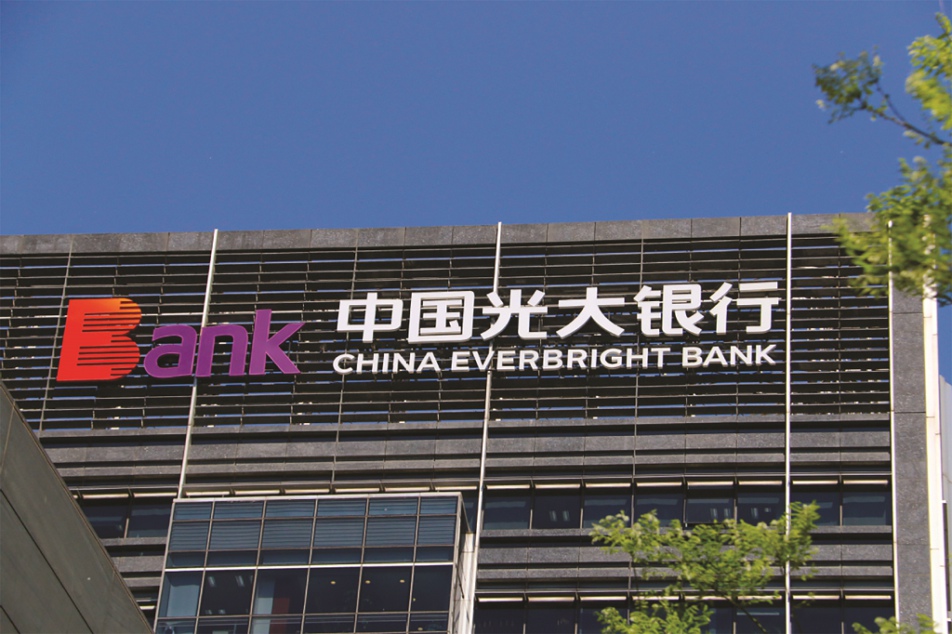 In addition to the entry into activity of Bank of China (Macau) Limited, Macau will also see the emergence of another new bank operating during 2022.
In May, China Everbright Bank was authorized by the Chief Executive to establish a local branch.
The branch named China Everbright Bank Company Limited Macao Branch was authorized to provide banking services, commercial enterprises, associations, foundations and public services.
Established in August 1992, China Everbright Bank is headquartered in Beijing and is a financial institution that was founded with the approval of the State Council and the People's Bank of China.