Macau Business | December 2021 | Special Report | Macau's ageing society


Government plans to build three new nursing homes, "meeting the demand"
There are currently 23 homes for the elderly in Macau, 13 of which are subsidized by the government and 10 of which are not.
According to the most recent data made available to Macau Businessby the Social Welfare Bureau (IAS), these 23 homes for the elderly have a capacity for around 2,500 users.
Also according to the IAS, as of September there were around 1,100 people on the waiting list for nursing homes.
To solve this problem, and in view of the evident increase in demand based on the evolution of the aging population in Macau, it is known that the Government commissioned a consultancy institution to carry out a study on the demand for the services in question.
"According to the recommendations contained in the aforementioned study, government land has been reserved – namely with regard to land intended for housing construction and land located in new urban areas – for the construction of homes for the elderly and other facilities for services for the elderly," the IAS revealed.
According to the current plan, the Bureau adds, three old people's homes are expected to be created in the next five years, thus "meeting the demand for nursing home services from the senior population of Macau in that period."
The IAS also said, "It is noteworthy that, in addition to nursing homes, the Government, attentive to the care needs of the elderly, will also increase the number of facilities, particularly in the areas of day nursing and home care services."
To understand the effort made in recent years, let's go back to 2017: at that time there were 1,600 seats available. The prediction was that two years later 2,400 would be needed.
Today this value has been exceeded and, as we can see, the push is now on to reach 3,600 available places.
Is that enough?
"This number [around 2,500] cannot meet the needs of the growing elderly population segment, who demonstrate long-term care needs and the willingness to live in residential homes," Assistant Professor Donghang Zhang, City University of Macau, tells Macau Business.
From 2005 the Government began granting a subsidy to senior citizens, "in order to show the affection and concern for the elderly residents of Macau, namely the elderly living alone, and to spread the spirit of respect for senior citizens," according to Yin Yifen, Associate Professor at the Social, Economic and Public Policy Research Centre, Macau Polytechnic Institute.
The problem is so serious that the Government's efforts in this area are not limited to increasing the number of places in retirement homes and the payment of subsidies.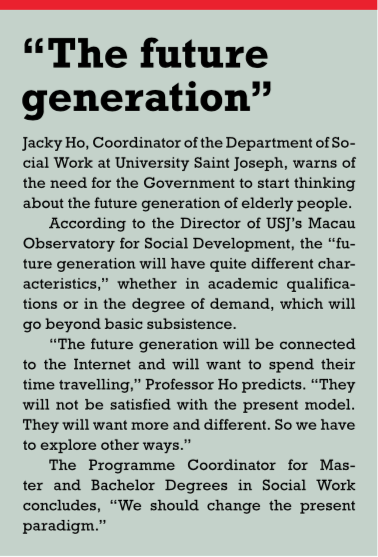 In conjunction with several local non-governmental institutions, a system of support services for the elderly has been created over the last few years, covering social security, healthcare, social benefits, guaranteed public housing and continuing education.
Professor Yin argues that "after Macau returned to the Motherland, a series of services for the elderly began to appear, especially for the elderly living alone, and there has been a progressive advance from that time until today, namely in the attention given to one's mental state and mental health, in particular with regard to the onset of symptoms of depression in the elderly living alone, as well as to supporting efforts to overcome the social barriers they face in their daily lives."
The Executive Director of the MPI's Social, Economic and Public Policy Research Centre adds, "In recent years, the Government has been strengthening its dedicated support for community services for older people, promoting their development and the improvement of facilities and the services provided."
Special Report | Macau's ageing society – Previous –Working after 65