After losses in 2018 and 2020, profits came to the insurance sector in 2021. Explanation: The sale of insurance policies, taking advantage of the border restrictions between Hong Kong and the mainland.
Macau Business | November 2022 | Special Report | Macau's insurance industry

---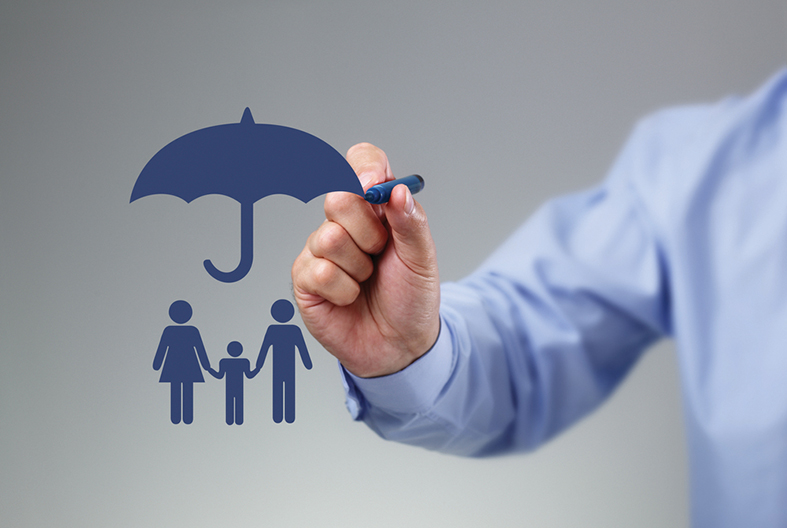 In that already distant year of 2019, the 25 insurance companies operating in Macau suffered accumulated losses of MOP2.6 billion.
Unsurprisingly, with the arrival of the pandemic, the insurance sector saw the accounts get a lot worse: the technical result was MOP10 billion negative.
Despite a 22.4 percent increase in total assets to MOP183.5 billion in 2020, local insurers lost MOP3.7 billion after deducting income from services rendered, miscellaneous income, and management expenses. According to the Monetary Authority of Macau (AMCM) annual report, this is mainly due to life insurance maturity benefits and increased mathematical reserves.
In this context of continued pandemic, it cannot but be considered surprising that the 2021 financial year was marked by a positive technical result of around MOP800 million – much more relevant because the operating profits of the banking sector in the same period decreased by 4.3 per cent to MOP16.2 billion in 2021, compared to the previous year, interrupting a 12-year cycle of year-on-year growth.
"As the Hong Kong-Mainland border has yet to reopen, some Mainland residents have turned to Macau to take out insurance policies, prompting a rapid increase in the business volume of life insurance," AMCM details.
According to a report by local newspaper Exmoo News, "due to the pandemic, the volume of insurance sales in Hong Kong to visitors from Mainland China fell by almost 90 per cent last year."
As the Macau SAR has exempted those who come and go to the mainland from quarantine, more visitors from mainland China have started to buy insurance in the territory.
According to the same source, in 2021, the amount that mainland visitors spent on insurance in the MSAR was six times higher than that recorded in Hong Kong.
The most popular were medical, critical illness, and deposit insurance.
"After accounting for income from services provided and sundry income as well as deducting management expenses, the industry recorded a profit of MOP4.4 billion in 2021, mainly due to the increase in life insurance premiums and the decrease in mathematical reserves," AMCM explains.
Considering the sector as a whole, total assets reached MOP 219.9 billion at the end of 2021, an increase of 19.5 per cent.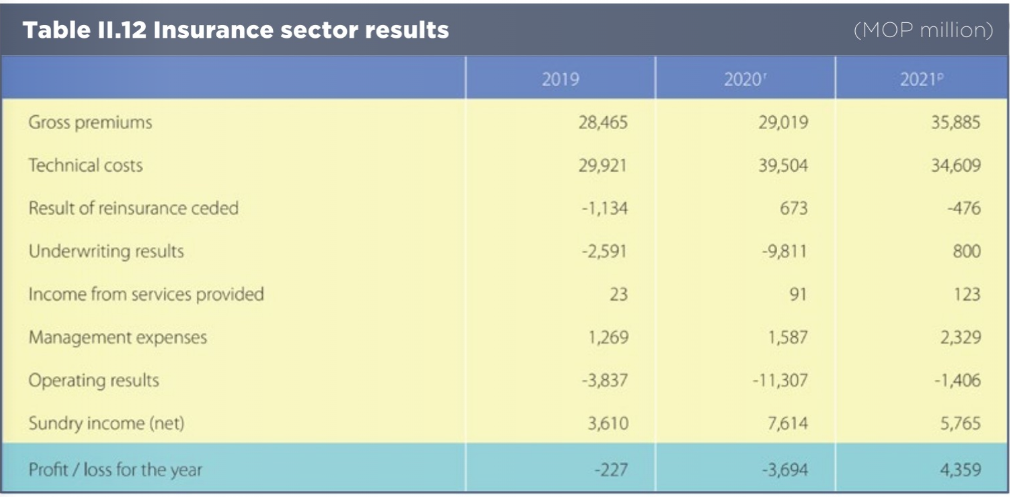 Gross premiums in the insurance industry increased by 23.7 percent, from MOP29.0 billion in 2020 to MOP35.9 billion in 2021.
Life business still accounted for a lion's share, making up 92.0 per cent of total gross premiums. During 2021, gross premiums in the life sector rose by 25.8 per cent to MOP33.0 billion, "which was mainly driven by the increase of MOP6.9 billion in premiums from life insurance and annuities," adds AMCM.
On the other hand, gross premiums of general insurance business increased by 3.7 per cent from MOP2.8 billion in 2020 to MOP2.9 billion, accounting for 8 per cent of total gross premiums of the insurance industry.
Regarding the composition of gross premiums of the life sector, premiums from life insurance and annuities constituted the largest market share of 93.7 per cent with a total amount of MOP30.9 billion.
The second largest component was health insurance policies, with gross premiums of MOP1.6 billion, or a market share of 4.8 per cent. Meanwhile, gross premiums of investment-linked policies amounted to MOP0.5 billion, accounting for 1.5 per cent of the total.
"In 2021, property all risks insurance was the major business in the general insurance sector," AMCM clarifies.
Its gross premiums amounted to MOP1.3 billion, occupying 45.1 per cent of the total. This was followed by employees' compensation and motor insurances, with gross premiums occupying 18.3 per cent and 11.0 per cent of the total respectively, amounting to MOP0.5 billion and MOP0.3 billion.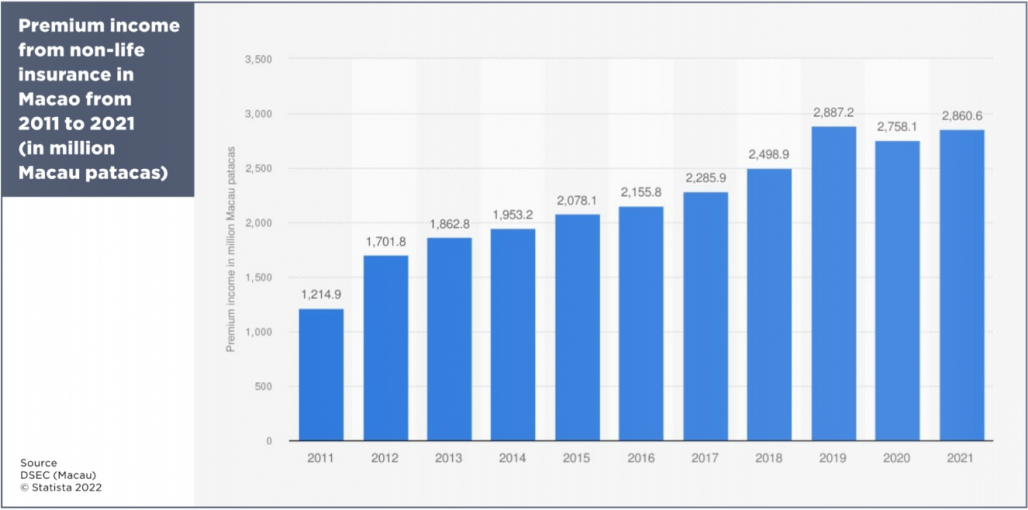 Total gross claims of the insurance industry stood at MOP20.0 billion in 2021, up year-on-year by 56.9 per cent. Among which, gross claims of life insurance accounted for 97.3 per cent, up by 62.8 per cent in value over 2020 to MOP19.5 billion.
The majority of these claims was related to maturity benefits of life insurance, also according AMCM. Meanwhile, gross claims from general insurance decreased from MOP0.8 billion in 2020 to MOP0.5 billion, accounting for 2.7 percent of total gross claims.
The industry's gross loss ratio increased from 44 per cent in 2020 to 55.9 per cent in 2021. Of which, the ratio of life business grew by 13.4 percentage points to 59.0 per cent, while that of general insurance business moved down by 9.8 percentage points to 19.2 per cent.

---
728 employees
At the end of 2021, the number of employees working in authorised insurance companies and private pension fund management companies increased by 8.3 percent year-on-year to 728.
Meanwhile, 8,385 insurance intermediaries were authorised to conduct insurance activities, of which 77.6 per cent were individual agents, 21.3 per cent were insurance salesmen, and the remaining were corporate insurance agents (0.9 per cent) and insurance brokers (0.2 per cent).
Throughout 2021, 17,284 insurance intermediary licences were issued, consisting of 8,096 licences for carrying out life insurance activities, 3,592 licences for general insurance business and 5,596 licences for investment-linked insurance.
Newly established association aims to promote higher standards and the modernization of the city's insurance sector. The president of Macau Insurance Industry Professionals Association, Ivan Cheung, calls for more openness and exchanges with top-level experts from outside of Macau to upgrade the city's local professionals.
---