The last two decades have changed the face of China and the international economy. Before the next two years are out, China will be the biggest economy in the world
MB October 2021 Special Report | China at the WTO

---
When it was admitted to the WTO in 2001, China was a $1 billion market. Today, that's $25 billion.
What's more, China is now the largest trade partner of more than 100 countries and regions.
China's trade in goods grew eight-fold over the past 20 years, from $516.4 billion in 2001 to $4.1 trillion in 2017. In 1992, China's trade-weighted average tariff rate of 32.2 per cent far exceeded the global average of 7.2 per cent, but since then, Chinese tariffs have fallen – even south of that mark – to an average of 4.8 per cent between 2003 and 2017, according to data from the World Bank.

"I think China has certainly benefited from being part of the WTO system, both in terms of access to foreign markets but also in terms of improved credibility with foreign investors and international institutions and generally cementing its role on the world stage as a major power," Dmitry Grozoubinski says.
The Executive Director of Geneva Trade Platform tells Macau Business, "On the other hand, I think in 2021 (and indeed, well before that) a WTO that did not include China as a member would simply not have been a credible organization. China is far too important, both narrowly in terms of trade and more generally as a country, to have a 'World' Trade Organization that did not include it."
But who got more out of China's membership, the world or China itself?
Rostam J. Neuwirth, Faculty of Law, University of Macau, believes it's misguided to speak of winners when discussing international trade. "The global trading system will only work when all are benefitting and not merely a few members of the multilateral agreement. This kind of 'either/or' thinking is one of the most fundamental misconceptions about international trade, especially when considering the challenges addressed by the Sustainable Development Goals.
"In short," the Head of U.M. Law's Department of Global Legal Studies says, "it is not a zero-sum game, and China has benefitted to a large extent from its membership in the WTO since 2001, as has the rest of the world (or the other WTO members)."
In his interview with Macau Business, Professor Neuwirth states that "overall, China has integrated itself well into the WTO system and performed a constructive role over the past twenty years."
His U.M. Law colleague Chao Wang is of the same opinion: "We anticipate that China's continuing reform towards a more liberalized market economy is still going on, all the way. China is a strong supporter of the free trade system, because the free trade system is of interest to China."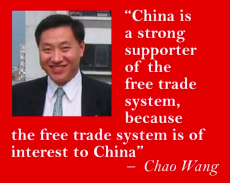 Asked about the number of bilateral or multilateral disputes that China has been involved in over these 20 years within the scope of the WTO, Professor Wang has no doubt: "It is very normal for a WTO member to be involved in disputes with other WTO members within the WTO's dispute settlement system. Even the close allies of the United States, such as Canada, Japan and the EU – they all have many disputes with the US within the WTO."
Expressing Beijing's point of view, State Councillor and Foreign Minister of the People's Republic of China Wang Yi said, "In the last 20 years, after joining the WTO, China has fully honoured its commitments upon the accession and expanded its opening-up. China has contributed nearly 30 per cent of global growth on annual average.
"At trying times such as the international financial crisis and COVID-19 pandemic, China never gives up solidarity and partnership with other countries. China is ready to work with all parties for the success of the Rome Summit and toward building a community with a shared future for mankind!" Mr Wang added.
Echoing these sentiments, Long Yongtu, chief negotiator of China's accession to the WTO, said recently, "[Chinese accession] benefits people around the world, especially people in developing countries. It is also hugely beneficial for developed countries including the US, which is one of its biggest beneficiaries."