Macau Business | December 2021 | Special Report | Macau's ageing society


In five years, the Chinese have gone from the one-child policy to three. All to combat the low birth rate and the decline of the active population. Will that be enough?
For three decades China was known for its one-child policy, which helped ensure a minimum subsistence level for all Chinese, preserving scarce resources for its expanding economy. But this had very negative effects on population replenishment.
Therefore, in 2016, Beijing decided to tear up this emblematic one-child policy and to begin allowing two children.
Then, in late August this year, the central government announced couples in the Mainland will be allowed to have up to three children, in a further measure to combat the falling fertility rate. While Macau sat at fourth from the bottom for total fertility rate in a list of 227 countries and regions (The World Factbook, published by the US Central Intelligence Agency), Mainland China ranked 185 on the list with an estimated fertility rate of 1.6 (Hong Kong placed just above Macau at 223rd).
Permission to have a maximum of two children was only in effect for five years, which seems a remarkably short time in which to assess its viability, but Chinese officials realized it wasn't working. The second-child policy had not increased the fertility rate.
A few months ago, Beijing announced that China's population had virtually stopped growing, pointing to an inversion of the population pyramid that could have implications for the country.
According to official data on the last decade – including those five years with the two-child policy – China had practically no population growth: 12 million babies were born in 2020, 18 percent less than in 2019, when 14.6 million were born.
Is it that the citizens on the Mainland don't want to have more children?
The reason seems to be something different: among other factors, high house prices are compressing the birth rate, which is to say that with more affordable (and therefore larger attainable) housing, that second child's birth rate would have increased.
The high cost of living, in general, and discrimination by companies against mothers are also among the main problems identified by international experts.
For all these reasons, the drop in the birth rate is now seen as a serious threat to economic progress and social stability in China, which, along with other Asian developing countries, faces the risk of aging before becoming rich. Some experts, quoted recently by Reuters, have said Beijing is facing a "demographic time bomb."
The forecast is that the working-age population will drop from three-quarters of the total in 2011 to just over half in 2050. "If the population ages, it will be impossible to solve the problem through immigration," Lu Jiehua, Professor of Population Studies at Peking University, said recently, as quoted by the same press agency.
But Bloomberg analysts believe "China's three-child policy won't reverse population decline." David Fickling explains, "If China hopes to avert a fall in its population by raising the maximum number of children per mother from two to three, it's going to have its work cut out."
The columnist adds, "That's because declining fertility, once started, tends to be an inexorable force that few nations have managed to arrest, let alone reverse. Of the 85 countries where fertility had fallen to less than 2.1 births per woman in 2009 — the so-called 'replacement level' below which population decline tends to set in — only Tunisia had managed to just about creep back above replacement 10 years later."
One of Macau's leading speculators on demographic issues agrees.
Tianji Cai, from the Department of Sociology at the University of Macau, told Macau Businessthat "decision-making concerning having a child is a complex process, and there are not many successful examples of boosting child births through a single policy. Nowadays, 60 per cent of the Chinese population lives in urban areas. Resources, such as accommodation, education, childcare and job opportunities play a much bigger role in decisions on the timing and number of children."
To really reverse the issue, it is necessary to reduce "the human and financial cost of rearing children," Clara Marques, another Bloomberg analyst, opines. "That means not just funding for childcare, schooling and parental leave, but a change in attitudes in the workforce, property law and the home, so that women don't shoulder all the burden of raising a family."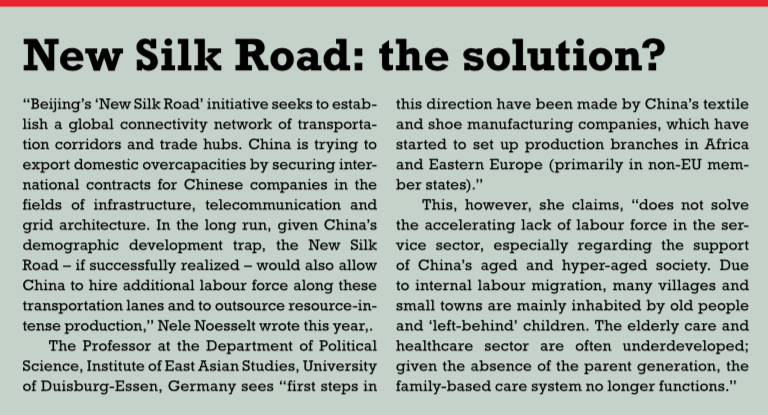 Special Report | Macau's ageing society – Previous:  Being young is not necessarily easy