20 years that changed the world

MB October 2021 Special Report | China at the WTO

Probably not even Deng Xiaoping, who envisioned China's economic opening, could have foreseen the real impact that two decades of Chinese membership in the World Trade Organization (WTO) would have.
China's opening up to world trade changed everything – the world and China itself.
This special report will show the reader just that, from various angles, with explorations of the topic ranging from the context of WTO accession to how China is now addressing vaccine shortages in the fight against the Covid-19 pandemic.
The last 20 years have seen so much change in international trade, that today China will be a decisive player in any reform that might take place within the WTO.
P.S.: This special report features exclusive contributions from leading experts on world trade issues. Along with Professors Chao Wang and Rostam Neuwirth of the University of Macau, we hear from one of China's foremost experts, Xinquan Tu, and an authoritative voice from Taiwan in Roy Lee. Our thanks to everyone involved, including Dmitry Grozoubinski, Executive Director at the Geneva Trade Platform.
Coordinated by João Paulo Meneses ([email protected])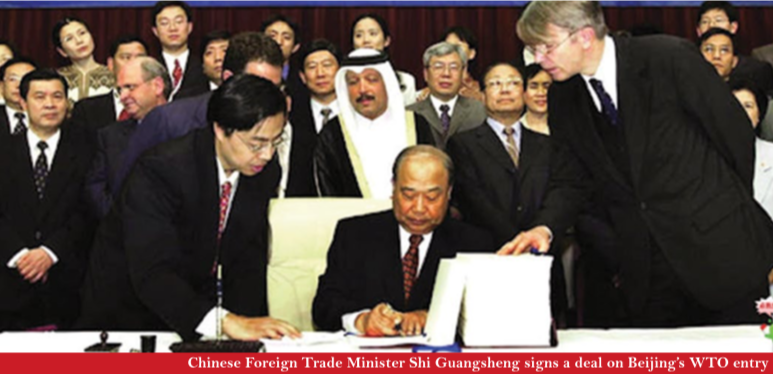 WTO needs "drastic reform"
"Give the WTO a chance," Director-General Ngozi Okonjo-Iweala asks Biden and Xi
Special Report – Vaccine diplomacy
Millions around the world are grateful for Chinese vaccines
The next battle: REEs
REE stands for Rare Earth Element. Without these raw materials, our life today would be very different. And in this sector, too, the world depends on China.
Trade frictions
Disputes between countries within the WTO are normal. China, due to its leading role, is currently involved in several. We highlight the main ones below.
The subsidies controversy
It's the most divisive topic between China and the US and its allies: the WTO prohibits subsidization, but one way or another nearly everyone does it…
25-fold in 20 years
The last two decades have changed the face of China and the international economy. Before the next two years are out, China will be the biggest economy in the world
11 December 2001
Shi Guangsheng, then Minister of Foreign Trade and Economic Co-operation, took just a few moments to sign China's entry into the WTO. Those couple of minutes changed the world.
To be or not to be a developing economy
China believes it should retain its developing economy status. The main powers (and competitors) do not agree…
Taiwan: the other issue
20 years in the WTO is a milestone achieved not just by Mainland China, but Taiwan, too.
Macau since 1995
A US decision to ban offshore gambling was contested by Macau at the WTO in 2007. The matter is still pending.