Most hoteliers actively introduce initiatives that contribute to cost savings, but more investments are needed
MB September 2021 Special Report | Green Macau
---
In the first study carried out in Macau to assess environmental management (EM) across various hotel star ratings and types (2007), Macau-based scholar Penny Wan, from the Macao Institute for Tourism Studies (IFTM) found that hoteliers generally realized their hotel had an influence on the natural environment (81 per cent agreed, and 5.4 per cent strongly agreed); that EM would bring economic benefits (54.1 per cent agreed, and 8.1 per cent strongly agreed); and that EM contributed to the hotel's brand image and competitiveness (51.4 per cent agreed, 13.5 per cent strongly agreed).
At that time, hoteliers' awareness "was not always translated into action." Wan highlighted that "low demand from customers, poor environmental knowledge and the absence of regulations were obstacles preventing hoteliers from adopting green practices."
Nevertheless, about 80 per cent of hotels had strategies to reduce energy consumption, with a slightly smaller proportion having strategies to reduce water consumption (77.8 per cent) and waste (77.8 per cent).
Ten years later Penny Wan updated the information (based on new surveys and interviews with 31 hoteliers): "Hotels in Macau have a high level of environmental awareness," she writes in a study co-authored with a colleague from Macau and another from the Mainland.
Most hoteliers actively introduce initiatives that contribute to cost savings. Practices including the use of energy conserving light bulbs, water conserving fixtures and active systems to detect/repair leaking facilities are widely implemented, while programmes involving the use of solar lawn light, the recycling of leftover food and the reuse of wastewater are not.
Wan also points out that "major barriers for going green include the lack of government regulations on EM, financial constraints, the lack of employees to handle EM and the fear that environmental initiatives may negatively impact the guests' experience, especially those VIP and hardcore gamblers and customers who expect to enjoy luxurious services in Macau hotels. Lower-star hotels experience more difficulties in adopting green approaches."
A lot has changed in ten years, therefore.
Penny Wan, Macau's leading researcher on this topic, has no doubts: the tourism industry is increasingly eco-friendly: "They are paying more attention to food waste and electricity and water consumption," she tells Macau Business.
According to the IFTM Professor this trend "happens on the industry's own initiative, because companies must demonstrate their CSR [corporate social responsibility] to establish their business ethic and suitability for a casino license extension. It is also because of increased requirements from the Government regarding environmental protection, to make Macau greener and more sustainable."
On the other side, says Ms Wan, "customers' demand for green is comparably small. When choosing a hotel in which to stay, most customers seek out hotels that are good value for money, have good ambience and offer good food with a varied choice of entertainment; a hotel's environmental performance is not their major concern."
Perhaps this explains the fact that, despite the positive evolution recorded, casino operators and the main hotels have not yet passed the stage of investments in energy and environmental sustainability.
So when Sands China installed a thermal-heat pump hybrid energy plant last year at The Londoner Macao, they were quick to add that this was the first ever to be used in Macau's hospitality and integrated resort industry.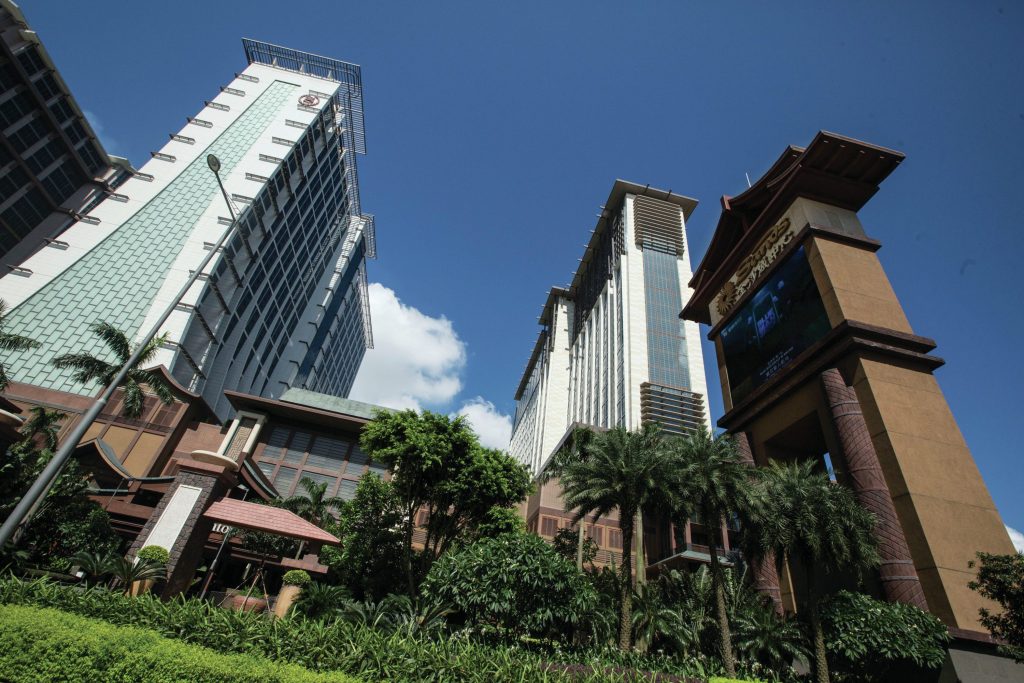 According to Sands China, the plant generates both heating and cooling for the 2,000 hotel rooms of the Sky Tower at Sheraton Grand Macao Hotel, eliminating the need for a natural gas boiler with a 520-kilowatt capacity solar thermal and an 800-kilowatt capacity high-temperature water source heat pump system. Sands China has installed a total of 222 solar thermal panels over 15,000 square feet of the hotel tower's roof space, which will generate more than 500 megawatt hours of thermal energy annually.
"It is good to hear that casino concessionaires are investing large amounts of money and resources into technology for saving energy," Professor Penny Wan tells Macau Business.
"Only large casino operators are capable of doing so," she adds, highlighting that "all casino hotels are suffering from the pandemic. Many are struggling for survival." Ms Wan also notes that casino license extension requirements have not yet been clearly released and that "there are many uncertainties for the casino concessionaires. It is a difficult ask for them to invest even more into expensive, high-tech machines and equipment for green.
"I believe it is especially important to educate and incentivize customers to work towards the environmental goals together," adds Penny Wan. "Our customers need education to enhance awareness but at the same time practical incentives, such as coupons, monetary rewards, etc."
Professor Wan draws our attention to IFTM's Pousada de Mong-Há, where there's an energy usage monitor system in each of the guestrooms. Both staff and guests will know how much energy has been used during a stay. "This monitoring system can measure the guest's efforts to adopt green, allowing for result-based rewards to be given out, such as dining coupons or room rate discounts, etc."
---
---
Pollution brought on by tourism
The tourism industry is becoming more and more eco-friendly, but as Macau's overwhelmingly dominant industry, it is also the most harmful to the environment. A 2016 study found that Macau produces 5.91 metric tonnes of greenhouse gases per year, with 62 percent of all carbon emissions being produced by the gaming industry.
"Recently, Macau's tourism has been increasing rapidly. However the environment, due to its fragility, was greatly harmed by the pollution brought on by tourism," states Zhang Shu-yin of The Chinese University of Hong Kong, Shenzhen.
"In the ecological environment, traffic noise and construction noise, which have a negative impact on citizens, become the major component of Macau's pollution," the scholar adds.
Dr. Zhang believes that "faced with this situation, the Macau government should make use of every bit of available land for the planting of trees and flowers on the roadsides around hotels and housing. Likewise, the Government should build a subway in order to decrease the number of buses, private cars and motorcycles. In this way, Macau will be elegant and peaceful, and both the ecological and social environment will be better so that human beings will be in harmony with nature."
Previous | "It is very unlikely that Macau can be a sustainable, energy-efficient city in the short and medium term."