Macau's entrepreneurs are not short of options: they can stay or they can go. Or they can stay and go at the same time, taking advantage of the many facilities available in the GBA
Macau Business | June 2022 | Special Report | Start-ups in Macau

---
Despite being a member of the Macau Young Entrepreneur Incubation Centre (MYEIC) and having received from them legal, financial and operational assistance in the development of his flexible, transparent, conductive nano-material, young Macau resident Lei Zhen chose to set up his company, Zhuhai Nanometals Technology, in the Zhuhai National Hi-tech Industrial Development Zone.
According to Xinhua news, Lei found Macau's business environment unsuitable for high-tech manufacture. "Thanks to the development of the Guangdong-Hong Kong-Macau Greater Bay Area (GBA), I have more choice and more room in Macau and Zhuhai as a converging area."
Lei added, "Life in Macau is quite similar to that in other Chinese cities in terms of daily life, food and culture. The Macau SAR government has many policies to support start-ups, but it's better to set up the lab and manufacturing base in Zhuhai."
The same Xinhua story reveals that "in Zhuhai, his company can access all the beneficial policies and regulations designed to encourage start-ups and high-tech innovation, and most importantly the strong supply chain in Guangdong Province, a hub of China's manufacturing industry."
And Lei Zhen's story turns out to be no different from that of a lot other young Macau-based entrepreneurs: despite the good conditions on offer from the Government, many are looking for alternatives beyond the borders.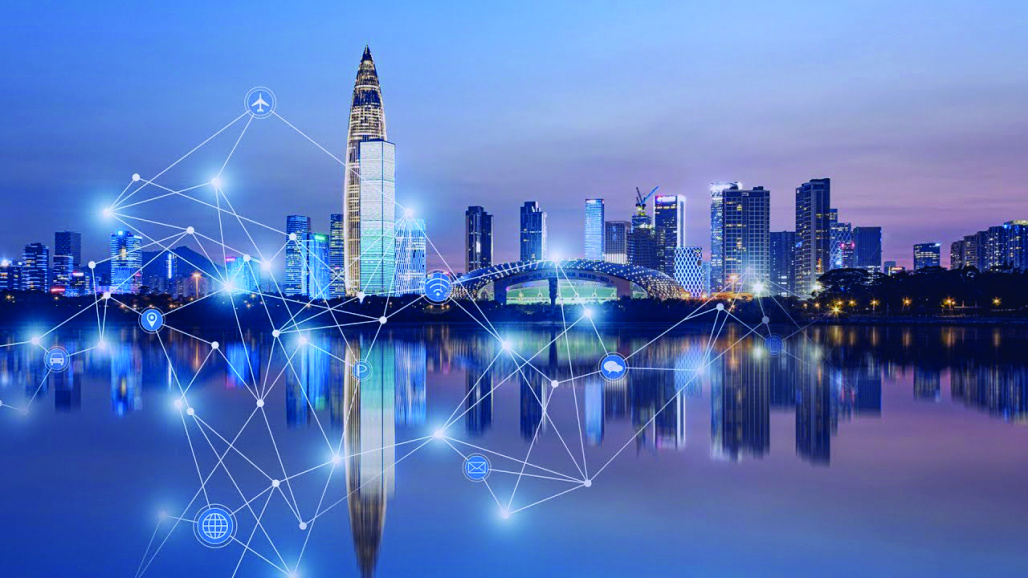 This case is one not of competition but of complementarity – after all, that is the spirit of the GBA.
For this reason, the MYEIC proactively co-operates with its mainland counterparts. "Under the auspices of mutual recognition of youth entrepreneurship projects, the Macau centre encourages Macau youths to move into the mainland incubation centres, where they will find help starting businesses on the mainland," according to a recent HKTDC Research report.
The MYEIC currently collaborates with a number of youth innovation entrepreneurship bases in the nine mainland GBA cities, among them Chuang Hui Gu (hub of creativity, innovation and entrepreneurship – cultural and creative community for young people) and the Guangdong-Hong Kong-Macao (International) Youth Entrepreneur Hub, both in Guangzhou, the Macao-Hengqin Youth Entrepreneurship Valley (Innovalley) in Zhuhai and the Zhongshan E-Park Entrepreneurship Base in Zhongshan. It has also jointly launched the "Pan-Pearl River Regional Incubation Alliance" together with incubators in all 11 GBA cities.
"Land supply in Hong Kong and Macau is tight, and the costs of human resources and operation are higher than on the mainland. This has exerted considerable pressure on start-ups. Since Hong Kong and Macau lack the production capabilities that GBA mainland cities such as Shenzhen, Dongguan and Guangzhou have, with their highly concentrated manufacturing zones, start-ups in the two SARs should focus their attention on the GBA," Wei Lixin, Vice President of the MYEIC, explained in the HKTDC Research report.
"As the local markets in Hong Kong and Macau are small, start-ups at a certain stage of development will seek to expand their businesses into larger markets. The GBA has a population of over 80 million sharing the same language, culture and environment as Hong Kong and Macau, so it provides an ideal location for start-ups to further expand," he added.
However, as local entrepreneur Marco D. Rizzolio wrote three years ago in an article for Macau Business, "There is a need for a legal framework to facilitate foreign companies having exchange programmes within Macau and the GBA, (i.e.) start-up visas. Further mechanisms need to be developed in order to support integration with the GBA (funds, subsidies, investments, capital transfer). The GBA – of which Hong Kong and Macau are an integral part – still needs to connect its networking power to the region."
---
Macau a top target for biotech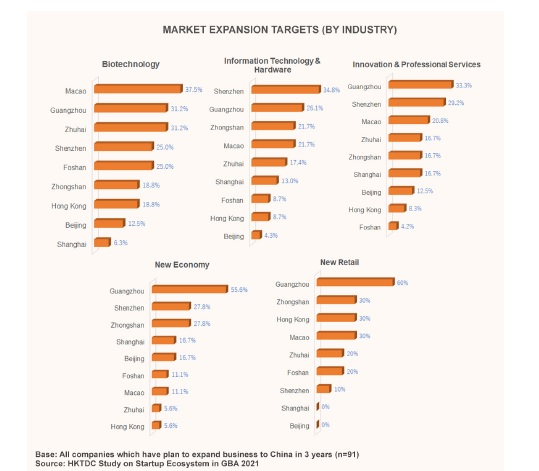 The HKTDC Research report Exploring the Greater Bay Area Start-up Ecosystem conducted a questionnaire survey and a series of in-depth interviews with start-up enterprises in the Guangdong-Hong Kong-Macao Greater Bay Area (GBA) in mid-2021.
"This allowed for an in-depth assessment of development trends relating to the GBA's start-up ecosystem, as well an evaluation of its overall performance, while also facilitating an understanding of how start-ups view the GBA's business environment," they said.
Some relevant results:
Of all the GBA cities, Shenzhen (chosen by 67 per cent of respondents), Guangzhou (by 36 per cent) and Macau (by 34 per cent) were the most popular expansion targets for start-ups in Hong Kong. "It is interesting to note that many start-ups still hope to expand their market to Macau in spite of its small size," the study remarked.
Another of the report's conclusions: "It is worth noting that among those start-ups with plans to expand their sales market, over 60 per cent of biotech companies plan to tap the market in Zhuhai or Macau."