The end-2021 accounts for most insurers operating in the SAR's life segment were rosy.
Macau Business | November 2022 | Special Report | Macau's insurance industry

---
As the first text of this special report makes clear, the end-2021 accounts for most insurers operating in Macau were rosy.
For the avoidance of doubt, we are talking about the life sector, which in Macau is worth 15 times more than general insurance.
It is true that even so, some closed in the red, but the majority obtained results, which, in certain cases, are even records in several years.
Of all, AIA's 2.587 billion stands out, a result that is more than half of the nearly MOP4 billion in the entire life sector.
In 2020, this same company closed with high accounting losses, which it recovered a year later.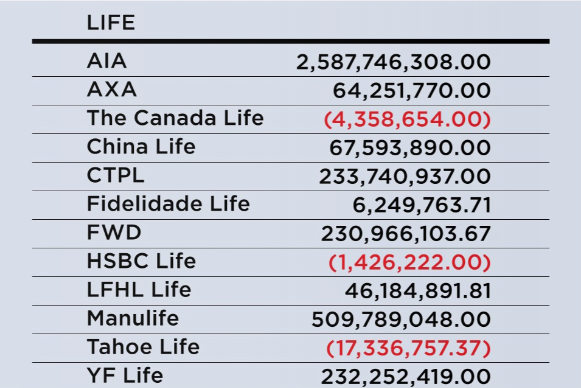 According to its Annual Report, "in 2021, which was still a year of constant change and full of challenges, AIA Macau continuously had a solid and stable performance and continued premium growth. The pandemic, as it made the public pay more attention to their health, increased the public's demand for insurance," which was reflected in the accounts of the branch of this North American company, based in Hong Kong.
As the largest publicly listed life insurance and securities group in Asia-Pacific, AIA is also the market leader in Macau.
Manulife is another example of a company that ended 2020 with a negative balance, but benefited greatly from the high demand for health insurance last year – it has the second best result, with MOP509 million.
In fact, the accounts recently published by AMCM show a very curious reality: the five companies that recorded the most losses in 2020 (AIA, YF Life, Manulife, FWD and CTPL) were the most profitable in 2021, all above MOP230 million.
CPTL deserves special mention: after many years of dominance in general insurance through China Taiping, in 2019, it established China Taiping Life Insurance Co., Ltd. (CTPL), which began full operations in 2020.
After a first year of negative final accounts, CPTL closed 2021 with MOP230 million.
And if two years ago, seven of the 12 companies that sell life insurance in Macau had negative balance sheets, in 2021 this only happened with three, two of them (The Canada Life and Tahoe Life repeat).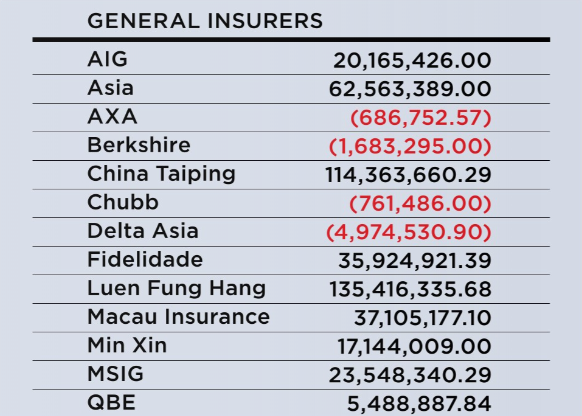 The general insurance sector is quite different.
For several years, there seemed to be a stagnation in the market, led by Luen Fung Hang and China Taiping, the only companies with profits above MOP100 million.
In 2020, three closed their accounts in the red, and a year later these same three (AXA, Berkshire and Delta) repeat, joining Chubb.
Probably the most relevant data is the entry of Fidelidade in the lot of the five most profitable, by direct exchange with MSIG.
China Taiping, Fidelidade and AXA are the only companies operating in Macau's two insurance sectors.