Environmental science expert Wai Ming To is sceptical on solar or wind energy being developed in Macau. He argues instead that the city can do slightly better is to adopt smart/intelligent building systems that optimize the use of electricity for air-conditioning, and air and water heating
MB September 2021 Special Report | Green Macau

---
For the first time, a Macau-based scholar was included among the top 2 per cent of world scientists based on citation impact for the year 2019. Professor Wai Ming To of the Macau Polytechnic Institute has research interests encompassing environmental science, technology and management, energy analysis, total quality management and services management, among others. Macau Business interviewed Professor To, who declared "it is very unlikely that Macau can be a sustainable, energy-efficient city in the short and medium term."
Limited space, high population density and an economy based on mass tourism – will these factors prevent Macau from being a "beautiful city of leisure", or is it still possible to make Macau the site of sustainable development?
Wai Ming To – The factors listed in your question – limited space (Macau's land area is about 30 km2), high population density, and an economy based on mass tourism – will definitely have an adverse effect on Macau as a "beautiful city of leisure" from residents' and tourists' perspectives. With its limited resources, Macau should focus on "sustainable" development, not "sustained" development whose focus is primarily on economic growth without acknowledging the existence of a finite carrying capacity – a limit on what Macau can bear. In fact, a local higher education institution estimated that Macau's optimal tourism carrying capacity is less than 110,000 person-times per day, or 40.1 million person-times per year. It was reported that among 104 days surveyed in 2017, the number of visitors per day exceeded the optimal daily rate on 21 of those days (around 20 percent of the days surveyed).
Do you believe Macau's biggest environmental problem to be the effects of excess municipal solid waste, or are there other more important issues?
WMT – People, including residents and tourists, generate a huge amount of municipal solid waste. However, solid waste may not be obvious to most people as an environmental problem. Macau's environmental complaints were mostly against noise issues such as community noise (about 8000 cases in 2020) and air pollution such as oily fumes from commercial kitchens (about 260 cases in 2020). Community noise and air pollution directly affect residents' well-being and constitute a nuisance.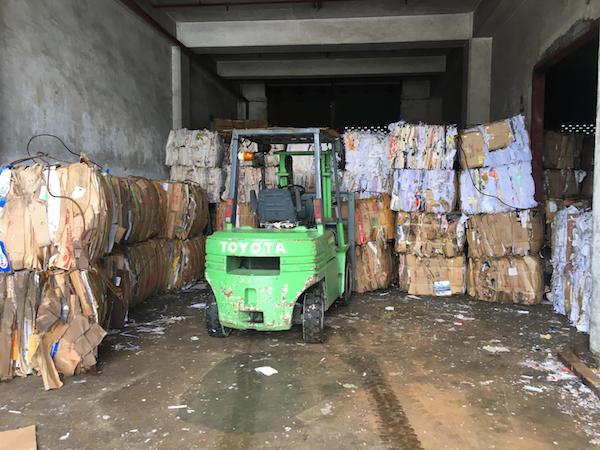 Is it because people don't take the solid waste problem seriously that it isn't alleviated? Is there a lack of collective awareness?
WMT – Municipal solid waste is primarily transferred to Macau's Incineration Plant for treatment. Most residents put their garbage into the waste collection units and forget about its impact on the environment. People have been educated to practice "reduce, reuse, recycle" (the 3R principle) for years. Unfortunately, they have seldom put the principle into practice over the past twenty years, when Macau's economy was good and people had more and more money to spend. That is a lack of collective conscience, as you said.
Now let's talk about renewable energies: do you think Macau will be able (in the medium term) to be a sustainable, energy-efficient city?
WMT – Macau is a small city and has many high-rise buildings. Thus, solar energy is not efficient due to the shadowing effect of adjacent buildings and the small ratio of rooftop area to total floor area. Additionally, Macau does not have an onshore/offshore wind farm that can produce a steady supply of electricity. The only way Macau can do slightly better is to adopt smart/intelligent building systems that optimize the use of electricity for air-conditioning, and air and water heating. This means it is very unlikely that Macau can be a sustainable, energy-efficient city in the short and medium term.
The Central Government allocated 85 square kilometres of territorial waters to Macau in 2015. Does that present an opportunity to build offshore wind farms?
WMT – Building an offshore wind farm requires substantial investment on the part of the Macau Government and the Macau Power Company (i.e. CEM). Additionally, a team of experts would need to be appointed to assess whether an offshore wind farm is feasible within the 85 km2 of territorial waters given to Macau by the Central Government.
Do you think the most decisive role (for the changing of habits) belongs to the Government or to the citizens? Is there enough awareness of these issues in Macau?
WMT – The Macau Government plays a more important role in promoting environmental awareness. The Macau Government should work closely with educational institutions (from kindergartens to tertiary institutions) to improve environmental awareness among the next generations.
---
Among the top 2 per cent of world scientists
Wai Ming To is a Professor of Management in the School of Business at the Macau Polytechnic Institute. He received his PhD from Imperial College London and serves as an expert in the Ministry of Science and Technology of the People's Republic of China.
Professor To is among the best scientists in the world, according to a list, published by a research team from Stanford University (USA), of the top 2 per cent of the world's most-cited scientists in various disciplines.
"I was surprised to learn that I was included as one of the world's top 2 per cent scientists based on citation impact in the year of 2019," he answers Macau Business. "Nevertheless, it did not change my attitude towards doing research. I just want to collaborate with my fellow researchers to improve our understanding of how people feel, perceive and behave in organizations and different hospitality settings and how big the impacts we produce on the environmental, social and economic systems are."
One of his primary research topics is the haze problem in Macau, Hong Kong and Shenzhen. "We demonstrated that haze problems in these three cities follow an Environmental Kuznets curve (EKC) – a hypothetical, inverted-U-shaped relationship between an environmental change and a city's economic development. For example, Macau's haze hours per year first increased, from 3 hours in 1986 to a peak level at 766 hours in 2007, and then improved as Macau's economy continually evolved (only 57 hours in 2016). Additionally, my fellow researchers and I have collected China's fisheries data and have realized that China has done a great job keeping marine and inland capture fisheries at a relatively low level over the past two decades. China's fisheries are primarily based on aquaculture production. We are going to analyse all this data (on haze and the fisheries) carefully and publish the findings in international journals."
Wai Ming To also intends to explore a number of "interesting topics in Macau's service sector with past and present colleagues. The topics include consumer perceptions of the ethics of retailers, the diningscape in restaurants, and the use of social media for work (particularly in light of the Covid-19 pandemic) in Macau."