Macau Business | December 2021 | Special Report | Macau's ageing society
Experts assert that financial incentives are not the solution, but providing more supportive services to future mothers could change women's mindset
It's far more than a million-dollar question for the simple reason that millions are looking for an answer and spending millions on experiments and solutions: in most developed countries births are decreasing, seriously distorting the population pyramid in favour of the elderly.
To help to try and understand how one might reverse Macau's low birth rate, Macau Businesshas brought together a group of experts, a set of Macau-based scholars who are interested in demographic issues.
"I think it is very hard to solve the problem of low birth rate in Macau," Kai Yin Leung begins.
The Lecturer at Macau Polytechnic Institute's School of Humanities and Social Sciences adds, "Similar to those in Western developed countries, Macau people enjoy economic achievement but do not want so many children. The new generation are more knowledgeable and have attained a higher level of education. They fully understand it is not easy to take care of a young child and be responsible for their growth. It is not just a question of money, but also the time that must be spent in the cultivation of a child."
When Dr Leung refers to the "new generation", he is focused mainly on issues pertaining to the "young female generation" now that "most of them have greater opportunities to attain a higher level of education."
The social policy expert, who teaches a class at the Polytechnic called Social Work with Youth, emphasises that these young women are spending more time on their studies: "Usually, they complete their bachelor's degree at 22 years old. Then they begin their career and enjoy their romantic love story – or stories – for several years. By the time they find the 'right person' they are about 28–30. Some of them who might think the bachelor level is not enough are willing to obtain a master's degree to sharpen their competence. The extended study period serves to delay marriage and family planning."
With large numbers of women having entered the labour market after 2002, "the 'male breadwinner' model is now a bit out-of-date of in Macau. Under these new circumstances, the women have equal power within the family. Equal ambitions for their career, studies and personal life. They do not want to have more children. I think it will be hard to resolve this issue."
Donghang Zhang, Assistant Professor, Faculty of Humanities and Social Sciences, City University of Macau, agrees that while money might help, at its root this is not a financial problem. Therefore, an incentive like a birth allowance is not "an appropriate measure for young people with high educational attainment and salaries. Many young people are not likely to be restricted within their families. They are free to have their own lives, which are not affected by other uncontrolled factors."
In Macau the situation is more peculiar than elsewhere because, as Professor Zhang stresses, "Macau is a traditional society consisting of at least 40 per cent people from Fujian. They would be pleased to raise children. Also, once a family has one child, they would continue to have more children if the government can alleviate their child-raising burdens."
Tianji Cai, Department of Sociology, University of Macau, adds his voice to the argument that financial incentives do not structurally solve the problem, explaining that "fertility is hard to reverse once it is on a declining trend, because the cost of raising a child never decreases."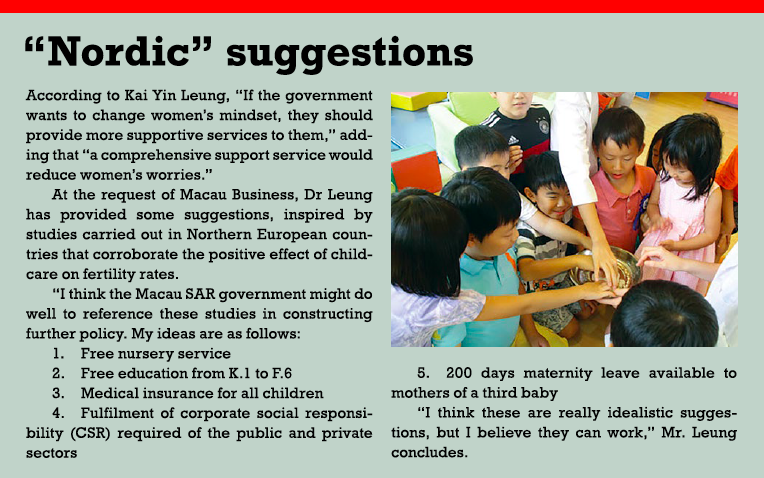 Professor Cai stresses that "policies such as baby bonuses, family allowances, maternity and parental leave, tax incentives and flexible work schedules have been experimented with. So far, providing accessible and high-quality childcare exhibits a long-term effect, and flexible working hours are also useful, while financial incentives and parental leave have only short-term effects."
However, he states, "there is a correlation between government expenditure and the halt of fertility decrease. The more governmental resources are applied, the more likely fertility will be stabilized."
Can immigrants help?
In many developed countries it is young immigrants who are helping to balance the population pyramid. Could this be the solution in Macau?
Melody Chia-Wen Lu, Associate Professor at University of Macau, believes that "migrant workers fill the care labour shortage that results from an aging or hyper-aging society, but they in themselves do not balance or delay an aging society."
According to Professor Lu, of UM's Department of Sociology, "Generally, when we study an aging society, we look at three factors: birth rate, mortality rate and net migration. For the last factor we generally focus on the role of 'immigrants', who would settle and reproduce, not migrant workers who are not allowed to settle and to bring in their family members, and whose children would not become residents should they reproduce. So, the migrant worker population does not structurally change an aging society. Of course, migrants can marry locals, but then they become immigrants."
In all countries, immigration issues are sensitive, and Macau is no exception.
"I think for the governments of the receiving countries/areas, the main concern normally is how to achieve a healthy population structure for sustainable economic development (taking into account the resources and the space – what we call the 'carrying capacity') while maintaining social cohesion," Professor Lu explains.
Political scientist Sonny Lo calls it a "complex" problem, which involves several variables. For instance: in dealing with immigration, "the government needs to release better statistics, such as data for the past 10 years on how many mainland-born graduates of Macau tertiary institutions stay working and living in Macau after graduation, which occupational sectors they work in, and whether some occupational sectors still need immigrants and how many. An improvement in the available statistics is urgent for better policy-making on immigration."
If the Government were to opt for the idea of "importing" mainland immigrants, it would have to take into account "the manpower and the areas in need, such as the four main diversification areas."
To make the public understand the need for immigration, the government will have to – among other considerations – explain the necessity for immigration and come up with a plan, for Mainlanders and non-Mainlanders. "Otherwise society will be kept in the dark," Sonny Lo warns.
Professor Jacky Ho, University of Saint Joseph, believes "we ought to think outside the box. Immigration is just a tool used in the past to help a nation thrive economically, demographically and in professional development – take the US and Australia for example – but since Macau is geographically very small and is close to the Greater Bay Area (GBA), people ought to be able to travel between around the GBA for work, and reside anywhere in the area of the GBA, taking advantage of cheaper cost of living, and, equally, skilled people from around the GBA could come to Macau and make important contributions."
According to Professor Ho, who is Director of the Macau Observatory for Social Development, "This could be considered 'partial' immigration, with respect to investment, skills and labour. As such, resources and skills and personnel are meant to be shared with our neighbouring cities to maximum our collective efforts."
Special Report | Macau's ageing society – Previous: China: 1,2 or 3 children