Suicides and suicidal ideation, as well as depression, anxiety, and insomnia symptoms, were all aggravated by the pandemic.
Macau Business | January 2023 | Special Report | Three years of pandemic – What changed?


---
The first lockdowns caused by the pandemic were still in effect and the first warnings were already being heard regarding the presumed impacts on mental health in the medium and, who knows, long term.
As of October 2022, there have been a total of 65 suicides since the beginning of the year, more than in all of the previous year (60 registered in 2021), according to the Health Bureau.
"The COVID-19 pandemic that has persisted for more than two years and the repeated unstable pandemic situation in neighbouring regions entails that citizens inevitably manifest different levels of psychological problems, such as anxiety, depression and mental stress," the Health Bureau added at that time.
The Health Bureau expanded on the subject in light of the most recent statistics: "Due to the pandemic, many people cannot leave their homes, they are in quarantine, they are 'trapped' at home and this probably influences Macau residents, including not just the elderly, but also the young, and probably for these people, they will be in a hidden situation," said Kwok Wai Tak of the Psychiatric Services of the city's public hospital.
"Many are struggling with constant travel restrictions, job uncertainty, day-to-day uncertainties, lack of space and freedom, and disrupted lifestyle, so that may cause families' financial stress and well-being," explained to Macau Business Professor Prof. Helen Liu, assistant Professor and a research coordinator for the Faculty of Health Sciences, University of Saint Joseph.
The issue was brought up in the Legislative Assembly, where legislator Kam Fai, who is also the principal of Pui Ching Secondary School, expressed his particular concern about the rise in young people committing suicide, and the Chief Executive explained that economic pressure played a critical role:
"I am aware of how negatively the economy has impacted people's mental health.
According to Ho Iat Seng, "with the economy gradually improving, it is possible to eliminate economic issues and decrease the number of suicide cases."
"The situation has shown uncertainty about the future and left many people feeling anxious. It may cause inappropriate emotional venting. The number of domestic violence cases has slightly increased with an average of six cases per month according to IAS. Ultimately, child abuse may rise significantly," Professor Liu also added.
Numerous studies have been conducted locally over the past three years in an effort to better understand the situation.
In one of them, levels of suicidal ideation (SI) were compared across 10 countries and regions, including Macau, amid the COVID-19 pandemic.
An online survey was completed by 25,053 people, and the results revealed that the United Kingdom and Brazil had the lowest odds of suicidal ideation when compared to Macau. According to the authors (between them, Yu Tao Xiang, Faculty of Health Sciences, University of Macau), "it is surprising to note that the UK and Brazil had lower odds of SI than that of Macau."
The authors speculate on the reasons that could have explained this result, above all the fact that "Macau is a well-known country [region] for migrant workers who have been suffering social inequities such as social isolation, overcrowded living conditions, lack of access to sanitizers, and personal protective equipment."
The general state of Macau residents' mental health has been the subject of other studies.
In 2020, five researchers from the University of Macau examined how the COVID-19 pandemic's mental distress was perceived by the general public and how that perception was related to changes in lifestyle.
They found a prevalence of 8.8 per cent probable depression and 12.0 per cent probable anxiety in the sample. "Positive perceptions toward government's pandemic responses were found to be negatively associated with probable depression and probable anxiety. Three lifestyle-changing stressors (i.e., increased family conflict, friendship deterioration, and weight gain), were commonly reported, and displayed positive associations with probable depression."
Another study concerning the initial phase of the pandemic, also with the participation of several researchers from the University of Macau, but not only, wanted to know "The backbone symptoms of depression."
They concluded that "loss of energy, psychomotor problems, and guilt feelings were the symptoms with the highest centrality indices, indicating that these three symptoms were backbone symptoms of depression."
A third study – Network analysis of depression, anxiety, insomnia and quality of life among Macau residents during the COVID-19 pandemic – also focused on the first few months of lockdown and again had its roots in various University of Macau departments. It found that the prevalence of depressive, anxiety, and insomnia symptoms was 38.5, 28.8, and 276 respectively.
"Insomnia symptoms played a critical role in the distress symptom network regarding node and bridge centrality as well as associations with quality of life among Macau residents. Close attention to these symptoms may be critical to reducing risk and preventing exacerbations in common forms of distress in this population," wrote the 12 authors.
---
Focus on youngsters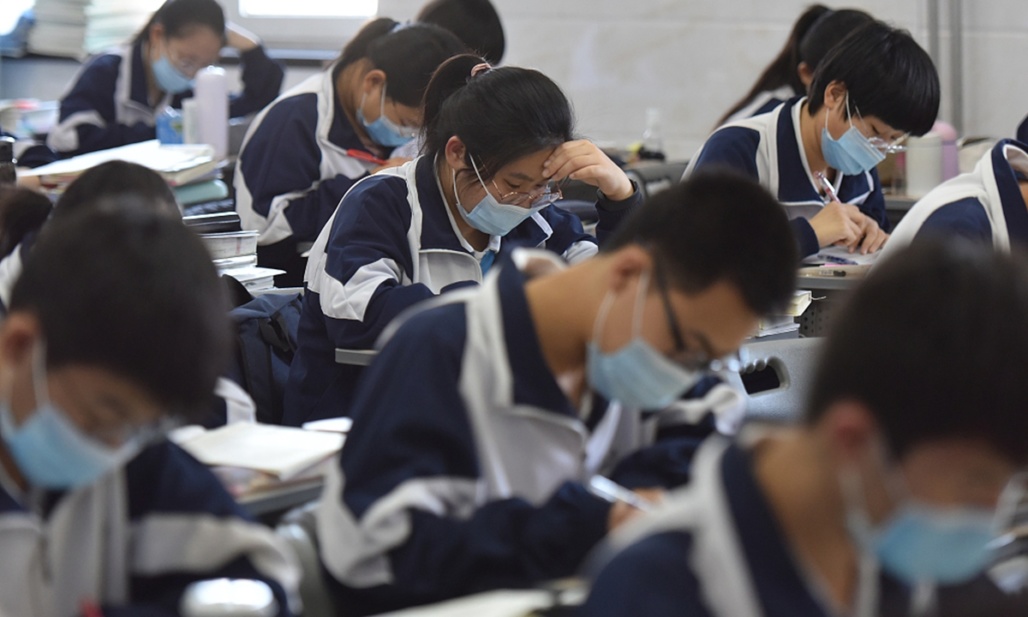 "The Health Bureau appeals to society and the public to pay attention to the mental health of young people and to pay more attention and listen more to young people in their daily lives, pay attention to their opinions or emotions, to attitudes that they can be aggressive and can lead to suicide, so listening to them can allow them to express themselves and help to prevent any incidents," the department noted.
"In order to prevent suicide among young people, one of the most important measures is the early assessment and diagnosis of high-risk groups and patients, and timely access to health care as it can significantly reduce the occurrence of adverse situations, as well as increase the advantages of youth development, socialization and learning," the Bureau added.
"Parents have too much expectation on their children in order to fulfill their unmet needs in the past," stated Professor Helen Liu. "Parents sometimes not know how to communicate or child rearing in a proper way. In response to this situation, family life education is the community education with prevention and development functions."
The research coordinator for the Faculty of Health Sciences, USJ, suggests, via Macau Business, the need "to improve family functions, strengthen family ties and prevent broken family through a series of educational and promotional activities. Parenting education, communication skills between parents and kids, enhancement of the interaction between parents and children; adolescent rebellion; parents' emotion management, communication skills between parents and kids; cooperation / communication between parents and schools."