The Government has reinforced the Social Security Fund, which now has the capacity to pay 17 years of expenses. But a mandatory provident fund system is already being considered
Macau Business | December 2021 | Special Report | Macau's ageing society

In 2018 the Social Welfare Bureau (IAS) commissioned Kiang Wu Nursing College of Macau to conduct research on preparation for old-age life and the life-long development of Macau residents.
Its main findings showed that middle to old-aged adults (50–64) had insufficient understanding of preparation for old-age life, with up to 20 per cent believing there was no need to prepare for their old-age life in advance, and more than 20 per cent of those who do believe they need to prepare early having not yet begun preparations.
Residents aged 35-64 had a higher sense of self-sufficiency for old-age life, while older adults mainly relied on the government and their children.
As one of the study's leading authors, Associate Professor Leong Sok Man, explains to Macau Business, "Behavioural preparation for old-age life was found to be generally insufficient and incomplete. Respondents paid more attention to their health (citing actions such as 'starting to establish healthy habits' and 'having regular physical check ups') and financial situations (actions such as 'increasing savings'), yet psychological preparation behaviours (such as 'discussing old-age life issues with family members or friends' or 'participating in related activities') were clearly insufficient."
While the Kiang Wu study already demonstrates clear concern on the part of Macau residents over financial issues, pressure on the Social Security Fund (FSS) from those past retirement age has been increasing year after year.
"With the development of society, the FSS has been committed to extending the coverage of social security and carrying out various service reforms," a representative of the Fund states.
Since 1993, it has successively introduced voluntary contributions (people no longer employed can replace employer contributions with their own) and contributions by self-employed workers, and it has added some new benefits.
In order to make the functions and resources of the FSS more concentrated on old-age security, the function of granting the relief funds was transferred to the Social Welfare Bureau in 2007, and the minimum age for applying for an old-age pension was lowered in 2008 to meet the aspirations of society.
After years of development, a two-tier social security system was established in Macau.
This means now that while all Macau residents can benefit from the 1st-level social security system, they may also opt in to the 2nd-level, non-mandatory central social security system, allowing them to "accumulate additional abundant capital for their post-retirement life," according to the FSS.
By the end of 2020, around 498,000 beneficiaries had been registered with the social security system and around 123,000 beneficiaries were receiving the pension for the elderly.
In January, the amount of benefits under the social security scheme increased by approximately 3 per cent.
The monthly seniority and disability pension amount was increased to MOP3,740.
With regard to the non-mandatory central pension scheme implemented from January 2018, by the end of 2020 there were 247 employers who had joined the scheme, more than 22,900 workers participating in the joint pension plan and more than 61,500 people participating in the individual pension plan.
Faced with the challenges of an aging population and the inevitable increase in burden, the FSS has needed to call up financial reinforcements.
In 2016, the Government finished injecting a total of MOP37 billion into the Social Security Fund.
In 2019, the bill for consolidating the financial resources of the Social Security Fund was formulated: after meeting basic reserve requirements, 3 per cent of the central budget balance at the end of every fiscal year is designated for the FSS, "to provide fundamental financial support for the fund's sustainability."
At the end of 2020, the net asset value of the FSS was more than MOP93.60 billion, an amount 17.3 times higher than its total expenses and representing a 5.49 per cent increase, up from MOP88.73 billion. In other words, considering these figures the FSS's net worth is sufficient to pay 17 years of expenses, even in a hypothetical scenario with no income.
But all scenarios are on the table.
The FSS commissioned a research team at the University of Macau to draft a review report, and a mandatory central provident fund system could be implemented in Macau by 2026.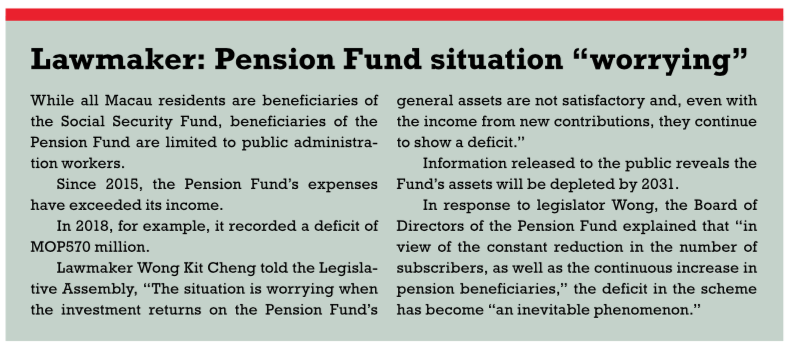 Special Report | Macau's ageing society – Previous – "2031: The hyper-aging society scenario"