REE stands for Rare Earth Element. Without these raw materials, our life today would be very different. And in this sector, too, the world depends on China.
MB October 2021 Special Report | China at the WTO

---
If you are reading this story on your mobile phone or your computer, and you currently own or are thinking of buying a hybrid or electric car, you should know none of that would be possible without the use of certain rare metals, known specifically as Rare Earth Elements (REEs).
REEs are also key elements in the defence industry and in the effort to reduce the effects of greenhouse gases through devices that transform the sun, wind or tides into energy.
There is no doubt that the world is dependent on this group of chemically similar elements, used extensively in the aerospace, defence and electronics industries. Which is to say that, in this sector too, the world is dependent on China, responsible for more than 90 per cent of the world's REE extraction. In 2020, Chinese mines produced 110,000 tonnes of REEs, which is more than 55 per cent of the global total, according to rare earths expert David Merriman of Roskill, an international consultancy specializing in critical materials supply-chain intelligence. A recent report from the Centre for Strategic and International Studies titled Does China Pose a Threat to Global Rare Earth Supply Chains? reveals, "China already became the world's largest importer of rare earths in 2018, and it is expected to become a net importer by the middle of the decade."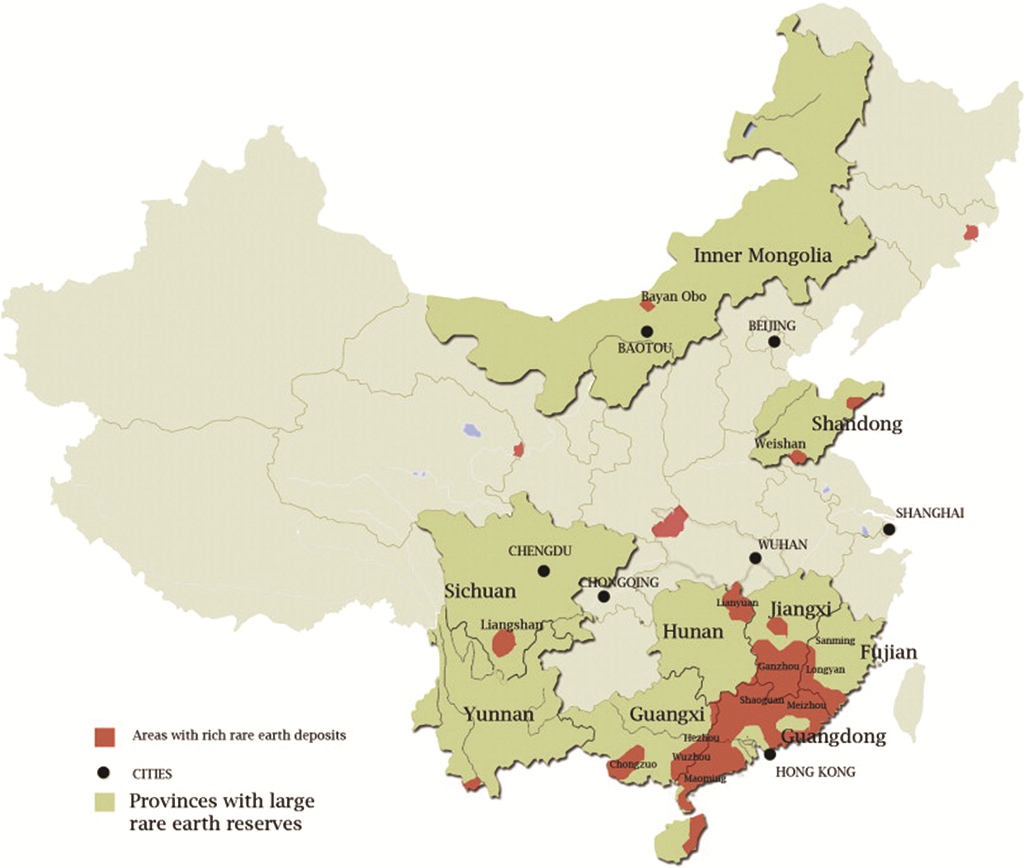 An article published in India warns that "China has an alarming level of control over the global supply of REEs. Not only is it one of the largest extractors of REEs, but it is also one of the few global destinations which processes REEs and also transforms them into finished products. It is this de-facto monopoly which China can weaponize and leverage against its adversaries."
China's first divergence from the market took place in 2010, when it imposed strict export quotas in the name of curtailing pollution and preserving resources. The United States, European Union and Japan challenged these restrictions in the WTO and won, with Beijing obliged to cancel the export quotas in compliance with an WTO Appellate Body ruling that stated: "China has not demonstrated that the export quotas that China applies to various forms of rare earths, tungsten and molybdenum, by virtue of the series of measures at issue, are justified."
China's defeat made the world even more dependent on the supply of these metals. As the table below shows, the main technology markets are highly dependent on imports from Mainland China (in 2019, China was responsible for 80 per cent of rare earths imports, according to the U.S. Geological Survey).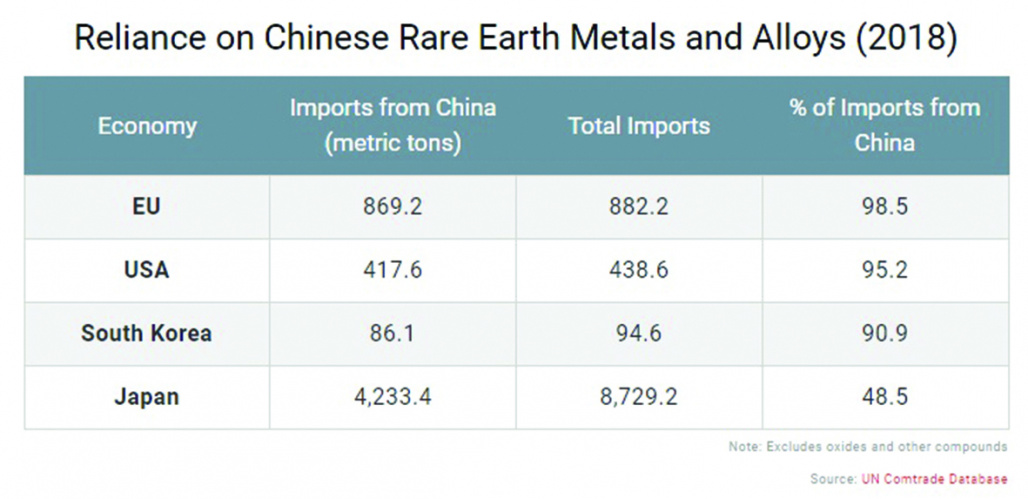 China produced 85 per cent of the world's products refined from rare earths in 2020, but with its domestic yield levelling off, China's importation of rare earths is forecast to grow to 80,000 tonnes per year by 2030, up from an estimated 60,000 tonnes in 2021, according to Merriman, as quoted on Mining.com, an online-only news site covering the global mining and metals industry. China dominates not only the supply of rare earths but also the demand for them, Mr Merriman notes in the same report, with 70 per cent of global production consumed within the Chinese domestic market.
The main importers, led by the United States, are showing increasing concern over the situation, as signalled by the Biden administration's intent to re-emerge as a dominant player in the rare earths supply chain, a plan contained in clean-energy legislation for $2 trillion in infrastructure to combat climate change. Prior to that, Biden had signed an executive order designed to review gaps in several areas, among them domestic supply chains for rare earths. Last March the US Department of Energy announced a $30 million initiative to fund researching and securing the domestic supply chain for rare earths and other important minerals.
REEs are crucial to the efforts to stem greenhouse gas emissions, on which US Special Presidential Envoy for Climate John Kerry commented recently: "I think that this is a huge economic opportunity – not just for the United States – with people all around the world," he said. "This is not about China, this is not a counter to China. This is about China, the United States, India, Russia, Indonesia, Japan, Korea, Australia, a bunch of countries that are emitting a pretty sizable amount, the United States and China the most."
Regardless of the concern many may have over its quasi-monopoly, China continues to import ever greater amounts of REEs, which it uses industrially or re-exports. After all, in the words of Deng Xiaoping after a 1987 visit to the rare earth production centre of Baotou, Inner Mongolia: "The Middle East has its oil, China has rare earths."