China believes it should retain its developing economy status. The main powers (and competitors) do not agree…
MB October 2021 Special Report | China at the WTO
---
"Everyone agrees that developing and least-developed WTO members should be entitled to special and differential treatment. But at what cost? Should a WTO member like the People's Republic of China be considered a developing economy in the context of fisheries, even if its fleet catches one-third of the world fisheries production? Wouldn't this empty the agreement of its substance?" Maria Damanaki, Principal Advisor to Chinese environmental nonprofit Paradise International Foundation, raises these questions.
From the start of negotiations on its accession to the WTO, the Chinese side insisted on having developing country status, seeking to benefit from the advantages associated with a classification that each interested nation simply confers upon itself. This has been seen as a malfunction of the Organization.
Indeed, China's demand for developing country status was one of four key issues it raised during its accession to the GATT/WTO [the other three being resumption of its status as a party to GATT, treatment as an equal trading partner, and the removal of all tariff and non-tariff measures against it that are inconsistent with the basic principles of the GATT]. In fact, China's formal application to resume its GATT membership in 1986 stressed, "China is a developing country".
The point is that China is now a giant in world trade. According to Professor Henry Gao, Singapore Management University, this raises the issue that "while developed countries [the US, Canada and most EU countries] have been willing to extend special and differential treatment to smaller developing countries, they are reluctant to extend the same treatment to large developing countries such as China, which have become economic powerhouses in their own right."
The developed bloc "recognizes the need for flexibility for development purposes while acknowledging that not all countries need or should benefit from the same level of flexibility," Mr Gao adds, underlining that the US proposed the automatic termination of special and differential treatment for members that fall into one of the following four categories: OECD members, G20 members, those classified as "high income" by the World Bank, or those with a share of 0.5 per cent or more of the global goods trade. "Such a classification system would strip many WTO Members of their developing country status, including China, which meets two of the criteria, i.e. G20 membership and a large trade share."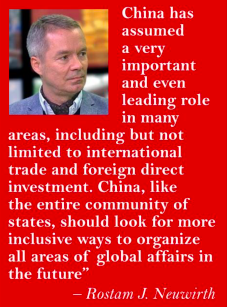 But China is by no means the sole case: South Korea, the 7th richest nation in the world based on per-capita income, claimed – and benefitted from – developing country status at the WTO until February 2020.
For these (and other) reasons, Professor Rostam J. Neuwirth, Faculty of Law, University of Macau, believes that "generally, the 'developing country – developed country' distinction is highly problematic.
"There exist no clear criteria for measuring the degree of development of any country," the Head of U.M. Law's Department of Global Legal Studies tells Macau Business. "Even economists have struggled to formulate a purely economic set of criteria for distinguishing developed from developing countries". It is no surprise, then, that the World Bank decided to finally abandon this "obsolete terminology" in 2016.
Professor Neuwirth adds, "The benefits of 'developing country' status in the WTO are limited and usually consist of limited rights to benefit from longer transition periods before being required to fully implement the provisions of a certain agreement. These 'benefits', however, have in my view a very limited positive impact as they do not change the structural deficiencies inherent in the system as a whole.
"For China, in concrete terms, this means that it also should not use the terminology," Mr Neuwirth explains to Macau Business. "Plus, China has assumed a very important and even leading role in many areas, including but not limited to international trade and foreign direct investment. China, like the entire community of states, should look for more inclusive ways to organize all areas of global affairs in the future."