Disputes between countries within the WTO are normal. China, due to its leading role, is currently involved in several. We highlight the main ones below.
MB October 2021 Special Report | China at the WTO

---
Australia–China: anti-dumping
Last June, China's Ministry of Commerce announced that China has lodged a complaint against Australia in the WTO. The complaint concerns the anti-dumping and countervailing duties Australia has imposed on Chinese railway wheels, wind towers and stainless-steel sinks. "This is the latest stage of an escalating trade conflict between Australia and China," according to Joshua Nelson, University of Nevada Las Vegas School of Law. "In recent years, both countries instituted multiple rounds of tariffs on key goods from the other, and Australia has restricted the activity of Chinese companies within Australia." In 2018, Australian Prime Minister Scott Morrison banned Huawei from building out Australia's 5G network. Last year Prime Minister Scott Morrison called for an independent investigation into the origins of COVID-19, and a Senator of Australia's National Party has called China one of the "biggest threats" to the country's liberties and future prosperity. Japan's ambassador to Australia says Australia is "not walking alone" in its trade war against China. "Trade should never be used as the tool to apply political pressure," Ambassador Yamagami said, signalling his disapproval of China's behaviour towards Australia.
Canada–China: canola
China suspended imports of canola seeds from Canadian companies in March 2019, "while also making shipments from other Canadian firms subject to enhanced inspections, due to the detection of pests." The two countries tried to resolve the dispute, but discussions failed in October 2019, with Canada requesting intervention by the WTO's Dispute Settlement Body.
"Canada's canola farmers hope the WTO complaint against China can ease costly blocks on seed exports," the South China Morning Postwrote, but China, as expected, blocked Canada's first request to establish a panel to investigate the restrictions imposed by Beijing. Last July, Canada finally succeeded in establishing a WTO panel. According to its statement, the Canola Council of Canada "supports the government of Canada's action to take the next step in the WTO process by establishing a dispute settlement panel at the WTO."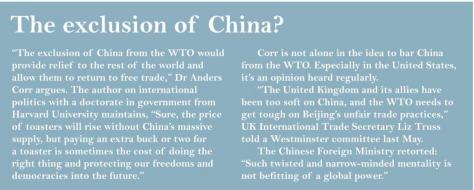 Japan–China: stainless steel
Last June Japan filed a complaint against China over an anti-dumping duty on stainless steel products, which was introduced in July 2019. The Japanese Ministry of Economy, Trade and Industry said in a statement on its website that this move comes after "Japan has repeatedly asked China to remove the measure through bilateral talks." Japan claims the measure in question, imposed in 2019 by China's Ministry of Commerce, appears to be inconsistent with various provisions under the General Agreement on Tariffs and Trade (GATT) 1994 and the Anti-Dumping Agreement. Tokyo has therefore requested WTO dispute consultations with Beijing, a process that formally initiates a dispute in the WTO. "Consultations give the parties an opportunity to discuss the matter and to find a satisfactory solution without proceeding further with litigation," the WTO explained.
US–China: trade war
In his speech at the World Economic Forum on 25 January 2021, President Xi Jinping emphasized, as an indirect message to the new US administration, the need to uphold international law, strengthen multilateral institutions and embrace "consultation and cooperation instead of conflict and confrontation." But China and the US are embroiled in a trade war – a game with no real winner. Prior to the onset of this trade war, the US sold $24 million in agricultural products to China.
This accounted for 20–25 per cent of all Chinese agricultural product imports. In 2018 and 2019, tariffs impeded US sales in China, reducing that market share to just 10 per cent. According to Xinquan Tu, Dean of the China Institute for WTO Studies at the University of International Business and Economics in Beijing: "Through the increased tariffs on Chinese goods, the US hoped to reduce the trade deficit with China, transfer costs to Chinese exporters, and force companies to move their supply chain activities out of China to the US or other countries. But such expectations have failed, while the tariff surges have damaged US companies' competence, dragged down US economic development, and hurt US people due to consequently higher product prices and fewer jobs."