Macau has done a lot to combat the use of plastics, but a step forward is needed
Macau Business | March 2023 | Special Report | Decarbonisation. When? How?


---
Eco-activist and writer Annie Lao believes that a waste charging scheme is the most crucial environmental measure needed in Macau.
"This should be implemented as soon as possible to make recycling mandatory so that everyone is required to recycle by law," argues Annie. "Moreover, facilities for collecting recyclable items, such as land for storage and collection sites, need to be in place to meet the demand," she adds in an interview with Macau Business.
"Macau can become one of the most sustainable regions in the world," says the eco-activist. "We are a small region, and we have all the financial means to achieve it. What is missing is putting environmental protection as one of the priorities."
Annie Lao also understands that "cross-regional collaboration is vital since Macau lacks the capacity and facilities to process recycling locally." As the government has already revealed, there are no plans to develop a local recycling industry as the city's solid waste volume is too low to sustain this industry. Consequently, recycling will continue to be processed in mainland China.
"I am glad to see the government setting up more recycling stations across the region for easy access to the public who want to recycle even food waste. Since the establishment of Macau for Waste Reduction in 2019, monthly community recycling activities have been organized to educate the public on proper and clean recycling," she says.
Geographical and population limitations should not prevent Macau from advancing in the area of environmental protection and, more specifically, in the fight against polluting elements. The case of plastic is an excellent example of this. Annie Lao has been the voice and face of this fight since 2018 when she led a petition against single-use plastics, which collected more than 5,000 signatures.
It has been five years of struggle, which has already led to recognition from Hong Kong, among others. "Hong Kong should look at how other countries are dealing with their trash to find new ways to reduce plastic waste in the city. A good example is Macau: in January 2021, the government banned all imports and trading of disposable takeaway boxes, bowls, cups, and dishes made out of styrofoam. While a ban on plastic cutlery at restaurants is planned for Hong Kong, this will only come into force in 2025, which is too late, according to many environmental groups who strongly believe that faster action is needed," according to the non-governmental organization Earth.org.
"Hong Kong falls behind Macau in the battle to reduce the mountain of throwaway plastic cutlery," headlined the South China Morning Post a year ago.
This is news that makes Annie Lao happy, but not entirely. "It is a good example to show that our government can do this by gradually banning single-use plastics (charging plastic bags [since November 2019], styrofoam food containers [since January 2021], straws & stirrers [since January 2022], and cutlery [since 2023]) and making the city more sustainable by reducing waste," she says to Macau Business. "However, don't forget that it is all about waste reduction and not just switching to using disposables made of biodegradable materials."
---
Fake plastic bottle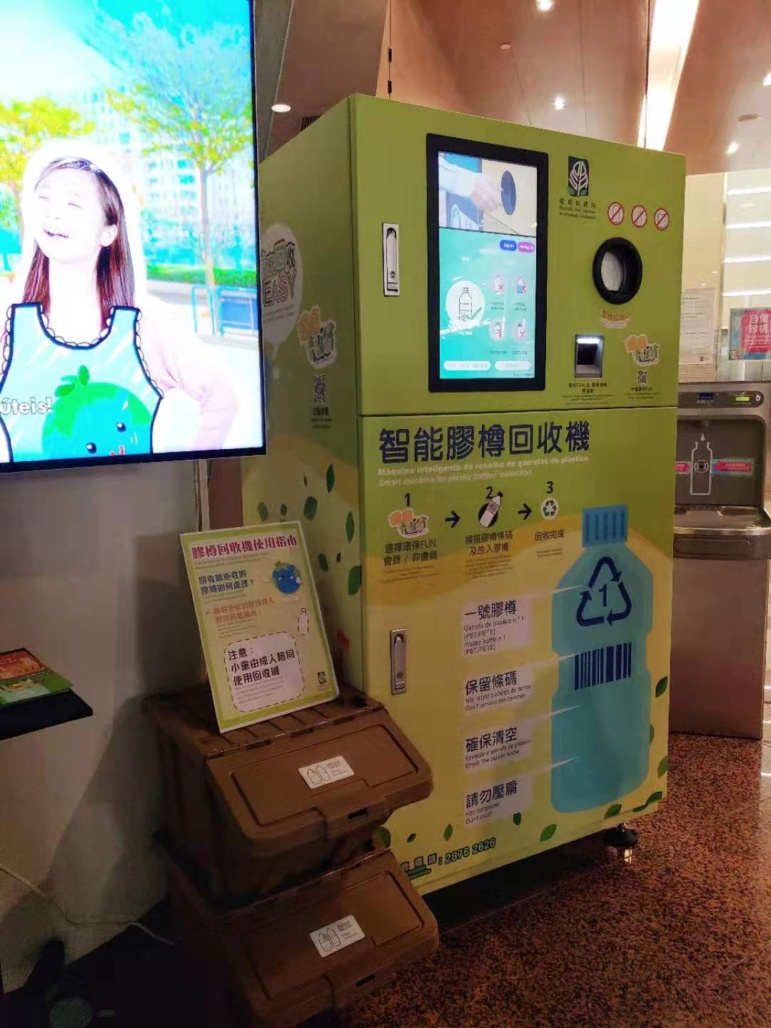 One of the first measures taken by the MSAR Government against the massive use of plastics dates back to 2018, when the Environmental Protection Bureau (DSPA) launched a campaign aimed at reducing plastic bottles.
The most recent information from DSPA says that 75 water fountains have already been installed since November 2018 and until the end of December 2022, with an estimated saving of more than 2.5 million plastic bottles.
Integrated resorts, for example, have replaced plastic with glass bottles or even different alternatives.
Taking the last year before the pandemic as a reference, DSPA estimates that 15 million fewer bottles were used than in 2018.
The drinking fountains alone were responsible for the reduction of more than 1.5 million bottles.
DSPA has also been installing plastic bottle collection machines in various areas of the city, many of which are 'intelligent', as they include a new function for collecting metal beverage cans.
DSPA ensures that more machines will continue to be installed.