Macau Business | December 2021 | Special Report | Macau's ageing society

Almost 12,000 elderly people in Macau work, though some may be retired, either due to the need to make ends meet or because they want to remain active
The number of elderly people in Macau (65 years and over) who remain in the labour market has been increasing every year.
According to the latest official data, of the more than 80,000 residents in this age group, around 11,600 are in work (up from 9,400 in 2018).
But the employment rate for elderly people in Macau is still lower than that of Japan, Singapore or South Korea, for example.
Just how many are doing it because they want to continue to feel useful or remain busy, and how many feel obligated, especially for financial reasons, is an unanswerable question.
What is known is that within the cohort of "senior" workers close to 20 per cent, or 2,400, occupy management or supervisory positions in industries as varied as tourism, restaurants and real estate management. Nevertheless, this data may not directly inform the previous question: they may still be running their own businesses either because they need to or because they want to.
The statistics also show that working people aged 65 and over are, in descending order, unskilled workers, service providers and salespeople, administrative employees, industrial production workers and artisans.
Those in charge of the Social Welfare Bureau (IAS, the acronym in Portuguese) argue the numbers show the vivid way in which the elderly in Macau participate in the active life of the city, highlighting a particular fact they believe is relevant: the percentage of elderly people who have participated in IAS training actions in high technology and the use of mobile phone applications.
According to the IAS, residents over 65 decide to continue working for several reasons: to be self-sufficient and thus relieve their children's stress in economic terms; to continue to participate in society, in order to maintain contact with it; to remain in work and to enrich themselves personally, taking into account the increase in average life expectancy.
Professor Jacky Ho, Director of the Macao Observatory for Social Development, University of Saint Joseph, agrees: "there are a lot of reasons," not just one, he tells Macau Business. "Many do it because they have no other choice."
The certainty that many older people need to continue working when they should be retired, especially because their pensions are low, makes this a very sensitive topic.
In a discussion held in 2019 in the Legislative Assembly, former IAS Director Vong Yim Mui argued that "older people have their own interests; they can participate in continued education courses," adding that perhaps "finding another job" is not the best solution. Ms Vong also stated, in response to a legislator, that the philosophy should be "thinking about organizing more activities for the elderly" and that those who reach retirement should be able to manage their time as they wish.
However, it was precisely at the end of 2018 that the Macau Government implemented the first important programme to support the hiring of the elderly (see text later in this report).
In the United States or Singapore, those who postpone retirement can receive a prize, and South Korea's decision to subsidize companies that hire "seniors" has been recognized.
Another sensitive point is the idea of raising the retirement age. Associate Professor Jacky Ho doesn't like the idea. There are "many other options" to keep older people active without resorting to "postponing the retirement age", he says, citing for example some of the measures adopted by Macau, one "being flexible working hours, which suits the needs of these workers."
Tianji Cai, Department of Sociology, University of Macau, believes it's important to provide working opportunities. "With increasing healthy-life expectancy, many old people will be able to work longer than the current retirement age of 65. Working longer will not only promote health, but also financial security, as well as social engagement and participation. Flexible retirement age and leave policies are beneficial for both employees – if they are able to work longer – and for their sick family members, as family members are major daily care providers," Professor Cai tells Macau Business.
The IAS states that "in the future, the Government will continue to provide diverse support to seniors who are working or willing to continue working."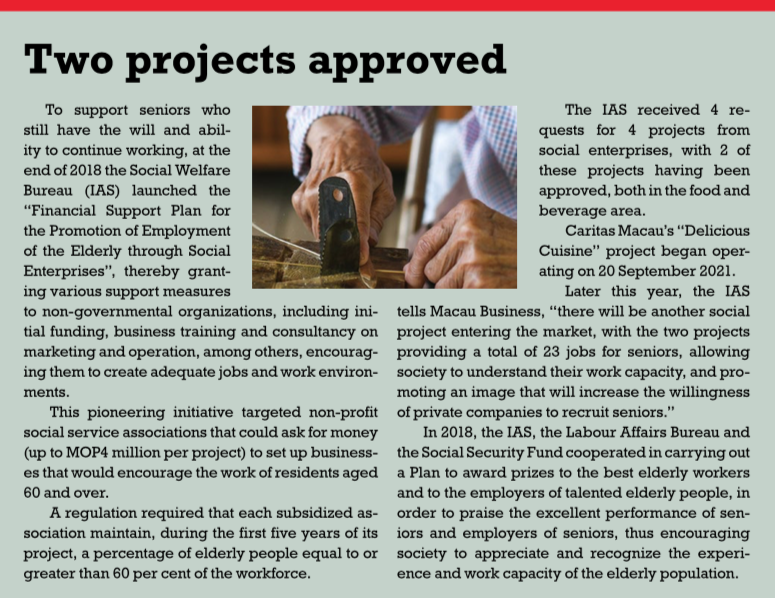 Special Report | Macau's ageing society – Previous – Health with a human touch