Reggie Martin has emerged as the top Macau-based social media influencer on Instagram with some 2.3 million followers
Photos by António Mil-Homens
When he settled in Macau twenty years ago, Chicago-born Reggie Martin could certainly never have imagined the magnitude of what would be the city's transformation into the world's top gaming hub. Still, he quickly became a believer in the SAR's potential.
Reggie Martin has not only been a witness to history; he has also taken part in raising the international profile of the SAR as a tourism and entertainment destination as Associate Director of VIP/Celebrity Relations at Venetian Macau. Over the years he has been both magnet and host to countless celebrities, who flocked to the city lured by the ever-expanding mix of world-class resorts and heritage.
Having resided all over the world, in locales including Bali, the Dominican Republic, France and the Bahamas, for Martin Macau is a special place and the one he calls home. "I've lived and worked in many different places around the world. Every one of these places is very unique, but what makes Macau unique and special to me is the East-meets-West cultural mix." Over the years, he has shared Macau's uniqueness with an ever-growing global audience.
In truth, one can easily call Reggie Martin a natural-born networker and influencer; he was a nexus for networking and forging friendships long before the rise of social media. What began for him from a tender age in East Chicago expanded exponentially in Macau.
The advent of large-scale online platforms such as YouTube, Instagram, Facebook and TikTok made him realize he could take his gift for connecting with people to a whole new level. "Social media just helped enhance my ability to touch people around the world". And Reggie Martin saw it coming.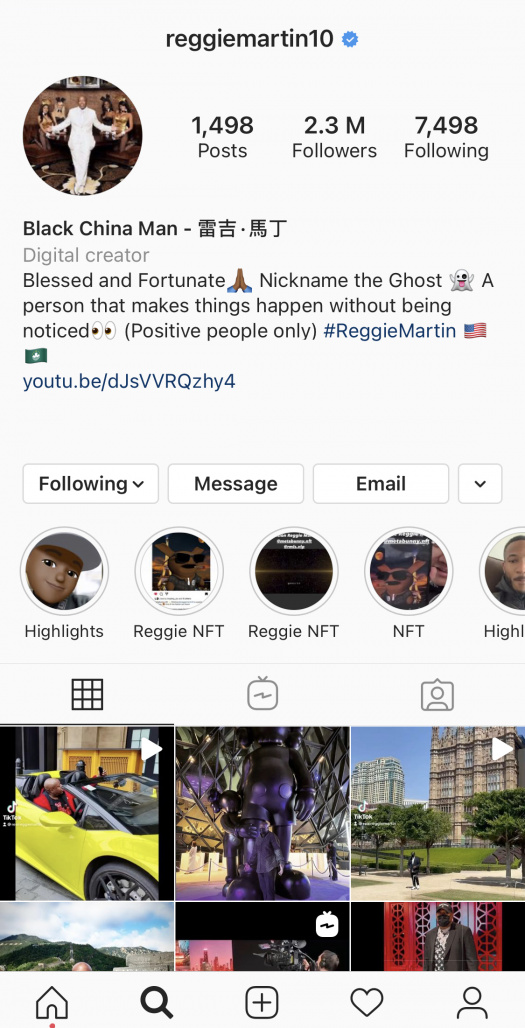 "I started using Instagram and YouTube because I knew they would be powerful tools. I knew social media would become very important in a virtual space where platforms are not only used for social networking but are also a great way of digitally marketing and advertising your brand, yourself or a product, where you are the CEO of your own brand." He sums it up: "I'm the director, producer and writer of the narrative of my story".
And Reggie Martin's story is the story of the people he interacts with and of the places he's been, with Macau taking centre stage.
"I became a walking billboard, which in my opinion is better than a roadside billboard because I can actually see and know how many people have seen my post and where they're from – something a roadside billboard can't do," Martin says.
Reggie Martin now commands 2.3 million followers on Instagram, and each of his posts generates dozens to hundreds of thousands of views and likes. How does one attain such an enviable tally of followers?
His first million followers came just a year ago (in March 2021), and that quickly jumped, in a matter of months, to two million. The Covid-19 pandemic played a role here, "as people were forced to stay at home, so everybody was on social media".
And people became interested in this social media personality. "I call myself China man. And people ask, why is this person calling himself China man? Then when they go to my page, they realize that I'm actually, really living in China. They find it interesting. Now that I've learned who my followers are, I have to cater to them."
As his number-one followers are Chinese, Reggie Martin's posts are bilingual: in Chinese and English.
"Once you learn about that, everything comes easy, as I know what my audience is looking for". Reggie Martin's approach is inspirational, expressing a sense of gratitude, sharing his lifestyle and always staying positive.
He describes himself on Instagram as "a person that makes things happen without being noticed." Still, when one comes across Macau on social media – or comes to town – chances are it will be impossible to not notice Reggie Martin.