Two new key areas around Areia Preta and Iao Hon have been defined by Macau authorities, with people in these areas subject to a nucleic acid test today (Tuesday) or tomorrow.
One of the key areas was set in the vicinity of Areia Preta Urban Park, covering people who live or work in the area surrounded by Rua Central da Areia Preta, Rua da Pérola Oriental, Rua do Canal Novo, Rua Nova da Areia Preta, and Avenida Leste do Hipódromo.
The other is in the vicinity of Estrada Marginal do Hipódromo – Avenida de Venceslau de Morais, and covers people who live or work in the area surrounded by Estrada Marginal do Hipódromo, Avenida do Almirante Magalhães Correia, Avenida de Venceslau de Morais, and Estrada da Areia Preta.
The testing requirement also includes those who have stayed at any of the above places for more than half an hour on or after 22 July.
Health authorities explained yesterday that no new cases were found in these two areas recently, but as cases were recorded in previously lockdown listed areas, there was a risk of the existence of hidden cases even and after the red/yellow codes on buildings in that area are raised.
It is estimated that the number of tests involved in these target areas was over 30,000 people.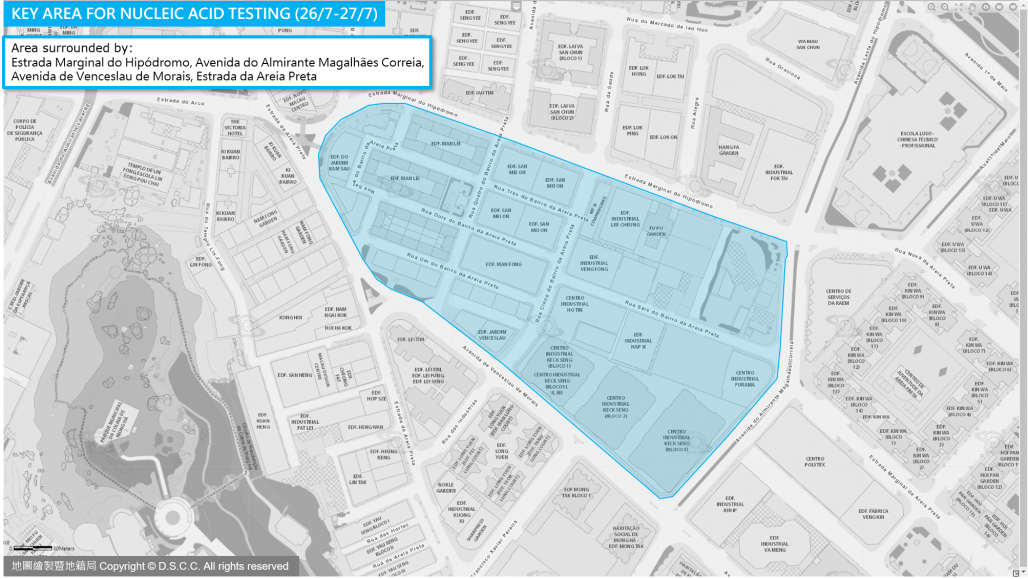 Infants and young children born after 1 July 2019, as well as the elderly and disabled persons who have difficulty walking or who need care from others, are not exempted from this NAT drive.
A text message has been sent to people living in the key areas reminding them to book for the NATs. If the nucleic acid test is not performed as required, the health code will be changed to a yellow code on July 28.
After the supplemented test is completed, it will be restored to a green code; otherwise, it will be converted to a red code on July 29.
The city is currently under a consolidation period initiated on July 23 when pandemic restrictions are to be gradually lifted.
After about 1,800 confirmed cases were reported since June 18, the SAR has managed two consecutive days without any cases uncovered within the community.