Macau Business Editorial | April 2023 | By José Carlos Matias – Director

So often, politics and the economy – not to mention life in general – present us with a capability–expectations gap: that shortfall between what actually is or can be accomplished and what is proclaimed and consequently hoped for. As we thankfully swiftly emerge from the Covidian era on a road to rapid economic recovery, a challenge of another sort arises – though it's one we'll gladly face compared to being stuck in a hopeless 2022.
Worries that the city might have lost its allure have been laid to rest with visitor arrivals climbing steadily and the one-day tourist count set to hover around 100,000, if the past weeks' trend holds true. In light of these recent developments, high hopes for the upcoming Cheng Ming/Easter holidays and even higher hopes for the May Day Golden Week are certainly justifiable.
A quick look at the latest statistical details lets us single out interesting trends and extrapolate where the city's visitor tally might be headed. In February alone Macau saw around 1.59 million tourist arrivals, a figure just over half that of the last full month pre-Covid, December 2019 (though the comparison is obviously partly skewed by difference of season and length of month). Interestingly, the proportion of mainland visitors dropped from 67% to 62%, whereas numbers from Hong Kong jumped from 21% in December 2019 to 32% in February 2023. (Now, visitation from the neighbouring SAR has already reached 80% of pre-Covid levels.) This is telling, given what industry insiders were predicting last year: that reopening to Hong Kong would be a game-changer. With mainland visitation still with plenty of room to grow, international visitation is also set to surge, fuelled by the re-establishment of flight connections and the expected impact of promotional activities conducted by both the local tourism authorities and the integrated resorts.
Faced with ongoing pent-up demand, the question then rests on the host's ability to provide the expected quality of service, and that puts manpower squarely at the crux of the matter. While it's reasonable for authorities to insist that employers prioritize jobs for local residents, a fine balance needs to be struck, ensuring that as we edge closer to 'technical' full employment a more open, flexible arrangement takes shape. This is something essential to ensuring hospitality and tourism operators can rise to meet tourists' expectations. With so much talk and focus devoted to quality in tourism and the swift return of visitors, it would be a pity if the city were to fail to live up to the expectations of those who seek meaningful experiences here. Again, we echo calls for an overhaul of Macau's labour importation policies in order to cut red tape, ensure our city's competitiveness and avoid a 'labour crunch' situation.
We have been here before. We must prevent inflexible policies and greedy practices from jeopardizing the road to a robust recovery. In an increasingly competitive environment where tourist destinations vie for talent and quality tourism, we must never lower our guard or take our eye off the ball. We stand at a critical juncture: poised to return our city to its heyday, yet this time embracing a higher-quality, more sustainable model. We mustn't waste time but instead seize this 'golden' window of opportunity.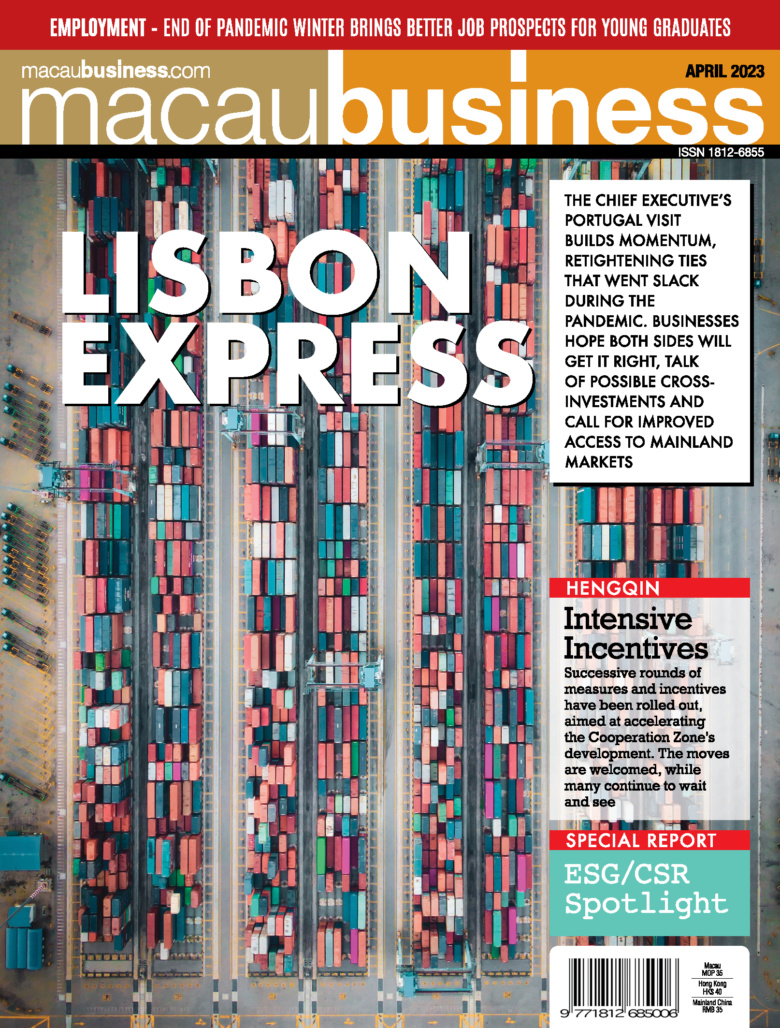 Leap outwards
Ho Iat Seng's visit to Portugal this month is especially meaningful. Not only is it the Chief Executive's first post-pandemic visit abroad; it follows precedent set by his predecessors, who also chose Portugal for their first overseas trips. As Macau emerges soundly from the three-year pandemic and the corresponding hiatus in international relations, this visit provides an opportunity for the city to maximise its yet-to-be-fully developed potential for bilateral cooperation with Portugal, both in terms of reopening the door to skilled professionals and enhancing the across-the-board cooperation that is allowed under the Macau–Portugal framework agreement.
With both the 20th anniversary of the Forum Macau and the expected ministerial conference set to be held in Macau in the fourth quarter of 2023, it's high time to further elevate Macau's profile, not just symbolically, but also with a stronger focus on a pragmatic, hands-on and business-oriented approach, one that effectively follows up and follows through on the agreements, official discourse and Memoranda of Understanding.
At the end of the day, it's all about bridging the capability–expectations gap.