The tragic assassination of the former Japanese Prime Minister, Shinzo Abe, has left an indelible imprint on Japan's relations with China. As a conservative, pragmatist, nationalist and pro-Western democrat, Abe was imbued with political ideologies that have far-reaching impacts on how Japan is going to deal with the People's Republic of China (PRC) and Taiwan in the coming years, especially as the China policy of the government under the current Japanese Prime Minister Fumio Kishida is heavily shaped by the Abe era.
Recent reports have suggested that the Kishida government has attempted to distance itself from the Abe faction within the ruling Liberal Democratic Party (LDP), including fiscal policy where Kishida emphasizes prudence unlike Abe's willingness to spend more.
However, Abe's approach to dealing with China had a direct impact on the Kishida government. When Abe was elected the second time to be the Prime Minister in December 2012 (after he had first been chosen as Prime Minister in 2006 but then stepped down in 2007 due to health reason), Japan's relations with the PRC were strained by the Japanese government's attempt at nationalizing the Diaoyu (Senkaku in Japanese) Island. The Sino-Japanese relations at that time were quite difficult and tense until September 2013 during the G20 Leaders' Summit in which President Xi had a brief talk with Abe. President Xi said Japan should "correctly deal with such sensitive issues as the Diaoyu Island and history by the spirit of facing history squarely and looking forward to the future." Abe replied diplomatically that "I am eager to improve Japan-China relations."
Abe later made a crucial step to request a meeting with the Chinese President Xi Jinping on November 10. 2014 in Beijing where the APEC Economic Leaders' Meeting was held. This meeting was an ice-breaking one; Abe shook his hand with President Xi publicly and diplomatically. Since then, Japan's relations with China took a turn for the better. Credit must be given to Abe and his China advisers who grasped the golden opportunity of using the APEC meeting to improve Tokyo's relations with Beijing.
The November 2014 meeting was a watershed in Sino-Japanese relations. Abe adopted a pragmatic approach in dealing with China amid the rising nationalistic sentiment in Japan over the Diaoyu (Senkaku) Island. On the other hand, he adopted a forwarding-looking perspective on Japan's China policy. President Xi during the November 2014 meeting with Abe said that both sides should "take history as a mirror and look forward to the future." The fact that both Abe and Xi looked to the future relations despite their differences in the "sovereignty" issue over Diaoyu (Senkaku) Island demonstrated how Japan and China put aside the long-standing territorial dispute in favour of the long-term common interests of both countries.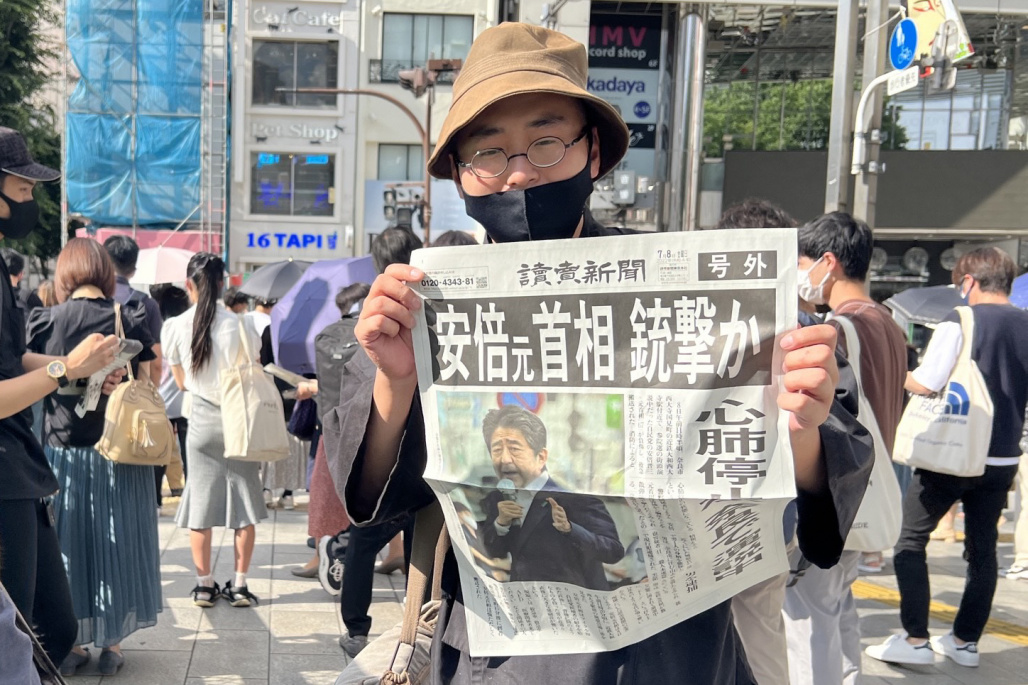 It is noteworthy that China's Global Times carried two immediate reports commenting on Abe's tragic death and his impacts on Japan's relations with the PRC. On July 8, Global Times had an article entitled "Abe remembered in China as controversial figure who 'ruined own contribution to bilateral ties." The article first cited the PRC Foreign Ministry spokesman Zhao Lijian's comments, saying that Abe had once made contributions to improving Japan's relations with China and that the PRC extended its condolences to Abe's family. However, the article mentioned that Abe was "a controversial figure" partly because he made "frequent visits to the notorious Yasukuni Shrine and partly because and he denied Japan's invasion history in China," thereby leading to "his bad reputation among Chinese public."
While the surge of nationalism among many Chinese commentators is understandable, it was often a common practice of the Japanese Prime Ministers to visit the Yasukuni Shrine to pay respect those people who died in the war. Yet, the political symbolism of the Yasukuni Shrine remains hurtful to most Chinese people. Shortly after Abe's assassination, some nationalistic Chinese netizens made critical comments on him on the mainland Internet, leading to a prompt action by the Chinese authorities to censor what some nationalists wrote. The tragic death of Abe represented a political symbol to some mainlanders who have been adopting a xenophobic attitude toward Japan. The wounds of the Second World War during which the Japanese military committed atrocities in China cannot and will not be easily healed.
Most interestingly, after Abe stepped down as the Prime Minister, he became a champion of Taiwan democracy. In December 2021, Abe asserted that "a Taiwan emergency is a Japanese emergency" – a remark that according to Global Times constituted "a serious violation and provocation against the one-China principle."
Abe's stance on Taiwan showed that he supported Western-style democracies like Taiwan, where he thought was shaped by the American and Japanese democracy and values. In 2010, Abe met the former Taiwan Legislative Assembly speaker Wang Jin-pyng. When asked by reporters about the Diaoyu (Senkaku) Island. Abe said that "given Japan and Taiwan's deep friendship, there are no unsolvable problems." Abe was supportive of Taiwan during his second term of office as Prime Minister, saying that "Taiwan is an important partner and friend who shares Japan's general values."
In August 2020, during an interview by the Hudson Institute, Abe said explicitly that the PRC was "consolidating its power base" and having "ambitions toward Taiwan." His perception of an increasingly assertive and "ambitious" China explained why Japan under Abe attempted to rearm itself militarily while trying to amend Article 9 of the Japanese Constitution. In January 2019, Abe said in the Diet that long-range cruise missiles were not banned by Article 9, implying that Japan should rearm itself in the face of "the China threat." The Japanese government under Abe increased its military spending as a defensive move, but this move aroused the PRC's displeasure.
In February 2022, Abe said that the US should abandon its strategic ambiguity toward Taiwan by declaring that it would militarily defend Taiwan in the event of an attack – a remark that naturally led to the criticisms from the PRC and mainland commentators.
Another report in Global Times about Abe appeared on July 9, when it reported that President Xi Jinping on Saturday sent a message of condolences to Japanese Prime Minister Fumio Kishida on the "sudden and unfortune" passing of Shinzo Abe. President Xi added that Abe had made efforts at improving Japan-China relations, and that he and Abe "had reached important common understanding" on "building a China-Japan relationship that meets the needs of the new era." This second report in Global Times was far more diplomatic than the first one without any criticisms levelled at Abe.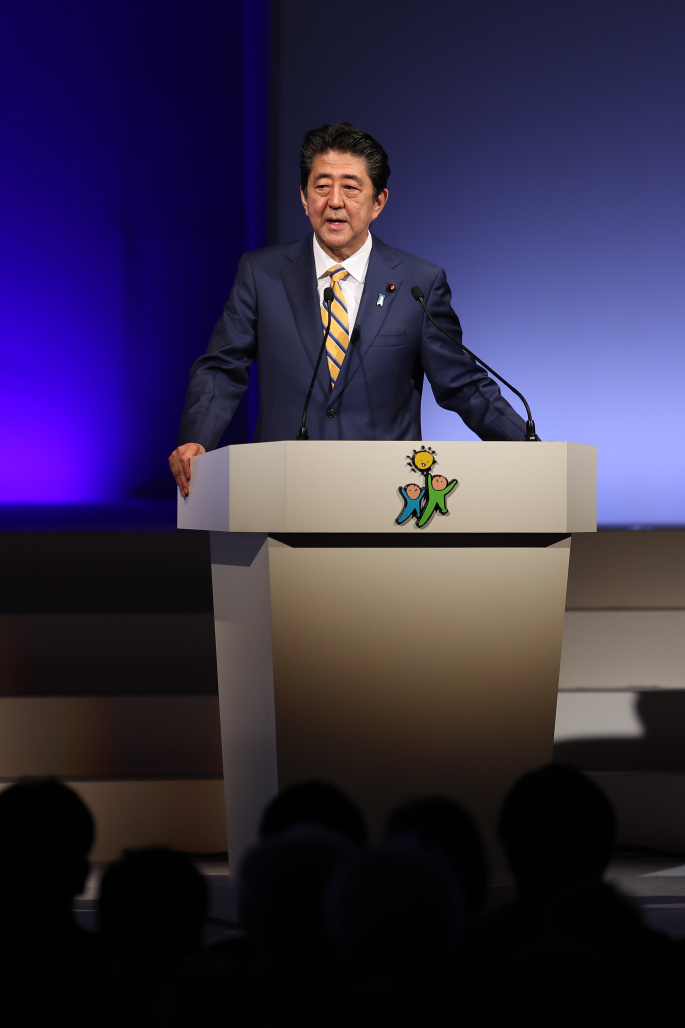 For the critics of China, Abe's legacy on Japan's relations with the PRC remains important because he was a staunch ally of the US. Abe's conservative political ideology shared some similarities with the former Republican President Donald Trump; both saw "the China threat" as a serious one necessitating a shift in the Japanese defence policy and American trade policy respectively. Abe accepted the Indo-Pacific strategy by cooperating more closely with India than ever before. On the other hand, Japan under Abe adopted a cautious and wait-and-see attitude toward China's Belt and Road Initiative. While US under Trump withdrew from the Trans-Pacific Partnership, Japan filled in the economic vacuum by participating in and ratifying the Comprehensive and Progressive Agreement for Trans-Pacific Partnership (CPTPP).
Japan under Abe also joined the Quadrilateral Security Dialogue (QUAD) – an alliance initiated by Abe as early as 2007 and composed of Japan, America, Australia, and India. This ideological alliance is strategic and important for the US – all four countries are Western-style democracies sharing the values such as human rights, democracy, and freedom. US President Joe Biden has referred to QUAD as Abe's "enduring legacy." However, the QUAD constitutes an ideological alliance checking "the China threat."
Overall, Shinzo Abe has tremendous impacts on how Japan is going to interact with China in the coming years. Abe was ideologically conservative, pro-American, pro-Western democracy, pragmatic, and nationalist. His pragmatic policy toward China could seen in his initiative in improving Japan's relations with China after the serious territorial dispute over the Diaoyu Island. Nevertheless, Abe was a staunchly nationalist, believing that military rearmament would be a necessary defensive move in face of the rising "threats" from China and North Korea. Abe was explicitly pro-Taiwan after he stepped down from his prime ministerial position, incurring the wrath of PRC officials and nationalists. The current Japanese Prime Minister Kishida basically adopts Abe's China policy, albeit Kishida tends to be a bit more cautious and does not want to "provoke" China over Japan's pro-Taiwan position. Still, Japan's policy toward China has already felt the Abe legacy: pragmatic engagement with China combining with a gradual military rearmament amid the perception of an assertive and "ambitious" PRC and under the Japan-US and Japanese-Western alliances in the coming decades. It remains to be seen how Abe's successors will deal with the tensions between Japan and China in the coming years.