Air pollution is one of Macau's most serious environmental problems. But no matter how Macau improves its habits, the Zhuhai Jinwan Power Plant remains right next door…
MB September 2021 Special Report | Green Macau

---
Scientists define haze as "an aggregation in the atmosphere of very fine, widely dispersed, solid or liquid particles, or both, giving the air an opalescent appearance that subdues colours."
More simply, the Macau Meteorological and Geophysical Bureau defines haze as the condition under which visibility is less than or equal to 5 km when relative humidity is less than 80 per cent.
And haze is one of Macau's main environmental problems. A team of scientists led by Wai-Ming To [see the interview with this Polytechnic Institute Professor later in this special report] found that "Macau has generally been covered by haze almost continuously from September to March, year after year, over the past decade," making it a common autumn and winter phenomenon.
Their research shows that the number of hours with haze increased steadily from 0 in 1990 to 297 in 2002. "However, it increased sharply to 694 in 2003." Between 2003 and 2008, the number of hours with haze ranged between 536 and 766. The figure has decreased since 2008.
"The number of hours with haze was strongly, significantly associated in the past decade with high atmospheric pressure that leads to a lower mixed-layer altitude. The combustion of oil products produces particulate matter, sulphur oxides, nitrogen oxides and volatile organic compounds including non-methane hydrocarbons. All of these air pollutants are well-known sources of haze," Professor To and team report.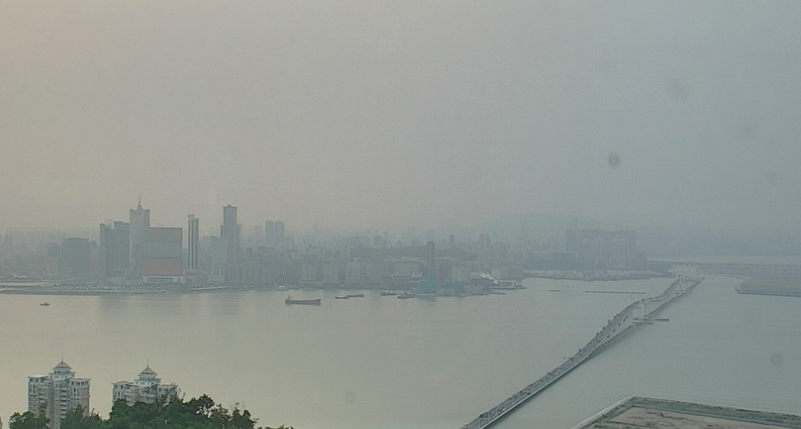 The solution?
The truth is that since 2005, Macau's power company has been importing more and more electricity from Zhuhai and has significantly reduced the burning of fuel oil and gas oil/diesel at its own power plants. "Macau's power company has announced that it will import more electricity from Zhuhai and reduce the operational capability of its local power plants further, implying haze conditions in Macau will continue to improve in the near future."
However, that imported electricity from Zhuhai is produced at a coal-fired power plant at Jinwan – located 50 km southwest of Macau. "Since the Zhuhai Jinwan Power Plant is on the Chinese mainland, where the pollution regulations, compliance, and monitoring are not likely to be as stringent as they are in Macau, the increases in its power production will cause emission of larger quantities of carbon dioxide, sulphur dioxides, nitrogen oxides, and particulate matter, affecting the plant's vicinity," the research states.
The diagnosis is crystal clear: levels of air pollution in Macau have often exceeded the levels recommended by the WHO.
This means a significant proportion of Macau's urban population is being exposed to air pollutant concentrations above the limit or target values. "Exposure to air pollutants such as NO2 [nitrogen dioxide], PM [particulate matter] and O3 [ozone] is increasing the chance of hospital admissions for cardiovascular and respiratory disease and mortality the world over," according to Man Tat Lei, Institute of Science and Environment, University of Saint Joseph, who led a team of researchers in a study (2017) of Macau's air quality. "In Macau, traffic-related pollution is high, primarily due to high vehicle emissions and urban canyon topology."
Another observation on this topic is found in a paper titled Development of a road traffic emission inventory with high spatial-temporal resolution in the world's most densely populated region: Macau produced at the Department of Civil & Environmental Engineering, Faculty of Science and Technology, University of Macau: "With rapid economic growth, road transport is contributing to substantial adverse effects on urban air quality, especially in densely populated cities like Macau with high GDP growth rates per capita. Therefore, in Macau, the road transport sector is the biggest local air pollution source, and emissions from road transport are a main contributor to air pollution."
Is important to note the majority of vehicles in Macau are gasoline-fuelled passenger cars and motorcycles that comply with old European emission standards. The UM paper's lead author, Professor Xin Li, states, "It was verified that a correlation exists between the CO [carbon monoxide] concentrations measured at roadside air quality monitoring stations and road traffic volume across the MSAR. The highest road transport emissions were observed on the Macau Peninsula."
Concerned, the DSPA in July imposed stricter limits on the emission of gases from motorcycle exhausts, with Bureau Director Raymond Tam Wai Man adding, "We will, step by step, impose restrictions to limit exhaust gases emitted by vehicles so that, with the reduction of these emissions, it is possible to control the situation."
---
Recommendations
Here are some factors that can mitigate road transport emissions:
although people are willing to own diesel vehicles, they are not recommended, as they have a highly adverse impact on NOx [nitrogen oxide] and PM emissions;
it is recommended to continue encouraging citizens to use new-energy automobiles (i.e. hybrid electric vehicles and battery electric vehicles) and to replace vehicles with old Euro standard emissions with those with more stringent standard emissions;
and it is important to improve the public transport system in order to reduce the road traffic volume in the Macau SAR
(source: Development of a road traffic emission inventory with high spatial-temporal resolution in the world's most densely populated region: Macau, 2018)
---
Air pollution or solid waste?
Do Macau residents place more importance on air pollution than on the problem of solid waste? Some studies indicate this trend.
"Air pollution has the strongest relationships with residents' lives, and residents can intuitively feel the change of air quality," explains Professor Qingbin Song, Macau Environmental Research Institute, Macau University of Science and Technology.
The Macau-based scholar adds, "Air pollution can directly affect residents' quality of life, especially their health; meanwhile, air quality information such as the PM2.5 level [fine particulate matter 2.5 microns or less in diameter] is the most accessible environmental information to residents, which also increases their concern over air pollution."
In addition, he says, "climate change, as a global environmental issue associated with massive greenhouse gas emissions, is also linked to air pollution. Especially given the carbon peak and carbon neutral promises made by the Chinese government in 2020, related topics are attracting more and more attention. These hot issues are closely related to air pollution and more easily induce heightened concern in residents."
But "for Macau residents, solid waste issues are also very important," Professor Song concedes.
He underlines that the total amount of municipal solid waste is closing in on the maximum incineration capacity of Macau's incineration plant and praises the issuance of the "Macao solid waste and resource management plan (2017–2026)".
"For the future, reducing solid waste generation at the source and promoting recycling of solid waste is a matter of urgency," and that's why "all the stakeholders (the residents, enterprises and governments) should be involved in solving the environmental issues," Professor Song tells Macau Business.
(source: Understanding residents' and enterprises' perceptions, behaviours, and their willingness to pay for resources recycling in Macau, 2019)